Henry Walter (Walt) Nelson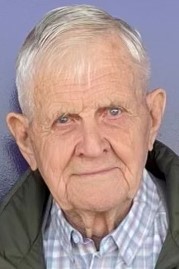 June 5, 1928 – Jan. 20, 2022
Mr. Nelson was born in Chicago Illinois to Carl and Ebba Nelson on June 5, 1928. He had one older brother, Albin. His parents came here from Sweden in the early 1900's.
When he was about 3 years of age during the depression, they moved to Paxon, Ill., where his father started farming. It was that change that shaped his life around the farm and hard work alongside his father. Mr. Nelson only knew Swedish, as that was all that was spoken in their home until he started school. In his young years at grade school, he became a worker.
Bonnie Jean Carlson and Mr. Nelson met in 3rd grade at school. As the years passed and they were teens, they dated and found their Swedish connection brought them even closer. He loved that she was a hard worker as well and also lived on the farm.
They married on Dec. 24, 1949 in Paxton, Ill. at 10 P.M. at the Swedish Evangelical Covenant Mission Church. That late hour was due to the fact that Mrs. Nelson was a telephone operator and on duty that night so families could call and reach their loved ones overseas during the war.
The couple continued to farm, raising Herford cattle, sheep, horses and chickens. Mr. Nelson always had at least one more side job to help out. He was a Rural Mail Carrier part time, worked on the Township Road Service, and often drove loads of cattle to the Chicago markets.
All the work never let them stop to take time to have fun and travel. Camping was a big part of their life and was usually with other friends as well, and the extended family.
After many years of farming in Illinois, they moved to Indiana in 1967 and farmed there as well. In the late 1970's, Walt rented out the farm ground and decided to start a new adventure. They chose Arizona as the base and lived there about 9-10 months a year, taking his new horse Rosebud with them. They managed a large mobile home park met people from all over the USA and Canada. Mr. Nelson would ride Rosebud in the mountains by himself at times, saying it was the best place to clear your head.
The couple loved to tell stories and share the old times with the grandchildren, but especially the great grandchildren. Watching both generations of them show livestock in 4-H has always been a joy for them.
Survivors include his children: Karla (Darrell) Jackson of Crawfordsville, Indiana and Donald Nelson of Arizona. They are the proud grandparents of: Mike (Heather) Jackson of Danville, Indiana and their children: Alida, Hallie, Lilly, and Lucy; Julie (Chad) Hess of Crawfordsville, Indiana and their children, Avery, Cale and Hayden; Kerri (Kyle) Mehmen of Plainfield, Iowa and their children, Alison, Jackson and Anna; and Don Henry (Tiffini) Nelson of Arizona, and their children, Elliot and Dominic. Visitation is scheduled at Sanders Priebe Funeral Care, 315 S. Washington St, in Crawfordsville on Sun., Jan. 23, 2022 from 2 p.m. until the Celebration of Life at 4 p.m. for Walt and Bonnie with Pastor Keith Strain officiating. The service will be live-steamed and recorded and can be viewed on his obituary page at www.sandersfuneralcare.com. Cremation will follow the service with the burial of cremains at Glen Cemetery in Paxton, Ill. at a later date. Memorial donations may be given to the Mace Methodist Church, 5546 E. U.S. Hwy. 136, Crawfordsville, Ind. 47933 or St. Jude's Children's Hospital. Envelopes will be provided at the funeral home. Share memories and condolences online at www.sandersfuneralcare.com