Butch Recalls a Great Player…"The Chopper"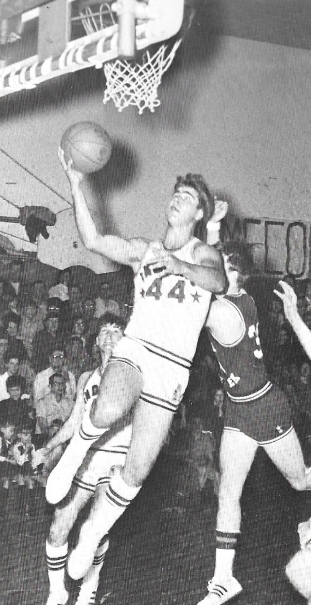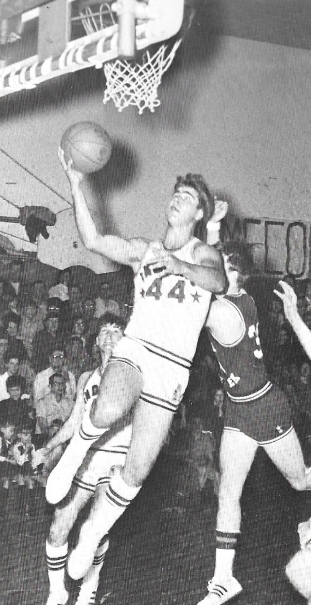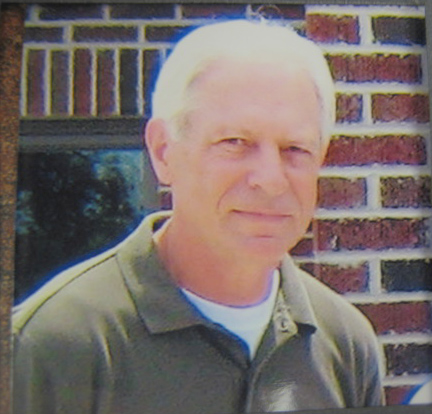 Here's a question for you Montgomery County basketball historians…What Darlington player had the highest single season scoring average in the school's history? Perhaps you might guess Rich Douglas (1970), who scored the highest total number of points in his four years. How about Dan Nichols (1970), Donnie Threlkeld (1969), Jerry Gick (1963), Bob Mullen (1958), Winston Wilson (1961)…or yes, maybe even yours truly, Butch Dale (1966). Well, you would be wrong on each one, because the highest single season scorer was Terry "Chopper" Cain, who graduated in 1971 and averaged 25.9 points per game his senior year.
I'm not sure how Terry earned that nickname, but I do know that when he was a youngster in 1960, he was the Indian mascot for the high school team. Before one game, a player on the opposing team kept pestering Terry as he stood at center court during the pre-game warm-ups. Well, enough was enough, and Terry chopped that dude on the hand with his play wooden tomahawk! Those Darlington Indian mascots are tough little fellers!
As a sophomore, Terry didn't get to play much on the varsity, although he undoubtedly would have been on the starting five of just about every other team in the county. The next year, as a junior, he was a valuable sub, but did not start very often. Why? Well, during those two years, Darlington fielded perhaps one of the best teams in Montgomery County history, going undefeated during those two regular seasons, winning the County Tourney each year, and winning their first and only Sectional Tourney in 1969. The team scored over 100 points in many of their games, once defeating Ladoga 126-63…and this was without the 3-point shot. The Darlington B-team, in the opinion of many fans, could have defeated several of the county varsity teams during that time. Although Terry and two or three other players could have been 3-year starters at another school, he said there was no hard feelings, as he and the others knew the outstanding talent of the 1969 and 1970 teams. All of the boys got along fine and were close friends…and they remained good friends all of their lives.
After all of the starters of the 1970 team graduated, Terry took over the leadership of the 1971 team. With fellow team members such as Steve Apple, Jim Tribbett, Charlie Warren, and Garry Hole…and under new coach Gene Morrison, the Indians compiled a 17-3 record. Terry led the team in scoring and rebounds, and along with Garry Hole, was a dominant force under the basket. No one pushed Chopper around! In a game against Williamsport, Terry was on fire, and he scored 41 points…another school record! And if opponents closed off his shooting in a game, he passed the ball out to his teammates for easy outside shots. Terry was named to both the All-County and All-Sectional Tourney teams, even though they were defeated by the Daryl Warren-ledLinden team and the Ron Bruner-led Waveland team in each tourney. The Indians got revenge though as they ended up as the last team in possession of the County Keg, defeating Linden on February 5, 1971.
Terry graduated from Purdue and has been one of the county's outstanding farmers and a local community leader his entire life. He has served in many capacities, and still maintains friendships with former players and opponents alike. Terry has been married to the former Amy Harper for 46 years, and they have four kids and ten grandkids. Well, that's the "Chopper"….one of Darlington's finest!
– John "Butch" Dale is a retired teacher and County Sheriff. He has also been the librarian at Darlington the past 32 years, and is a well-known artist and author of local history.