October 28, 1931 – April 25, 2022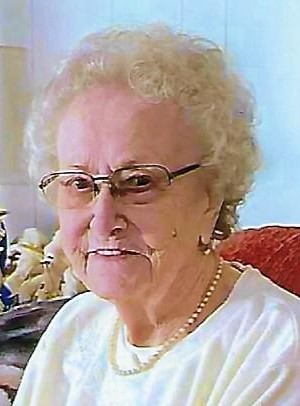 Ruth (Bade) Genter, age 90 of Crawfordsville, went to be with her Lord and Savior on Monday, April 25, 2022.
She was born in East Berlin, Germany on October 28, 1931 to the late George Ernst & Erna Margaret (Brotke) Bade.
Mrs. Genter graduated from Mahzdorf High School in East Berlin, Germany during WWII. She came to the United States in 1947 and lived in New Jersey. In 1971 she moved to California and on May 30, 1972 she married the love of her life, Bennie Genter. Throughout the years, Mrs. Genter worked for RCA for 20 years and Newcomb Electronic for 5 years before retiring from Moore Industries International after 20 years as a quality control inspector for the computer motherboard for the Space Shuttle. She lived in California for 38 years and after her and her husband retired, they relocated to Crawfordsville in 2009.
Mrs. Genter was a member of the Open Bible Church in Tunjunga, CA and Woodland Heights Christian Church in Crawfordsville.
She enjoyed crocheting, gardening, watching her birds on all her bird feeders and spending time with her family. Mrs. Genter was a prayer warrior, helping hand and a strong Christian woman.
Survivors include her daughter Rachael (Martin) Smith of Susquehanna, Pennsylvania; son Randolph (Susan Weber) Colon of Crawfordsville; sister Karin Morales of Utah; eight grandchildren; 11 greatgrandchildren; several nieces and nephews; and her dear friend, Martha Bell.
She was preceded in death by her parents; husband Bennie on January 20, 2016; son Raul Colon, Jr.; sister Helga Colon; and brother George Bade.
A visitation is scheduled to be held at Sanders Priebe Funeral Care, 315 S Washington St, in Crawfordsville on Wednesday, May 4, 2022 from 11 a.m. until the time of the funeral service, which is scheduled for 1 p.m. with Pastor Steve Wilke officiating. The service will be live-steamed and recorded which can be viewed on her obituary page at www.sandersfuneralcare.com. Entombment with follow at Oak Hill Mausoleum.
Memorial donations may be given to the Crawfordsville Fire Department, Franciscan Hospice, or Woodland Heights Christian Church.
Share memories and condolences online at www.sandersfuneralcare.com.