The Great Montgomery County Scavenger Hunt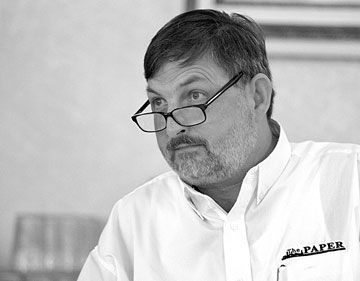 Fresh from those friendly folks who created the History Mystery Tour, the Readers Choice contest, Boomer Bits, Honest Hoosier and more, I'd like to present – for your enjoyment and entertainment – the next big thing in local media – the Great Montgomery County Scavenger Hunt 2022!
What the heck is it, you say?
Glad you asked.
Beginning Sunday, the very first day of May, your friends at Montgomery County's favorite daily edition are unveiling a scavenger hunt for any and all to take part in. This one won't involve sneaking around and stealing someone's under britches off their clothes line though.
The Great Montgomery County Scavenger Hunt 2022 is all about celebrating the history and grandeur that makes up our wonderful little corner of God's country.
In order to take part, all you have to do is read The Paper in May. Every few days, you'll see a page devoted to the contest with the latest clue. (Here's a big hint – the first page with the first clue is scheduled to come out Sunday!)
Correctly answer the question and you could win!
Aye, there's the rub though. Super-talented historian and author Karen Zach came up with the questions! Karen is the editor of our monthly Montgomery Memories magazine and since I was able to have a sneak peek – I've got to tell you, these are some great questions!
Here's how it'll work. You can e-mail answer to yours truly at [email protected] (and I will reply so that you know for sure we received your guess). Don't want to e-mail? No problem. Just drop off your answer in writing during open office hours at our beautiful downtown Crawfordsville digs, 127 E. Main St. (right beside Dance by Deborah). Because of the nature of needing exact answers, no phone call or oral entries will be accepted. All entries must be in a written format.
We'll keep track of all entries. At the end of the contest, whoever got the most correct will win. In case of tie, we will do a random drawing with those in the deadlock. We'll award first, second and third places.
So what are the questions exactly? Well, the first one is . . . HOLD ON! You almost got me to blab. Sorry, we all have to wait until Sunday! I can share with you though, more details on the rules and how this works.
Clues will appear randomly throughout the month of May. Only written answers will be accepted – DO NOT turn in any object or item. We do not want folks digging up Montgomery County!
You can turn in more than one entry, but each entry must be submitted individually. Be sure to include your name and contact information on each one. It'd be a shame to win and we can't figure out who you are or how to reach you.
As with all our contests, you don't have to buy anything to play. And if you do win, we ask that you allow us to use your name and photo and that you come by our office and pick up your prize!
OK, one last thing. There are a few sponsorship opportunities available. If you need advertising, you'll never find a better buy. You will be in The Paper every day in May for less than $20 a day! Sound great? Of course! But hurry and give Judi a call at 361-0100, ext. 1 because time and space is very limited.
OK, that's it. Pretty easy, huh! Let the Hunt begin!
– Two cents, which is about how much Timmons said his columns are worth, appears periodically on Wednesdays in The Paper. Timmons is the publisher of The Paper and can be contacted at [email protected]