2023 Mazda CX-30 Compact Crossover Is Easy To Recommend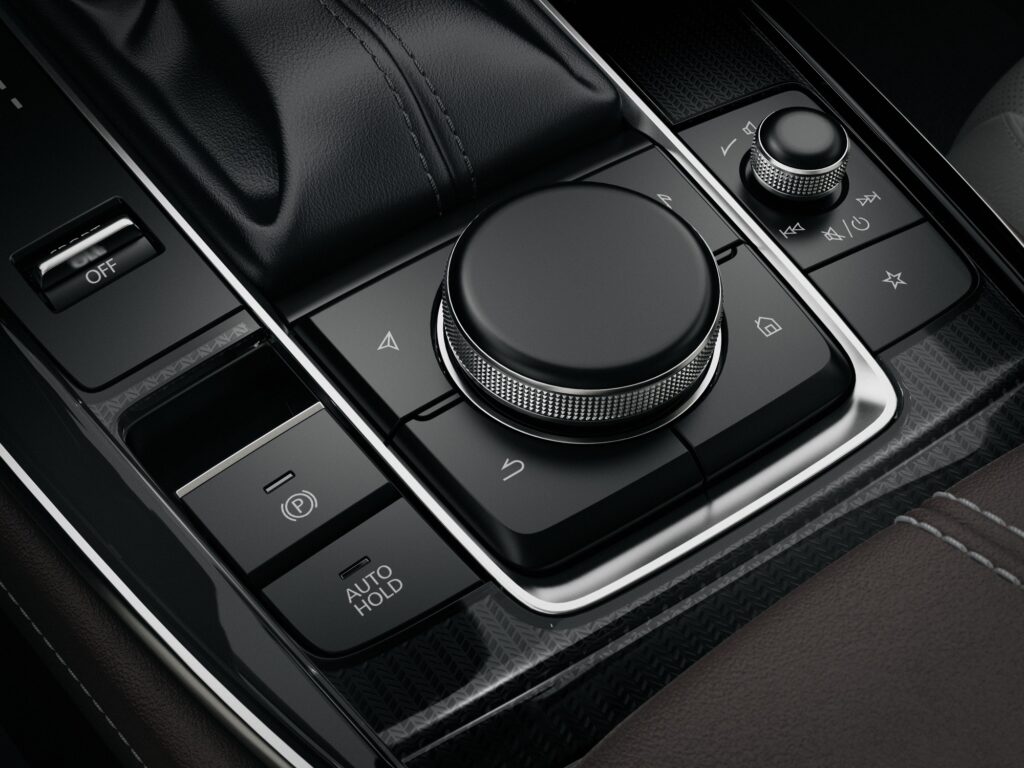 It's not often that I get to spend time in an auto that I both recommended to a close friend and that I would own myself, but the 2023 Mazda CX-30 fits that bill. About a year ago, my friend's old Chevy Impala, with nearly 200,000 miles on the clock, bit it. She has a long drive to work, is admittedly a might bougie, needs secure traction winter, and wanted all of the latest safety tech. Recommending the CX-30 was easy.
When I last had a CX-30 as a test car, my friend walked to the parking lot and asked, "What is that?!" I think that's when she fell in love. And I get it because I too find the CX-30's styling quite beautiful. Mazda calls its orchestrated creases and forms "Kodo", which translates to "Soul of Motion". It's an art piece.
You can see it in how the sheetmetal is drawn tightly over the brand's large grille and forms eyebrows over the squinty curve-following LED headlamps. It seems impossible the crisp lines and compound curves of the body could have been stamped by machine instead of carved by human hands. Splashes of gray moldings hint at off-road capability, even without much. Dark 18" alloy wheels throw shade at the highway. The CX-30 is not large, but does look expensive.
So does the minimalist interior swathed in plush materials, stitched dash coverings and precisely angled screen that looks like Italian glass – even if it is commanded by an unnecessarily cumbersome joywheel-based infotainment system that never seems to stay where you left it. Seats are all-day comfortable with heated cushions facing a heated steering wheel. Below are aluminum knobs and simple read-outs for climate controls.
The 12-speaker Bose audio system was the perfect accompaniment for my drive and recently downloaded Barcelona album featuring Queen frontman Freddie Mercury and Spanish opera star Montserrat Caballé. I could hear every crisp pitch change in both of their iconic voices. Devices connect easily via Apple CarPlay and Android Auto plus wireless charging. Safety is enhanced with adaptive cruise, automatic emergency braking, rear cross traffic alert, lane keep assist, and head-up display.
I've driven the base CX-30 with its non-turbo four-cylinder engine that produces 186 horsepower, and it gets excellent fuel economy, but I thought my friend needed the turbo…and all-wheel-drive. The optional 2.5-liter turbocharged four-cylinder dishes out 227 horsepower and 310 lb.-ft. of torque for spirited acceleration off the line or when ramping up to fast freeways. Driving on two-lane roads towards my parent's house, I had complete confidence zapping past semis and farm trucks. Fuel economy is rated 22/30-MPG city/highway.
Now that my friend has owned her CX-30 for over one full ride around the sun, she was ready to take stock of her little Mazda. Style, fuel economy, and interior quality topped her likes. Having fold-down rear seats and a power liftgate make runs to COSTCO easy, even if rear legroom is tight. She's no fan of the cantankerous joywheel either and thinks the firm suspension is a little harsh over rough pavement. It is the trade-off for sports car handling.
This is a car I'd recommend to my grandmother, my nephew, or my best friend. It offers much for relatively little. Keeping it affordable is a $22,950 base price, rising to $36,810 with virtually every option. Compare that to a Mercedes-Benz GLA or Audi Q3 to know that's a bargain! More direct competitors include the Buick Encore, Subaru Crosstrek, Honda HR-V, Hyundai Tucson, and Kia Sportage.
Storm Forward!
Send comments to Casey at [email protected]; follow him on YouTube @AutoCasey.
Likes
•Flowing style
•Luxurious interior
•Peppy performance
Dislikes
•Decrepit joywheel
•Tight rear seat
•Harsh-ish suspension
2023 Mazda CX-30 Premium
Five-passenger, AWD Crossover
Powertrain: 2.5-liter T4, 6-spd trans
Output: 227hp/310 lb.-ft. torque
Suspension f/r: Ind/Ind
Wheels f/r: 18"/18" alloy
Brakes f/r: disc/disc
Must-have features: Style, Driving
Fuel economy: 22/30 mpg city/hwy
Assembly: Salamanca, Mexico
Base/As-tested price: $22,950/36,810