Freedman, A Selfless Family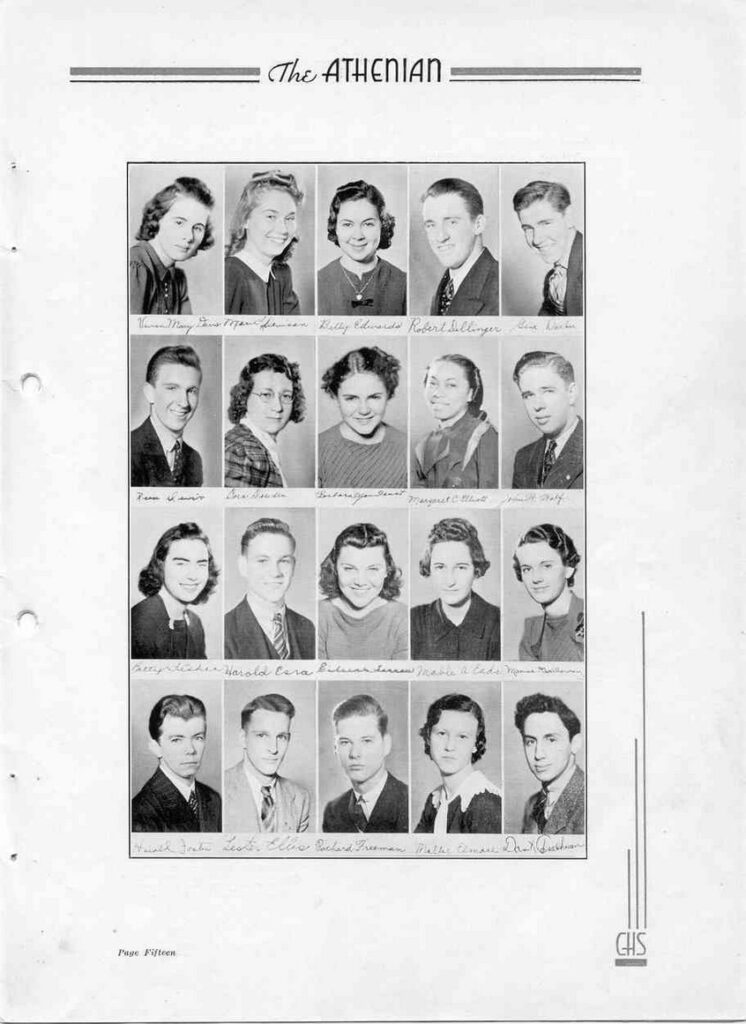 When I think of the Freedman family of Crawfordsville, giving comes to mind, charitable in various capacities of life. My first introduction to the family came many moons ago when I was Children's Librarian at Crawfordsville District Public Library and was doing a series on our local children's authors. After a wonderful half hour interview on the phone to Beatrice (Freedman) Schenck DeRegniers, I fell in love with not only her books but her whole family as well. Some of her work centered around her memories growing up in our fair city and certainly, Beatrice gave from her heart.
I wrote about her father, Harry, a Crimean-born tailor first with a shop in Lafayette, then moving to Crawfordsville where he owned a clothing store. Another word for this family would have to include adventure as Harry at age 17 left his homeland and with three neighboring families came to America. In 1909, he married Sophia Feinstein and their home here was at 10 Mills Place. They were both philanthropic, Harry one of the founders of the Community Chest, active with the Montgomery County Tuberculosis Assocation, Boy Scouts, Chamber of Commerce, American Red Cross. His obituary stated, "In his many years as a citizen of Crawfordsville, your name has become a symbol of help to those in need. You have given much of your time, energy and personal finances to humanitarian causes. This you have done from the heart – sincerely and cheerfully – always with the highest integrity and without publicity or acclaim." Sophia was an impressive artist and sculptor besides being an amazing cook (her apple strudel to die for and she loved to share with the neighbors). Harry (and Sophia) are buried in the Jewish cemetery in Lafayette.
Harry and Sophia's three children grew-up here. You know Bea now and there was Lillian who married Abe A. Goldman who has a wonderful story of his own and produced the only Freedman grandchildren, Steve and Kathy. By the way, think this Stephen is the one who had an interesting career as well, being a periodontist (Star Democrat 7 Feb 2021) where he collected and used antique newspapers to tell about a particular theme (Titanic, Wild West, Civil War). Now, in the other two articles on the Freedman family I wrote, I breezed over probably the most interesting of them all, their son and last child, Daniel X, middle name Xander, but mainly called Danny (and thanks to Paul, my genealogy/history buddy for the reminder that Daniel Xander Freedman would make a good article – and indeed he deserves one so here ya' go!).
At Lafayette Home Hospital, Dr. D.C. McClelland delivered (17 August 1921) Daniel Xander Freedman whose parents, Harry and Sophia (Feinstein) lived at 324 S. 6th Street in Lafayette. Several biographical listings for Dan Freedman have him born in Crawfordsville, but he was indeed born in Lafayette. He spent some time at private schools (particularly Lake Forest Academy), but also attended CHS for awhile, as well where he was active in public speaking and entertaining, being marked as the "Groucho Marx of CHS," and when he was a Senior his middle name was "finally revealed – it's Xander!" Oh, and Dan carried Groucho with him throughout his whole life as he was quite a talented musician and loved to entertain by singing Marx's "Lydia, the Tattooed Lady."
Dan was little, but mighty, being but 5'2" weighing just 120 pounds, having dark complexion, dark eyes and hair. When he joined the service, he was listed as an actor having two years of college. On his draft card, it notes "X – initial only" but we know that wasn't correct, either. Leaving his studies at Harvard, Dan joined the infantry in WWII, but received a back injury. Then, he volunteered as a "military clinical psychologist," working with hundreds pf brain injured soldiers which convinced him that "extensive research was needed on brain functions." (Oliver, Myrna. LA Times Sat 5 June 1993 p 22). Oliver said that Dan became interested in the human brain at the mere age of 12 due to reading, The Human Mind, by Karl Menninger. Seems each place he turned there was much more to learn!
Toward the end of the war, he married (20 March 1945) in Alabama Mary Neidigh whom he had met in Indiana, becoming friends and confidants, then his wife for 48 years. Although no children of their own, Dan loved children and wanted them all to be the best they could be. He returned to Harvard and graduated, then went on to Yale School of Medicine for 20 years where he became professor of Psychiatry (Lafayette J-C 26 Oct 1983 p 19). Besides here, he was at the University of Chicago (Chairman of the Department of Psychiatry), then on to his last place (UCLA – Prof of Psychiatry and Pharmacology) where his research continued in how drugs entertwined with mental patients, having been the very first to link drugs (such as LSD) and the brain hormone serotonin. (White Plains NY Sun June 6, 1993). Same article noted that Dan was a believer in exhaustive investigation and that his belief in 1970 was that Ritalin and Dexidrene were "probably effective" to treating a child; however another several years of research was still needed to determine such.
This man was amazing in so many ways (holder of more than a dozen national and international awards); published 15 books and over 200 articles on topics of concerns in psychiatry. He served for many years as the chief editor of the American Medical Association's Archives of General Psychiatry which became one of the chief scientific journals ever. President of the American Psychiatric Association, American College of Neuropsychopharcalogy and many such advisory positions were in his repertoire. His approach to working with various brain disorders, functions and the like was quite unique for the time. One-on-one and get to know the patient well. For instance, he might just show-up in a classroom or a home to see how a patient interacted with others, and many noted that they were "rightful heirs of Dr. Dan's" (obit). Bless this adventurous man for giving of himself and his knowledge to the psychiatric world!
– Karen Zach is the editor of Montgomery Memories, our monthly magazine all about Montgomery County. Her column, Around the County, appears each Thursday in The Paper of Montgomery County. You can reach her at [email protected].