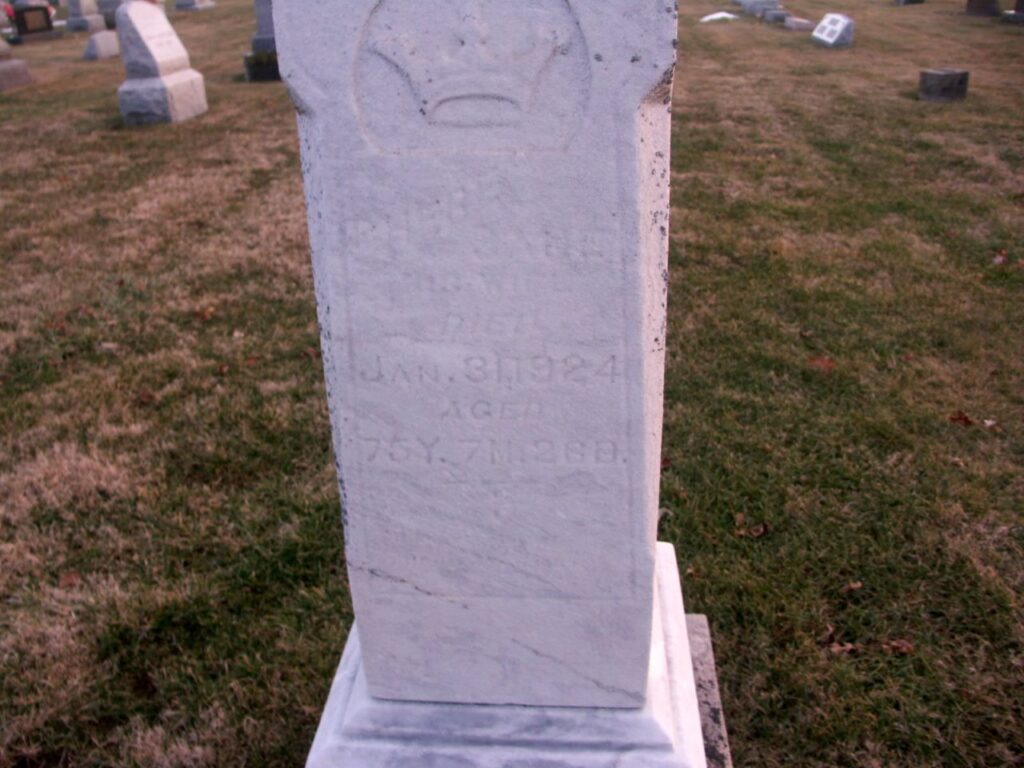 Decided it was time for a lady and was just perusing my database when I discovered that this gal was one of 18 children (can you imagine) so thinking she'd make a great topic for the ATC article this week, off I went on the quest! A few of her brothers and sisters (Mary, Derrick, Warren, Benjamin, and Tom LaBaw) passed young. Derrick died on the first day of the battle of Stone River, in Tennessee on the last day of the year in 1862. Right afterward, Ben died in Bowling Green, Kentucky 4 Jan 1863 of lung fever. Others lived long lives, her half-brother, Alonzo being 90 and others in their 70s and such.
So, meet Phebe Jane LaBaw, named for her mother which was good since Phebe was the third and last daughter born to her mother, Phebe Crane LaBaw before Phebe Crane passed away (after two more boys, dying not long after giving birth to Elijah) 24 April 1852 having just turned 40. Benjamin Butler LaBaw her father remarried Elizabeth Ann Smith just a few months after Phebe's death. She must have passed away as he married again in 1862, then died five years thereafter.
Benjamin Butler farmed in Shawnee Township but several of his children lived in Montgomery County, Phebe Jane herself buried in Waynetown Masonic. He also had property in Warren County that he left to his last wife and her son, Elmer, as well as the household goods mentioned as hers at their marriage. His home farm in Fountain was given to Thomas A's children as he preceded his father. To: Phebe Jane, John, Elijah, Alonzo, Elizabeth Ellen and Melissa Alice received his library, household goods and the like. Loved that son Lewis had planted 13 acres of wheat and he "should have those profits." Horses his son John could select, as well as the milch (milk) cows, heifers, hogs and chickens that Ben had on the place. Ben did not wish a sale of anything he had owned. He gave Sarah $500 and the same to Jonathan, and although the will is badly smudged looks like Lewis also received 160 acres of land in Vermilion, Illinois. Also, Ben desired anything else to be "divided between all my children." (Fountain County Will found on Ancestry). His son Simon was guardian for (Phebe) Jane, John, Eliza, Alonzo, Ellen and Alice and he was also one of the executors.
Born June 5, 1848 in Fountain County Phebe fell in love and married Daniel Burton Zeigler September 14 in 1867. He may have been in the Civil War (perfect age born 25 Feb 1840) but only one with a name similar I found was one born, lived and died in Ohio; oddly, his wife was Phebe but started her widow's pension three years before our Dan died, so don't feel confident with that! Sadly, Dan passed away on Christmas morning in 1883. Phoebe never remarried, raising their four young children on her own and outliving Dan going on 41 years. He had several brothers and sisters and the family arrived in Fountain County in April 1829. Believe Phebe mainly lived on the old Zeigler homestead for much of the years but spent a year in Kansas likely at her son's. Yet, much of her time was just a mile or so from where she was born.
A definite soldier was on the Tappan line. Momma Phebe's parents were Jonathan Crane and Keziah Tappan, whose grandfather was James Tappan (mother Nancy Dunham). The family was proud (several in DAR as well as SAR) that James Tappan (1750-1809) born and died in Woodbridge, NJ served as a Pvt under Jacob TenEyck in Colonel Frederick Frelinghuysen's 1st regiment of the Somerset County, NJ Militia, a true Patriot.
Phebe and Dan had a son, Daniel Burton, Jr., who married a local girl, Elmdale-born Mattie Perlin Utterback (20 August 1883). Their married life began here in Indiana, but they lived several other places until finally landing in Pratt, Kansas. They too had four children: Robert Earnest, Cecil Edwin, Erma
Pauline and John Lawrence (her obit). At age 12, Mattie joined the Elmdale Methodist Church, remaining in that denomination until her death at the young age of slightly over 40 and a half years. Dan and Mattie neither were joiners of clubs, much preferring to be at home where they enjoyed working and building the character of their children. 1924 would have to have been a rough year for Dan, losing his mother in January and wife in April. Buried together in Greenlawn Cemetery at Pratt.
Another of the Zeigler children was Sarah who was eight in the 1880 census, thus born about 1872, but I found nothing on her after that and Ancestry sent me all over the place for the oldest (son, Harley born about 1868) but it was the wrong Harley Zeigler. Only thing I know for sure about him is that in 1924 when his mother passed away he was in Evansville.
The other one, Cora stayed here in Montgomery County. In 1920 just four years before Phebe passed, she lived with Cora and her husband, James Rivers. They were parents of Ruth and Raymond (at least) who had such a sad ending, having been on his tractor on his farm near Pittsboro (May 1967) when his clothes caught on fire and he died from the burns the next day. Three others were born to Phebe: Clara who married Charles Moore and passed away fairly young December 11, 1915 and Robert and Mary both died of diphtheria in October of 1877 he age seven; she just three.
At Phebe's death there were 17 grandchildren and two greats. A member of Snyder's Chapel United Brethren Church, her last words, "Everything is all right now!" Her obit noted that she was "a woman of untiring industry, strict business integrity and one whose social and moral life was above reproach!" Sounds like one wonderful gal to me!
– Karen Zach is the editor of Montgomery Memories, our monthly magazine all about Montgomery County. Her column, Around the County, appears each Thursday in The Paper of Montgomery County. You can reach her at [email protected].