My Third Grade Teacher Was The Tops !!!!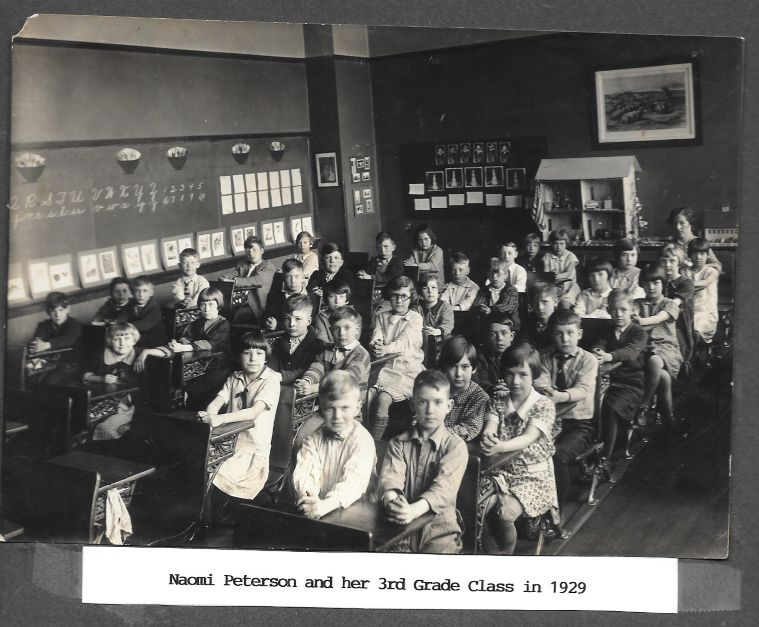 I was very fortunate to have many outstanding teachers when I attended Darlington school, and one of the very best was Naomi Shannon Peterson, my third grade teacher in 1957. Naomi was born in 1897 and grew up in Shannondale, which was named for her grandfather, David Shannon. She attended school there through the 8th grade, and with no way to travel to Darlington High School, Naomi walked a mile south each morning to catch the interurban line which ran to Crawfordsville. Her persistence paid off, as she graduated from Crawfordsville high school in 1916.
After graduation, Naomi enrolled in Madame Blaker's Teacher's College in Indianapolis. This 12-week course became the foundation for her life-long teaching career, although she took several other college courses later in life. In the fall of 1916, and only 18 years old, Naomi started teaching in a one-room schoolhouse near Waynetown. She walked a half mile to school each morning and arrived early enough to build a fire to keep her students warm in the crude frame building. During the remainder of WWI, Naomi taught the first four grades at Kirkpatrick before heading over to Linden for a short stint. When Naomi and three other new women teachers could not find a room to stay in at a private residence on their first night, they rented a room at the Linden Hotel. Since there was only one bed, all four ladies crammed into the large feather bed, which had slats supporting the mattress. Unfortunately the hotel was extremely close to the railroad tracks, and when a train rolled through that night, it shook their room so violently that the bed slats came loose. All four women ended up on the floor in one big pile…laughing hysterically!
Later on, Naomi taught at Crawfordsville, Ladoga, and Bowers before finally ending up at Darlington, where she taught for 22 years. She was married to Husted "Shoney" Peterson, and they lived in Darlington all of their married life. Naomi liked knowing the students and their families, and she enjoyed being in church and several social organizations in town. In the 1930s, when she found out she was pregnant with her first child, she went to the principal, William Howard, and told him that she was resigning. Naomi had a good laugh when Mr. Howard expressed shock and asked, "Oh, Mrs. Peterson, is it anything that I've done?"
Naomi told me that she enjoyed teaching young children and treating them as individuals. She never used the paddle, but used other discipline techniques instead and tried to use positive approaches. She always had a great sense of humor, and I will always remember the kindness she showed in helping me with a problem. She insisted that each student know all of the multiplication tables through "times 12" by the end of third grade, and that they could read at or beyond that grade level. At day's end, Mrs. Peterson always read from Laura Ingalls Wilder "Little House on the Prairie" books to the class…how special!
Naomi Peterson retired from teaching in 1962, after a career that spanned six decades. She continued to live a very active life as a member of several local organizations until her passing at the age of 99 in 1996. Thank you, Mrs. Peterson, for being our teacher and sharing your life with us. You were one of the best!
– John "Butch" Dale is a retired teacher and County Sheriff. He has also been the librarian at Darlington the past 32 years, and is a well-known artist and author of local history.