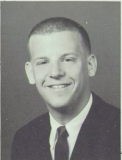 Often, careers run in families, such as my father laid carpet and taught my brother; many families continue farming for generations; school teachers often produce school teachers, and a few weeks ago, I discovered two fellas who both ventured into the medicinal world. My regular readers will remember that I have written about physicians many times from way back in our time to the present day so I was thrilled when I recently discovered two brothers who partially grew up in our little city on the 800 block of East Main. Paul Steven Treuhaft became an orthopedic surgeon and his brother, William Hahn Treuhaft a rheumatologist. To me, that is a "wow" and I tagged them as the Talented Two — thus, I hope you enjoy reading about their lives.
The Treuhafts are sons of Roy (son of Sol Treuhaft and Belle Tietlebaum) and Doris Diana "Dottie" (Hahn). Dottie's father was Samuel Wolfe Hahn, and birth mother was Rose Prensky Hahn, who died in childbirth when their second child, Ross, was born. The Prensky family in Brooklyn was related to the Levenstein family in Greensburg, IN, and they arranged the marriage between Sam Hahn and Sarah Levenstein. Samuel and Sarah Hahn came to C'ville during the Great Depression. Sam had worked as a haberdasher in Brooklyn, and the Levenstein's in Greensburg knew the Goodman family who owned several small department stores in various small Indiana towns. The Goodmans had an opening for a manager in C'ville and offered the job to Sam. The family was on a train to Indiana as fast as possible, but shortly after they arrived, there was a fire in the department store which kept it closed for an extended period of time. There was a Jewish man in C'ville named Morris Shapera who was an owner of The Golden Rule. He gave Sam a job. Eventually Sam and Sarah acquired a controlling interest in the Golden Rule and ran it together until Sam died in 1954. Sarah continued to run the store until her final illness, when the store was sold to the Balch family.
Roy was born and passed in Lucas County, Ohio (Toledo area). When the Treuhafts were married, Roy worked for her aunt's (Frieda Levenstein) husband, Paul Rostov, a wholesale grocer who had a small mayonnaise plant (in Lafayette) which Roy managed before going to war (and bet you can guess where the first son's name derived). After serving in the Navy during WWII while Dottie lived in Crawfordsville with Paul and her parents, they thought Roy would return to the world of mayo but Uncle Paul had suddenly passed and Aunt Frieda sold the plant. The new owners moved it to Terre Haute.
Since Roy and Dottie did not wish to go to Terre Haute they headed to Toledo, where Roy, his brother Bernard, and their father, Sol opened a floor covering store and were quite successful as the GIs were returning to find homes, often remodeling them. Later, Roy worked for Louis Michael Real Estate for 35 plus years, specializing in industrial realty while raising their three boys (Paul and Bill plus Alec Charles, always called "Chip" by the family, two doctors and a musician (piano) who spent most of his working career managing opera singers in New York City). Although Paul suspicioned that his parents had secretly wed in Ohio (and they did although they were both 23 so not sure what the rush – just love likely – married 19 August 1940 by Dallas Young, JP in Henry County) officially their wedding took place in Indianapolis 21 November 1940. The couple had met at Ohio State "and their strong attachment never wavered."
Dottie Hahn and her brother, Ross Bertram graduated from Crawfordsville High School, Ross playing basketball through his years there (and some in college) as he was 5'11"- tall for that time, and served in WWII as a Staff Sgt. He spent many years in Manchester, Connecticut as a real estate developer and passed in May 2001.
All three of the Treuhaft boys graduated from Oberlin College. Paul's son, Noah was also an Oberlin grad then went to the U of California at San Francisco in computer science. His brother, Ben went to Bowdoin and then Pratt, becoming a professional photographer, but let's talk about our talented two.
Paul was born in February,1943 and Bill 4.5 years later. Paul came to visit his grandparents in C'ville for several years until he was 11, after the family returned to Ohio, but Bill has few memories of the place. Paul however has many wonderful memories of friends, his grandparents' neighbors and much more!
The U of Chicago was where Paul graduated from medical school and received an internship at IU in Indianapolis. He then returned to Chicago, spending a year as a Fellow in Rheumatology, followed by two years (Texas) in the Air Force. Heading back to Chicagoland, Paul was fortunate in finding a position with Jorge Galante, MD, who was starting a new orthopedic program at Rush. Jorge was a pioneer in the joint replacement field and once Paul's training was completed, he moved to Wisconsin and took a job at the Marshfield Clinic where his wife, Mary, was offered a job in her field (Virology). He pioneered joint replacement in the area, many farmers having problems from milking, climbing and the like.
After 20 years in Wisconsin, Paul joined a practice in Ohio but did not like private practice. After a few years, he took time off to get a Masters in Biomedical Ethics, working as a deputy coroner during that time which he said was, "always interesting, never fun!" Paul then returned to practice, working in the Cleveland Clinic system. When he turned 70 he retired, following an adage taught to him during training in Chicago: "In surgery, it is better to quit ten years too soon than ten minutes too late." Retiring to California with wife, Ann, an artist, he enjoys vegetable gardening and woodworking!
Bill attended medical school at Case Western Reserve and spent many years as a rheumatologist in the Toledo area and at St. Vincent Medical Center as an arthritis specialist. Bill and his wife, Joanne have three children. (Zachary, Hannah, and Joshua). Zak, the oldest, works in business in New York. Hannah and Josh both wound up in Portland, Oregon, so Bill and Joanne retired there. They are only a short airplane ride from Paul and Ann in Santa Rosa, CA.
CUT:
Both our Treuhaft doctors (Paul on left, Bill right – DeVilbiss HS yearbooks, Toledo) were well-known and sought-after lecturers in their expertise and I'm so glad I got to know Paul on Facebook. I answered a local question or two. He in turn answered a few medical ones on questions I had. We've become good buddies and he helped me with the recent Freedman article in the ATC column. Loved it when one of my Talented Two told me, "Looking back from age 80, the years in Crawfordsville remain some of the best in my life!"