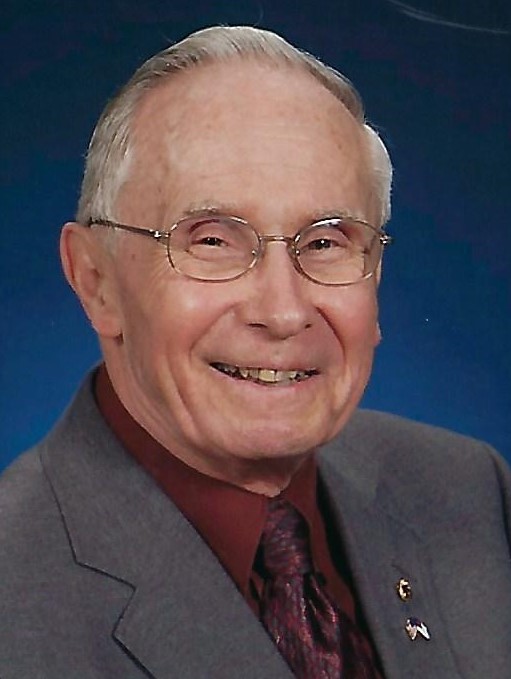 March 3, 1925 – Jan. 20, 2022
James W. Grimes, Jr. 96, Crawfordsville, went to be with the Lord on Jan. 20, 2022.
He was born March 3, 1925, in Danville, Ill., the son of James W. "Bill" Sr. and Jewell (Pyle) Grimes.
In 1935, the family moved to Wallace, Ind., where he graduated from Wallace High School in 1942. He worked at Donnelley's until he enlisted in the U.S. Navy in March 1943, serving in the Southwest Pacific.
After discharge, he responded to a call to the Gospel ministry and trained at Moody Bible Institute in Chicago. He married Mary Katheryn Jackson of Wallace on Dec. 18, 1949. He was ordained to the ministry in 1950 and they were commissioned for missionary serviced by Pleasant View Baptist Church in Crawfordsville. They served the Lord in Munich, Germany with Baptist Mid-Missions until 1959, at that time, their infant son contracted Polio, making it necessary to return to America for extended medical care. They continued Home Missions, serving several churches in Indiana until retirement. The moved to Kingman, where they helped in their home church, Yeddo Baptist, plus pulpit supply to area churches. In 2006, they moved to Crawfordsville, where he taught a Bible Class for the past several years.
Survivors include his wife, Mary K.; two daughters, Judith Ann Kuriatnyk of Gig Harbor, Wash., and MaryRuth Taylor of Crawfordsville; a sister, Lois Jean Larsh; eleven grandchildren; and twelve great- grandchildren.
He is preceded in death by a son, James William III; and daughter, Deborah Sue.
Visitation is scheduled on Friday, Jan. 28, 2022, from 12 – 1:30 p.m. with service following, Rev. Phil Taylor officiating, at Sanders Shoemaker Funeral Care, in Waynetown. Interment will be at the Waynetown Masonic Cemetery. Gifts may be sent to Baptist Mid-Missions earmarked "Jewish Missions."