Events Reminding Us All Why Montgomery County is Great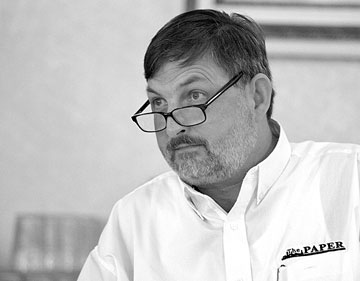 Spring time is the best, isn't it? A lot of us are worn out from the winter . . . tired of bundling up in 112 layers just to go out to get the mail . . . tired of worrying about pipes freezing . . . tired of wind-chill . . . tired of it all. Spring, that eternal time of rebirth, brings all (OK, most) of that to an end and we feel a little more optimistic . . . and better . . . so long as we don't watch the nightly news.
With that in mind, there are some events coming up that go hand in hand with feeling good. With an apology to the so-many other events that aren't included (just send me your info and it will be going forward!), here's a quick look at just a few of the great things that make Montgomery County a wonderful place to live, work and play!
* * *
CALLING ALL poets and poet wanna-be's! Athens Arts Gallery is sponsoring a poetry writing event to celebrate National Poetry Month. Launched by the Academy of American Poets in April 1996, National Poetry Month reminds the public that poets have an integral role to play in our culture and that poetry matters. Join fellow community members in a group event led by Gwynn Wills, certified Amherst Authors and Writers Workshop Leader on Thursday, April 21, from 1 p.m. to 2:30 p.m. at the Marie Canine Plaza. Participants will have the opportunity to write poems with inspired prompts from the AWA Method and artwork from local artists. The event is free to the public and an RSVP is recommended though not required. In case of inclement weather, the event will be held indoors at Fusion 54. Come on out and experience the joy of writing. Contact Gwynn at (317) 345-5306 or [email protected] to reserve a spot or to answer any questions.
And one other quick note on this event. A while back, someone offered a suggestion that much of the focus of Athens Arts was on painting and sculptures and that sort of art, not the written word. Kudos to the powers that be at Athens for making this happen!
* * *
IT'S THAT TIME of year for Character Counts! And the Character Counts Board is now accepting nominations for the following awards. Please consider nominating a deserving candidate(s). Nomination forms must be submitted or postmarked no later than Friday, April 29. There are three easy ways to participate. Send nominations to Jennifer Coyle at 1010 Lane Avenue, Crawfordsville, IN 47933 or e-mail it to her at [email protected] You can also nominate online at https://forms.gle/HQPYczV9pLAPijvPA
What are the categories? Oh, c'mon! We know these by heart now, don't we? They are:
Business/Industry Award: A business or industry that has demonstrated the Six Pillars of Character (Trustworthiness, Respect, Responsibility, Fairness, Caring, or Citizenship) in its professional culture and climate. There will be 1 business or industry honored.
Champion of Character Award: An individual, who has demonstrated the Six Pillars of Character, made difficult choices, acted with generosity and self-sacrifice or performed community service.
Community Award: An organization that has developed an active community task force to support the Six Pillars of Character (Ex. Scouts, Honor Society, Service Clubs, etc.)..
Educator of Character Award: An educator who teaches and models the Six Pillars of Character and has impacted students through innovative character development and education (possible examples: teacher, administrator, bus driver, secretary, etc.).
Pursuing Victory with Honor Award: An athlete or coach who demonstrates and models commitment to the Six Pillars of Character.
* * *
ONE GROUP that does a huge amount of good in our community and rarely gets an appropriate amount of recognition is the Volunteers for Mental Health. Well, let's rectify that right now and at the same time promote their one-day in-person training for Mental Health First Aid focused on assisting our youth. It is scheduled to take place Thursday, May 5 at Hoosier Heartland State Bank's Success Center on 231 South.
Any parent, teacher, provider, first responder or interested individual is invited! Pre-registration is required at least two weeks prior to the event. The registration fee of $20 includes the training, all materials, snacks and lunch. Each participant who completes the course work will receive certification.
Two experienced certified trainers will lead the workshop, Alicia Criswell of Warrick County Purdue Extension and Carla Kidwell of Purdue Extension – Wayne County. Registration is open on-line and a maximum of 30 participants is permitted. To access the registration portal, visit https://cvent.me/zkAaNw. There's also a link on the VMHMC website (vmhmc.org) to complete the registration process. Questions concerning the program, registration, or scholarships may be directed to VMHMC Board President, Denise Booher Walker at (765) 275-2689 or by e-mail at [email protected] Co-chair for the program, Chasity Surface of HHSB, can be reached at (765) 401-1922.
* * *
AND LAST BUT certainly not least, the Montgomery County Master Gardeners' popular Second Annual Plant Sale, which will include the popular Nucor Tree give-away, is scheduled a few days later on Saturday, May 7 from 8 a.m. to 1p.m. at the Montgomery County Fairgrounds.
A variety of flowering hanging baskets, tomato and pepper plants, flowers and herbs will be available to the public. The sale will be set up under cover of the poultry shelter, next to the show arena where Nucor will handle the tree give-away. Inside the 4-H exhibit hall will be demonstration booths, a kid's corner and booths with information regarding local non-profit organizations in our community.
What a great way to kick off the 2022 spring/gardening season
* * *
I'VE SAID IT before and will continue – ain't Montgomery County great!
– Two cents, which is about how much Timmons said his columns are worth, appears periodically on Wednesdays in The Paper. Timmons is the publisher of The Paper and can be contacted at [email protected]