Lt. Gov. Crouch, Tipmont REMC Celebrate Project Completions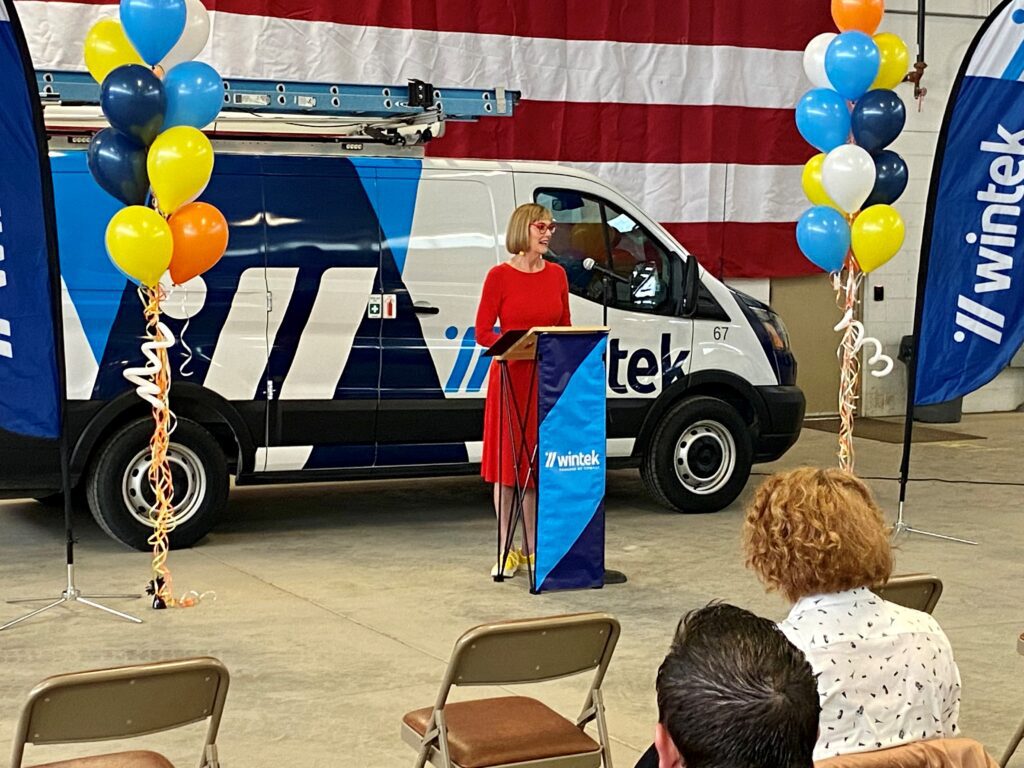 By Joe LaRue, [email protected]
In an event at Tipmont Wintek's Battle Ground facilities, Lt. Gov. Suzanne Crouch, executives from Tipmont Wintek, and representatives from around the region gathered to celebrate the completion of 13 of its rural broadband projects, including seven in Montgomery County.
The Montgomery County projects, funded by $4,229,106 in grants from Indiana's Next Level Connections Broadband Grant Program and matched by an equal amount of local funding, has helped provide high-speed internet access to 223 homes, 49 farms and businesses and five anchor institutions. Anchor institutions are groups that provide significant community services, such as schools, hospitals, and government agencies.
The grant money came from the Indiana Office of Community & Rural Affairs' (OCRA) Next Level Connections Broadband Grant Program, which aims to provide high-speed internet access to the over 400,000 Hoosiers who live in what Lt. Gov. Crouch termed, "internet darkness." Started in 2018 by Gov. Holcomb as a $1 billion infrastructure initiative, Lt. Gov. Crouch said that the program, "has already helped connect 132,000 Hoosiers with the money that's been awarded."
Tipmont Wintek REMC CEO Ron Holcomb, in remarks at the event, remarked that, "It's said that necessity is the mother of invention. And nothing is more necessary than bringing broadband internet to rural Americans." He went on to say that, "Projections estimate that the economic returns on delivering high speed broadband to rural Americans are 4-1."
Holcomb made specific note of the work the state has done in helping, saying, "We look forward to our continued partnership with the state and their continued support and vision."
In her remarks at the event, Lt. Gov. Crouch emphasized how COVID-19 had made rural broadband access even more critical than it already was. With remote learning and tele-work becoming a way of life for most Hoosiers, it became critical that the state expand its efforts to connect rural Hoosiers.
After their initial allocation of $100 million in grants in 2019, the Next Level Connections program helped deliver a staggering $250 million in grant money in 2021, largely as a result of the increased need for high-speed internet access.
Lt. Gov. Crouch closed her remarks by saying, "Through providing this service, Tipmont REMC continues to improve the quality of life for both Hoosiers living here now, as well as those looking to locate here in the future."
In speaking to Lt. Gov. Crouch after her remarks, she emphasized that, "Governor Holcomb and I believe that rural Indiana is our next great economic opportunity. And by expanding broadband, we are able to unlock that opportunity, not just for the people that live there but by attracting other people to our rural areas." She went on to say, "It's also about quality of life, and improving the quality of life for the residents that live there. We saw during COVID that being connected is no longer a luxury, it's absolutely essential."
When asked if there was anyone she felt had not gotten the proper credit or recognition for their work on this project, Lt. Gov. Crouch said, "People are absolutely ecstatic once they are connected and they haven't had that connection, but then having the support when they have problems or things aren't working right, is equally important." She said, "I would say that those that haven't gotten maybe enough credit would be the support and the Data Center."
The Data Center is Tipmont Wintek's support hub, responsible for ensuring that its systems stays functional and working for customers throughout its coverage area.
Tipmont Wintek Communications Director noted that, due to the significant increase in funding through the grants from the Next Level Connections program, they are expected to complete their six planned rural broadband projects by 2023, a year ahead of the original projected completion date of 2024.
On April 18, 2022, Tipmont Wintek received an additional $3.2 million in grants from round 3 of the Next Level Connections grants, on top of the $16 million in total it received in September of 2020. Beyond Montgomery County provides rural broadband to areas in Clinton, Fountain, Tippecanoe, and White Counties. Their coverage region stretches from west of Veedersburg to east of Mulberry in Clinton County, and from south of Crawfordsville to north of West Lafayette.
In total, Tipmont Wintek services over 4,000 customers. Since connecting their first customer in 2019, Tipmont has laid 1,797 miles of fiber to help connect rural Hoosiers to high-speed broadband.
Tipmont REMC, which acquired the Lafayette-based Wintek Corporation in January of 2019, has 24,872 members, 2,779 miles of electric line and provides electrical power in the five previously listed counties, as well as Benton, Boone and Carroll Counties. They continue to be an innovation leader in providing electrical and broadband solutions to rural Hoosiers.