No More Fruits in Karen's Column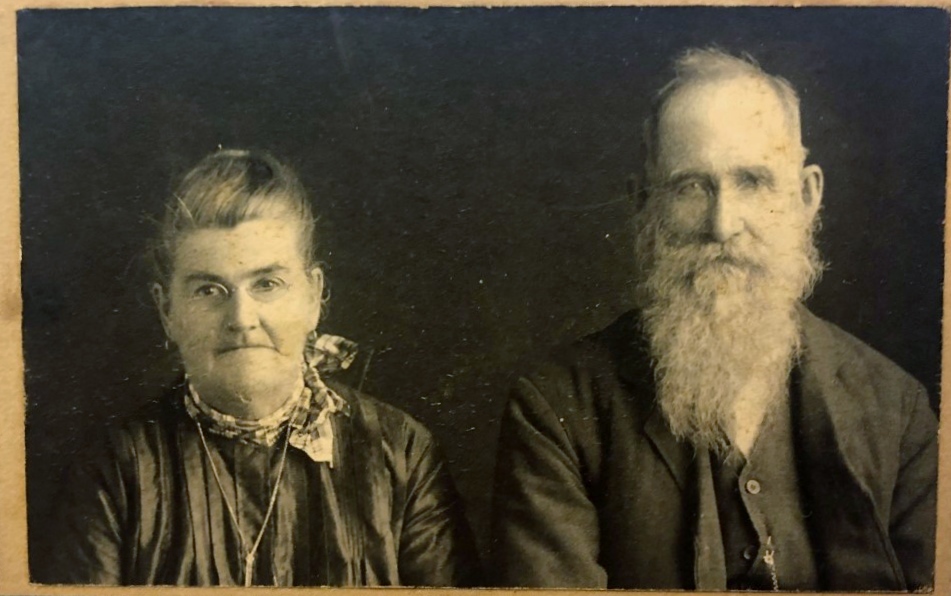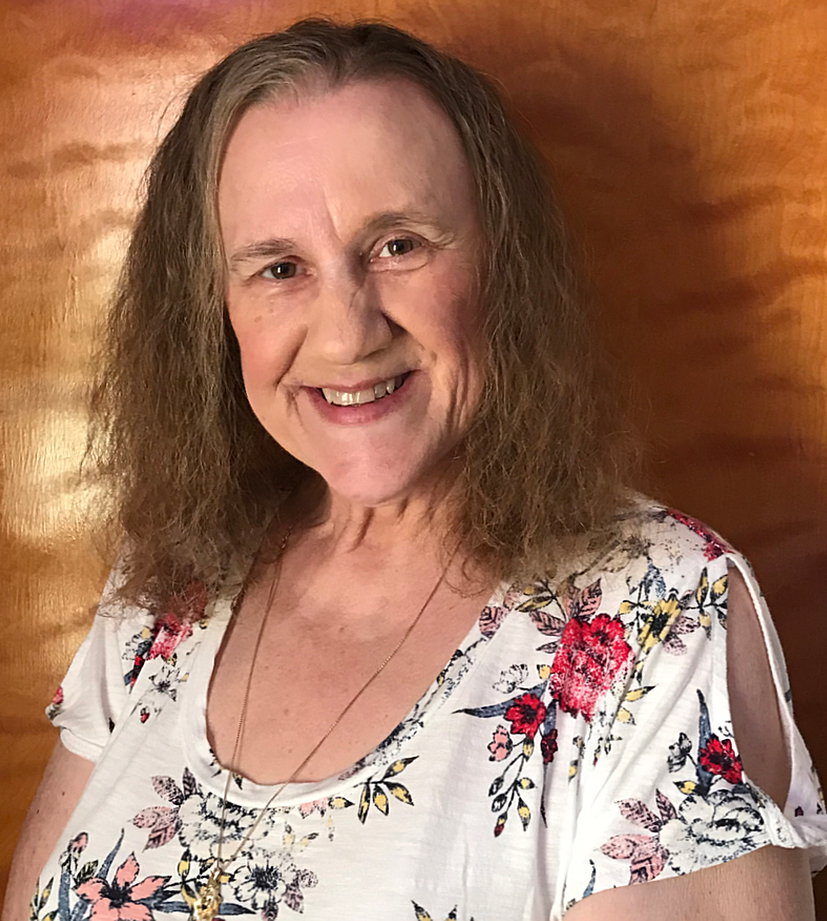 Hope you have all enjoyed perusing the Fruits' Saga as much as I've delighted in researching, writing and presenting the Saga to you!
Depending on your outlook, joyfully or perhaps sadly, today's child is the last of Alamo George and Catherine (Stonebraker) Fruits children, the last of the Saga of Dear 'ol Alamo George! – Son Michael Yeakley Fruits, was born on the Fruits farm in Ripley Twp., May 13, 1836. Here he grew-up to not only farm but run a sawmill where a sad family tragedy occurred.
On November 27th in 1855, Justice of the Peace, William Smith married Michael and his wife (who would be so for 54 years), Mary Jane Thomas (21 Sept 1837 – 31 Jan 1909). Both are buried in O'Neall Cemetery (he passing April 11, 1912), along with three babies (an infant daughter in 1866; Willard 1868- 1870 and Balas 1870-72). Andy R. added a photo of the couple, while Kim & Roger Hancock provided a photo of their tombstone.
Their first child, son James B. was born about a year after their marriage, would grow-up to marry Jennie Lavendar Burke 13 days before his 18th birthday, she about a year older. James B. at age 22 was working for his father at the sawmill, two miles north of Alamo. It was a Saturday afternoon and one of the boilers of a large engine exploded tearing through the side of the building. James was operating that engine and was said to have been one of the best at the job but something happened as three of the men switched jobs and the explosion mangled and scalded James so badly he lived but a few minutes. Three children had already blessed (Marie Alice, Michael John and Dora Mae, plus a Nettie who possibly died shortly after birth) James and Jennie's union, thus leaving Jennie to raise these three. Jennie there afterward married Fred Lightcap and had two sons with him – Fred and Forest.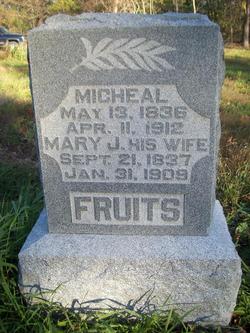 Howard Fruits was Michael and Mary J's second child, born March 2nd, 1860 in Montgomery County and died right here 5 Aug 1938, buried Waynetown Masonic Cemetery. He married first Clara Hunter and 2nd Alvaretta Stonebraker. In 1891, on May 22nd, his father almost tragically lost another son when Howard's store (between Waynetown and Yountsville basically at Fruits which also served as the Post Office, Howard the PM) was hit by lightning. The chimney was torn off and bricks hurled everywhere. The bolt made a turn and he was knocked to his knees and rendered insensible for quite a few minutes. Overall, Howard was one lucky man and was mainly just badly shaken. When he recovered he went to aide his customer, Mrs. Small who lost her team which had been hitched in front of the store but was so frightened they took off down the muddy road, completely shredding the well-made buggy. He must have enjoyed music as in 1902, he purchased a graphophone and had parties to entertain his friends with the tunes from it, and he was involved in improving the community having invested in telephone lines that year as well, first to Yountsville, selling his interest in that to invest in the lines to Alamo. He was the father of two children, I believe, one from each wife (Martha and James W).
Samuel Larkin Fruits is one of my fav of all the Fruits' family born near Alamo 8 Jan 1873 (died at Alamo 20 June 1946 buried in the Alamo Cemetery) marrying Sarah Katherine Krout (1882-1959) in 1900. They had several children, only one passing young Fannie Helen 1897-1900 and there is a picture of her on FindAGrave as well as one of Samuel and Sarah – they are a sharp looking couple. One of their son's Burl owned the Fruits Sawmill for many years and I've always wondered if it was the same that his grandfather owned. Burl's other brothers and sisters were: Harry, Omer, Daisy (married Carl Davis) and Forest.
Michael's last child was Haddley Walter Fruits, born on a farm near Alamo, 9 September 1878. Sadly, he passed young as well, on 9 May 1920 at just 41. His widow, Minnie Krout lived 21 years thereafter. Her sister Sarah married his brother Samuel Larkin above. I knew a lot of these Fruits I've written about the last several weeks, but don't believe I knew any of these children, Oren Oscar, Cecil Faye who married #1 Roy McCormick and #2 Maurice Bratton, George William and Byron Arthur. According to FindAGrave (probably more as being the youngest of the youngest others are likely not passed yet) seven grandchildren derived from this man.
And so the Fruits Saga (from my point of view, I guess, as well as George's children) is basically complete. You have read many interesting, fun, confusing and tragic stories, hopefully many you didn't know about Alamo George and his sweet Catherine Stonebraker Fruits and their offspring. My main hope is that you have greatly enjoyed 'em!! Please let me know if you'd like to read more sagas.
– Karen Zach is the editor of Montgomery Memories, our monthly magazine all about Montgomery County. Her column, Around the County, appears each Thursday in The Paper of Montgomery County. You can reach her at [email protected]