Marilyn Kay (Hudson) Sowers
December 16, 1933 – May 15, 2022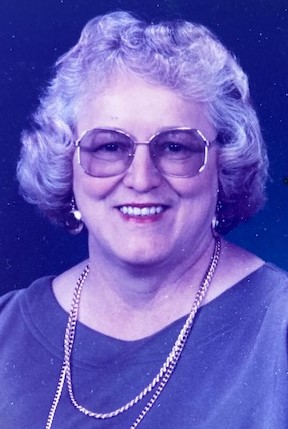 Marilyn Kay (Hudson) Sowers, age 88 of Wallace, IN, passed away peacefully at home with her family on Sunday, May 15, 2022.
She was born in Crawfordsville on December 16, 1933 to the late Babe Delight "B.D" & Charlotte Leona (Gegner) Hudson.
Mrs. Sowers graduated from Crawfordsville High School in 1952 and attended Indiana University and cosmetology school. On May 15, 1955, she married the love of her life, Kedric Leon Sowers. She was the Post Master in Wallace for over 33 years, raised many foster children, was a Fountain County EMT, substitute teacher, bus driver, and worked at the Crisis shelter and the Crisis hotline. Mrs. Sowers was a member of the Wallace Town Board, Order of Easter Star, Wallace-Jackson Township Home EC Club, Wallace Community Club, Wallace Christian Church, Wallace Ladies Aid, Pioneer Village, 4-H Council and Mom's Time Out.
She wore many hats – wife, mom, sister, caretaker, GG, G-Ma, Grandma White, Granny, and Friend. Mrs. Sowers loved her church, family and community. She was always there for anyone – whether it was fixing food for someone in need, churning butter for a benefit or a shoulder to cry on. She was a member of the Wallace Christian Church for over 65 years and her Christian beliefs shone through the community. Whether she was fighting to keep a landfill out, visiting at Highway 341, driving a camper full of teenage girls to Florida for Spring Break or sitting on her front porch, Mrs. Sowers always had time to listen or provide comforting words.
Survivors include her six children Cindy (Gary) Ellis, Keddy (Carol) Sowers, Dan (Kim) Sowers, and Tom, Don and Beverly Canterbury; eight grandchildren Darin (Shanna) Ellis, Christy (Ryan) Owings, Craig (Kelsey Hammer) Sowers, Ryan (Cari) Sowers, Ross (Sarah) Ginter, Blaise (Cassandra) Ginter, Brody (Briana) Sowers and Abram (Stefaney) Sowers; 19 great grandchildren; three siblings, Carolyn (John) Foster, Charles (Jan) Hudson and Rita Hamm; sister-in-law Kaye Blacketer; and special friends and caregivers Kevin, Amanda and Chloe Shoaf.
She was preceded in death by her parents; husband Kedric Sowers, son David Sowers; and sister Nancy Servies.
Visitation is scheduled to be held at Sanders Shoemaker Funeral Care, 202 Bratton Road, in Waynetown on Thursday, May 19, 2022 from 4 p.m. to 8 p.m. with an Order of Easter Star service scheduled for 8 p.m. The funeral is scheduled be at the Wallace Christian Church, 2415 Lutheran Church Road in Wallace on Friday, May 20, 2022 at 11 a.m. with Pastor Ryan Sowers officiating. The service will be recorded which can be viewed on her obituary page at www.sandersfuneralcare.com. Burial will follow at Wallace Lutheran Cemetery.
Memorial donations may be given to Wallace Christian Church, 2415 Lutheran Church Road, Hillsboro, IN 47949 or the Jackson Township Fire Department, 3898 S State Road 341, Hillsboro, IN 47949.
Share memories and condolences online at www.sandersfuneralcare.com.