Country And Western Gets It Right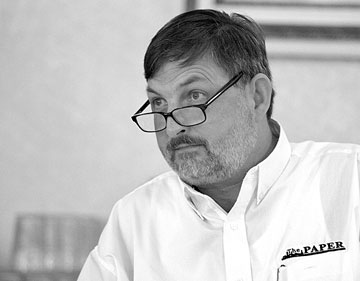 Never was a big fan of country music. When I was a little guy sitting in the back seat of Mom and Dad's Chevy, the radio was always tuned to WIRE, 1430 on your AM dial. The "Country Gentlemen DJs, Ken Speck, Lee Shannon, Jan Ford, Jerry Chapman and Don Schlademan spun the records of Porter Waggoner, Loretta Lynn, Gene Autry, Ernest Tubb, Minnie Pearl, Grandpa Jones and more.
The kid in the backseat, however, was more of a fan of Dionne Warwick, Petula Clark and a new group called the Beatles.
I remember arguing with Dad about what station to listen to . . . so, yeah, I learned a lot about country growing up.
(By the way, I did listen to WIRE at night because they carried games from the best team in the ABA, our own Indiana Pacers. And in the summer, you could catch Chicago White Sox games.)
Still, I developed a pretty natural dislike of all things with a twang.
Boy how that's changed!
Gone are the days when everybody's cheating heart was doing somebody wrong, pickups that always broke down and ol' bluetick hounds that just up and died. Today's country, of which I am a big convert, has lyrics that sway to the good parts of life. And do we need that now!
Think not?
Before he retired, there was a weekly column called Focus on the Family by the wonderful James Dobson. It was maybe a decade or three ago that he wrote about the influence of modern music on young people. He pointed out that some folks grew up listening to the wholesome tunes of Pat Boone, Doris Day, the Everly Brothers . . . He compared those to modern lyrics that talked about killing cops, killing parents and well, just killing.
His words fell on the deaf ears of a nation already on a moral spiral downward. Of course it's gotten worse since then. Way worse. There really wasn't much graphic carnage on video games before, at least nothing at all like now. Pornography, death, violence and all the darker sides of society are as prevalent and accessible on the Internet today as energy drinks and cell phones. If we were on a bad path then, it's hard to put into words where we are now.
Enter country music.
If you haven't listened, or grew up like me, it might be worth tuning in. You can hear Luke Combs singing about everlasting love: "They say nothing lasts forever, but they ain't seen us together. Or the way the moonlight dances in your eyes. Just a T-shirt in the kitchen, with no make-up and a million other things that I could look at my whole life. A love like that makes a man have second thoughts. Maybe some things last forever after all."
Or maybe you'll catch Blake Shelton singing about farming during the week before breaking bread on Sunday because we're proud to live in God's country.
Luke Bryan tells us that instead of carrying on, we need to country on.
And Bryan and Jordan Davis have a song that simplifies things and tell us to "Buy dirt. Find the one you can't live without, get a ring, let your knee hit the ground. Do what you love but call it work, and throw a little money in the plate at church. Send your prayers up and your roots down deep. Add a few limbs to your family tree/ And watch their pencil marks and the grass in the yard all grow up. 'Cause the truth about it is, it all goes by real quick. You can't buy happiness. But you can buy dirt."
It's not all as pure as the driven snow. There's a little partaking of cold beverages.
Billy Carrington tells us that God is great and beer is good. Or Chase Rice sings that he's "Killin' time, livin' life with some down-home friends. When the world's gone crazy, man, it all makes sense. Sittin' here, drinkin' beer, talkin' God, amen."
You'd probably expect a bit of rough-necking in country songs, and Toby Keith reminds us that we sure can fight when we need to, like defending the red, white and blue.
The bottom line to this old radio fan is that we are desperately in need of some lyrics that remind us what's important. The negative and insanity in our world today is like the toothpaste that won't go back in the tube. But maybe, just maybe if we tune in to the good stuff, the all-American, patriotic, faithful and God-fearing good stuff, it'll turn out alright.
Like my favorite country legend Steve Wariner sings, "That's how I know there's still a little magic in this crazy world."
Two cents, which is about how much Timmons said his columns are worth, appears periodically on Wednesdays in The Paper. Timmons is the publisher of The Paper and can be contacted at ttimmons@thepaper24-7.com.