Wabash College's Benjamin Bullock '23 Named Yenching Scholar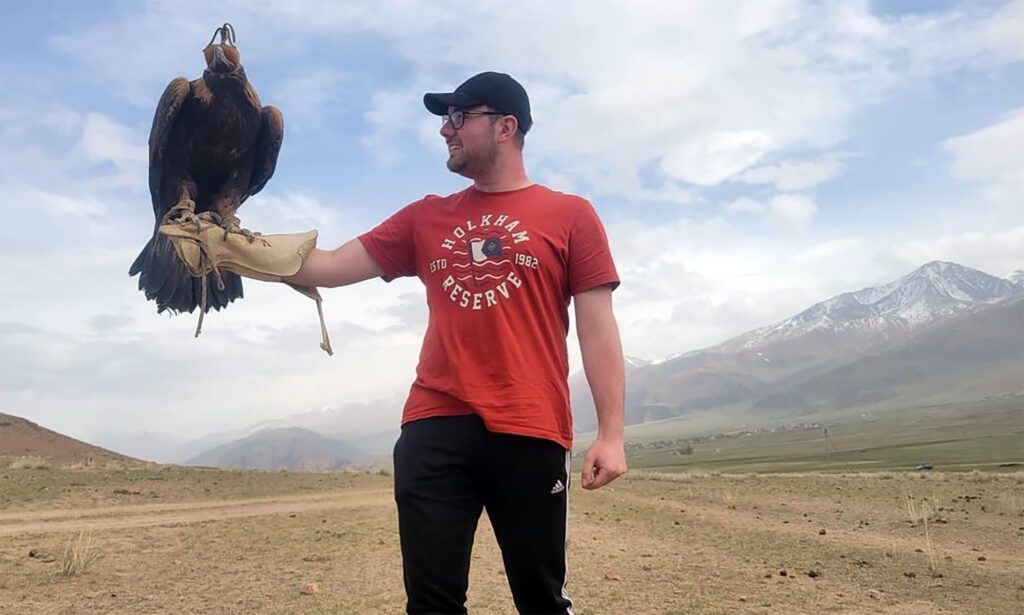 Wabash College student Benjamin Bullock '23 was named a Yenching Scholar, a prestigious and highly competitive international fellowship.
A native of Stourbridge, England, Bullock earned the two-year fellowship from the Yenching Academy of Peking University in Beijing, China, which brings together young scholars who have demonstrated a talent for leadership and innovation. During his two-year award, Bullock will pursue a master's degree in China Studies, following the Academy's history and archaeology pathway, while his thesis will focus on the Chinese Trotskyists and the Underground Labor Movement from 1929-32.
Bullock is the first Wabash student to be named a Yenching Scholar. There are 120 chosen per year from around the world, with 80% being non-Chinese, 30% coming from Europe, and an overall selection rate of 2-3% of applicants.
"I have had my eyes on studying in China since freshman year, but the pandemic kept putting those plans on hold," said Bullock. "So, finally to be able to study in China, and to do it at an institution as prestigious as Peking University, is the best possible reward for the hard work and patience. I am super excited to attend such an internationally minded school with people who share the same commitment as I do to learning more about China."
He is a history and humanities double major with an emphasis in Asian Studies and a minor in music. Currently, Bullock is the sports editor of The Bachelor, the College's student newspaper. He handled play-by-play commentary for the soccer team's livestreams, serves as a consultant in the Wabash Writing Center, and is a member of the Wabash Glee Club.
He studied the Russian language in Vladivostok, Russia, and Bishkek, Kyrgyzstan, in the Spring of 2022. That summer, Bullock studied in Latvia through the G. Michael Dill '71 Fund.
"The Yenching Scholarship is a great opportunity and a wonderful match for Ben," said Susan Albrecht, Wabash College fellowship advisor. "The program allows him to complete research which fascinates him, advance his Chinese language proficiency, and connect with other young scholars and leaders from around the world."
"Ben may be the most promising undergraduate student I have taught," said Stephen Morillo, professor of history. "He is outstandingly self-driven and motivated, showing so much initiative and ability to work on his own. Ben created his own major and in pursuit of that major spent a semester abroad in Russia and Kyrgyzstan, where he thrived, showing levels of adaptability and perseverance most couldn't manage."
Bullock is among the many Wabash men who have earned highly competitive fellowships in the last decade, including a Rhodes Scholar, a Marshall Scholar, an Obama Voyager Scholar, 25 Gilman Scholars, and 26 Fulbright recipients.
"The Yenching would give me the opportunity not only to study in China but also to quench my intellectual thirst at the intersection of Chinese history, language, culture, and China's interactions with the wider world," said Bullock. "No doubt, the professors and archives at Peking University will help propel my history research to the next level. I'll see where that takes me."
Photo Caption Information
Bullock_Ben23: Benjamin Bullock '23 is Wabash College's first Yenching Scholar. The highly competitive international fellowship provides for two years of study at the Yenching Academy of Peking University in Beijing, China.
Bullock2: Bullock studied abroad in Vladivostok, Russia, and Bishkek, Kyrgyzstan, in the Spring of 2022. He is pictured holding an eagle in the countryside of Kyrgyzstan.