Stylish, Safe 2023 Toyota Camry Hybrid Achieves 47-MPG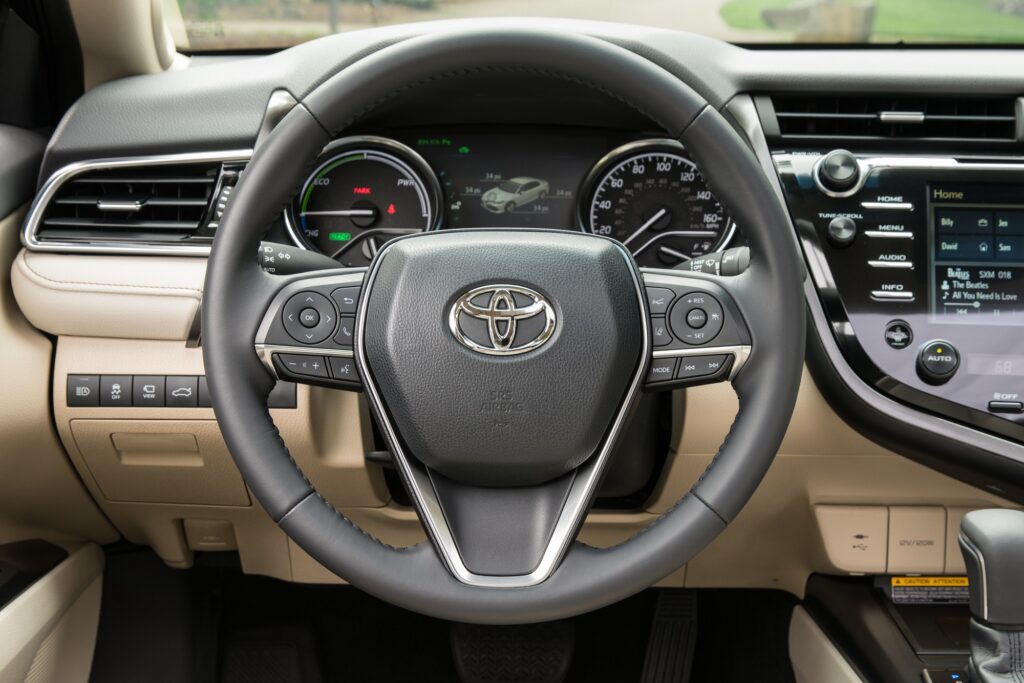 You should have seen the look on my husband's face when I rolled up in the 2023 Toyota Camry Hybrid. There's never a question about the Camry's quality or durability, but he's not terribly excited. I don't care; look at a list of the best-selling and highest quality cars for the past three decades and the Camry will always be near the top. While trying to sell him on how stylish, smooth, and efficient is this latest Camry hybrid, we made a highway run to visit relatives.
Sitting in the driveway, it's a dignified design, but more exuberant than any Camry before. The XSE trim features more aggressive facias and a contrasting black roof, and the TRD edition even sprouts a wing, but our XLE takes on a more "athletic luxury" style. There are more bulges and creases than in previous models, wide horizontal grille slats imbue a Lexus vibe, and the thick rear pillars hint at Rolls-Royce. Put it all over sporty 18" wheels. Angry taillamps and integrated decklid spoiler leave strong impressions.
There's an upscale ambience inside too. The swervy-curvy dash with deep woodgrain trim and stitched coverings is as much Lexus as Toyota. Some will find the seats a bit firm, but I like them – especially when heated and ventilated. The thick heated leather-wrapped steering wheel, dual-zone automatic climate control, and power moonroof were nice too. Crisp tunes stream to the 800w JBL audio system with subwoofer through Apple and Android connectivity. Charge wirelessly with a clever console phone drawer. Proper volume and tuning knobs add convenience.
Given the Camry's broad adoption by families and even a couple of older drivers, Toyota devoted itself to safety. I liked the head-up display that projects speed, navigation, and safety systems over the hood, but it was slightly distorted like the flip-lens eye test at the doctor's office. Providing clearer vision are radar cruise control, lane tracing with steering assist, rear cross path detection, and blind spot warning systems.
But, this efficient Camry is pretty enjoyable to drive, too. The powertrain mates a 2.5-liter four-cylinder engine with a continuously variable transmission and Lithium-Ion batteries for a combined 208 horsepower. It may not be the fastest Camry, but it's no sloth. For comparison, a 1987 Camaro IROC-Z's V8 delivered just 215 horsepower. And, that Camaro would never match the Camry Hybrid's 44/47-MPG city/highway.
My husband is still carping about the Camry being a "grandma's car" as I tune him out and enjoy the drive. First, it's dead solid – absolutely nothing squeaks, creaks, or rattles. Even over rough pavement, there's nothing but fump, fump, fump, fump. Especially for a front-drive car, the chassis is well balanced, allowing the driver to dial in handling while passengers enjoy a comfortable ride. Accelerating onto the Interstate takes a little patience, but it's smooth and spirited at Interstate speeds. Even my grandma would appreciate its talents (she once out-ran an Amtrak across Indiana in her Mercedes).
When people of all ages come to me asking about a car that provides room for their family, is safe, and will last a very long time, the Toyota Camry tops my list. However, it has also become one of the most stylish, comfortable, and efficient on my list too. Even my husband had to admit it's a pretty impressive ride. The Kentucky-built Camry starts at just $28,355 and came to a still-reasonable $40,232 in hybrid trim with all of the kit. Competitors include hybrid versions of the Honda Accord, Hyundai Sonata, Kia K5, and Ford Maverick.
Storm Forward!
Send comments to Casey at [email protected]; follow him on YouTube @AutoCasey.
Likes
• Efficient powertrain
• Fresh style
• Balanced handling
Dislikes
• Merely adequate horsepower
• Distorted head-up display
• Unfair image
2023 Toyota Camry XLE Hybrid
Five-passenger, FWD Sedan
Powertrain: 2.5-liter I4 Hybrid, CVT
Output: 208 hp (combined)
Suspension f/r: Ind/Ind
Wheels f/r: 18"/18" alloy
Brakes f/r: Regen disc/disc
Must-have features: Style, MPGs
Fuel economy: 44/47 mpg city/hwy
Assembly: Georgetown, KY
Base/As-tested price: $28,355/$40,232