All-New 2024 Subaru Impreza Is The Sports Car For Everyday Life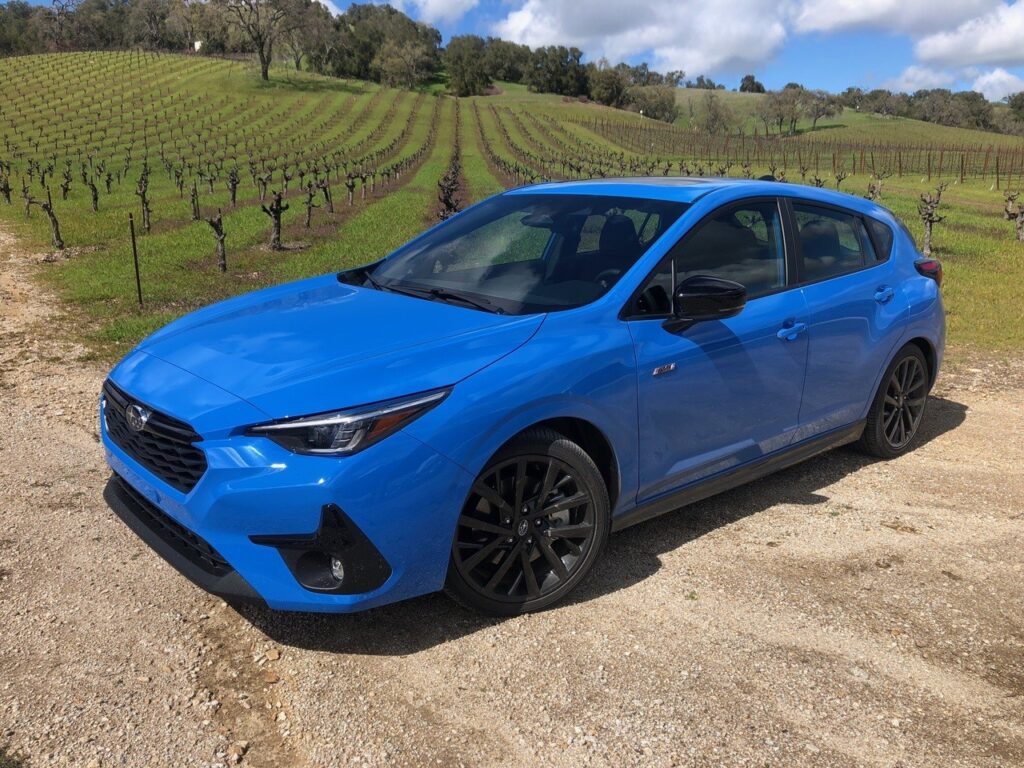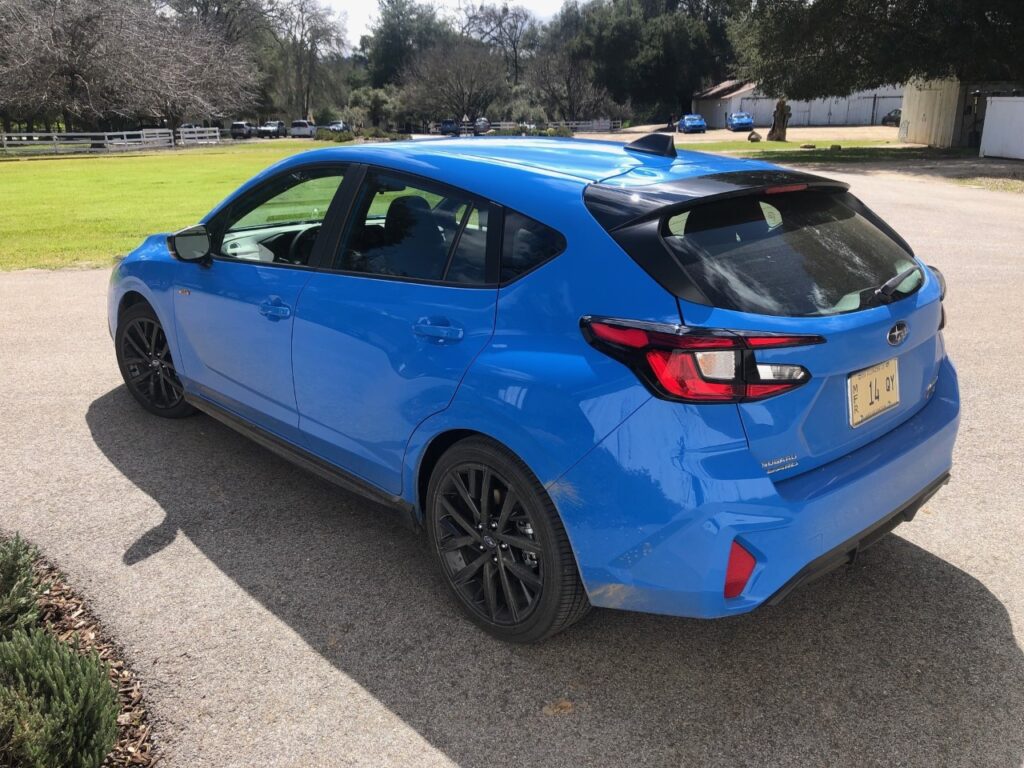 By Casey Williams
Spring has finally come to California wine country and I'm clipping through tight two-lane roads through vineyards and wineries around Paso Robles. Greenery and mountains are simply magical, yet the roads and this car demand attention. As invigorating is the drive, this little hatchback could just as easily take Miles and Maisey to cello lessons. I'm driving the completely redesigned 2024 Subaru Impreza RS.
From the hotel carpark, it didn't look dramatically different from the outgoing model. The grille is wider and narrower, fenders have more form, and aero panels have been added underside to enhance fuel economy. Base and Sport models look handsome, but the RS is my favorite with 18" dark alloy wheels, black trim, vivid Oasis Blue Pearl paint, and RS logos that incorporate horizontally opposed piston heads in reference to its Boxer engine.
Sedans have been eliminated, leaving just hatchbacks because customers made clear they wanted a sporty car that could accommodate their active lifestyles. Hiking, Running, and spending time with pets are favorite activities. A wide rear threshold and mounting points for a roof rack allow easy loading of kayaks and bicycles too. Lift the hatch, fold rear seats, and toss gear into a cavernous crossover space. A bicycle – or cello – should fit.
Up front, there's a new tablet-sized infotainment touchscreen with auxiliary buttons/knobs for key climate functions, volume and tuning. Wireless Apple CarPlay, Android Auto, and console charging easily connect phones. Seats heat faster, Harman Kardon audio sounds sweeter, and the power sunroof makes the interior brighter. Step up to the RS for red seat accents and alloy pedals. Safety, a Subaru hallmark, is enhanced with a new three-camera EyeSight system to better employ automatic emergency braking, lane keep assist, and newly added crash-avoidance steering.
Putting the sport into utility are two available powertrains: Base models with a 152 horsepower 2.0-liter four-cylinder or the RS with a 2.5-liter four-cylinder developing 182 horsepower. Both connect to continuously variable automatic transmissions. The 2.5 only gives up 1-MPG (rated 26/33-MPG city/hwy) and gains 30 horsepower. Pretty easy choice. Paddle-shift eight pre-set ratios to better connect car with humans.
The suspension firmly grabs corners by the scruff, but is more compliant during daily commutes and long trips. Tip the car into a corner and you notice how the horizontally-opposed engine keeps weight balanced low in the chassis, torque-shifting all-wheel-drive solidly connects to road, and the steering provides precise feedback. This car can do very sports car things very competently without any penalty during regular use.
Back at the hotel, sipping wine, the Impreza came into focus. It's practical with the utility of a crossover, able to cover long distances comfortably, but with impressive dance moves. The 2.5-liter engine could use more power, but this car is more about finesse than straight-line acceleration. Besides, if you want a turbo, Subaru will happily sell you a WRX.
So, what does the overhauled Impreza cost? Base models start at just $22,995. Step up to the Sport for $24,995 or the resurrected RS for $27,885. All offer incredible value, utility, and driving enjoyment without penalties of a true sports car.
Storm Forward!
Send comments to Casey at [email protected]; follow him on YouTube @AutoCasey.
Likes
Multi-talented chassis
Tech-laden interior
Standard AWD
Dislikes
Tame exterior design
No manual RS
Marginal power
2024 Subaru Impreza RS
Five-passenger, AWD Hatchback
Powertrain: 2.5-liter I4, CVT
Output: 182hp/178 lb.-ft. torque
Suspension f/r: Ind/Ind
Wheels f/r: 18"/18" alloy
Brakes f/r: disc/disc
Fuel economy: 26/33 mpg city/hwy
Assembly: Gunma, Japan
Base/As-tested price: $22,995/$27,885