Big Ten Pits Conference Opener Against Friday Night Lights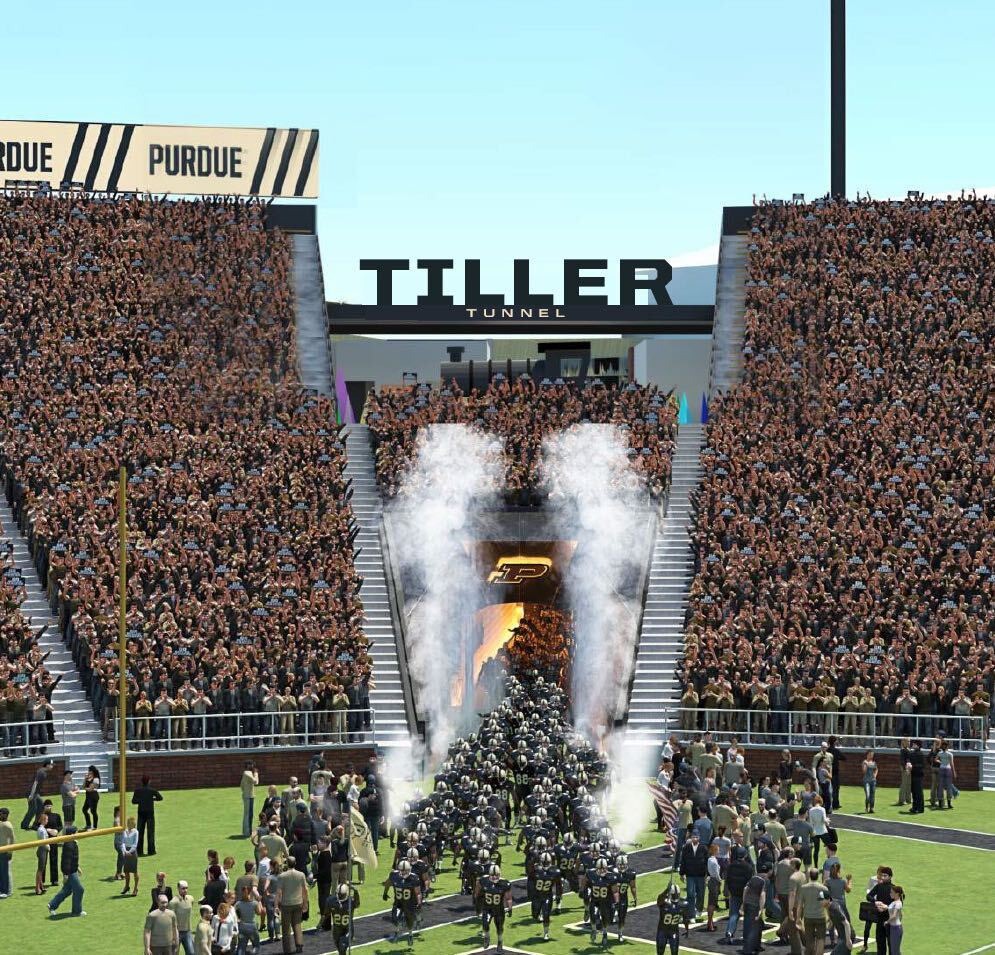 Once upon a time, Friday nights in the fall were set aside for students and alumni to gather at their high school's football game.
Bonfires, fish frys and post-game dances helped form lifelong memories for teen-agers.
Like many good things, money comes along and spoils everything.
Case in point, Wednesday's announcement by the Big Ten that Purdue football would host Wisconsin in the conference opener on Friday, Sept. 22 in Ross-Ade Stadium.
In the previous 135 seasons of Boilermaker football, Purdue had never hosted a Big Ten opponent on a Friday. The last time Purdue played a home game on a Friday night, beating Ohio 44-21 to give Jeff Brohm his first victory as head coach, the athletic department made amends by offering to host a high school football doubleheader the following day.
Lafayette Jeff beat Harrison 49-39, while West Lafayette fell to Crete-Monee (Ill.) 44-29. Neither story in the Lafayette Journal & Courier mentioned attendance figures, but it's likely every young man who played that day will be bragging for years that they played in Ross-Ade Stadium.
Purdue-Wisconsin is just a down payment on what's coming down the road with the Big Ten partnering with Fox, CBS and NBC. Once USC and UCLA join in 2024, don't be surprised if the Big Ten will agree to a Thursday night game, a Friday doubleheader and Saturday kickoffs ranging from noon to 10 p.m.
Thanks to John Harrell's website, here's some of the high school football games competing for attendance:
Just five miles down the road from Ross-Ade Stadium, Harrison welcomes Lafayette Jeff. On the other end of Tippecanoe County, McCutcheon is at home against Kokomo.
The annual Crawfordsville-North Montgomery rivalry will be hosted by the Athenians.
The Purdue-Wisconsin storyline will be an interesting one for viewers. It will be the Big Ten coaching debut for Purdue's Ryan Walters and Wisconsin's Luke Fickell. With both offenses shifting to a variation of the late Mike Leach's Air Raid attack, it probably won't be a dull game.
For Walters and the Boilermakers, the Wisconsin game comes in the midst of a potentially favorable schedule. Four of the first five Purdue games this fall will be at home, including the Sept. 16 matchup against Syracuse. Fresno State comes to West Lafayette for the Sept. 2 opener and the month closes with Walters' former employer, Illinois, coming to town Sept. 30.
Tiller Tunnel
This September 30th will mark the sixth anniversary of Joe Tiller's death. Almost from the moment of his passing, his family and players have been working with Purdue officials for a suitable tribute to the winningest football coach in school history.
Thanks to another gift from Drew and Brittany Brees, the new tunnel linking the locker room inside Kozuch Football Performance Complex to the Ross-Ade Stadium field will be named in Tiller's honor.
The Boilermaker football legend and his wife matched donations to the Tiller Tunnel campaign during Purdue's Day of Giving on April 26. Three giving levels – $5,000, $25,000 and $100,000-plus – will also be publicly recognized on the entrance wall to Tiller Tunnel.
Under Tiller, Purdue went to 10 bowl games, including the 2001 Rose Bowl as Big Ten champions. Tiller sent 53 players to the National Football League and coached three major award winners (Brees, Maxwell Award as college football's best player; tight end Tim Stratton as the first John Mackey Award winner and punter Travis Dorsch, Ray Guy Award).
"Coach Tiller was an important person in my life and to so many other guys who played for him. He did so much more than teach us how to win," Drew Brees said in a statement announcing the Tiller Tunnel initiative. "He taught us life lessons and how to be great leaders and men. We hope to inspire others to join us in donating to Tiller Tunnel to honor a man who did so much for so many Boilermakers." Big Ten basketball schedules.
It will seem like déjà vu for Purdue basketball when it starts Big Ten play in December.
Tuesday's announcement of the single-play and home-and-away conference opponents revealed the Boilermakers will play the same schedule it had in 2019-20. That season will be remembered for Purdue's struggles (16-15) and its sudden halt due to the COVID-19 outbreak.
In addition to its protected rivalry with Indiana, Purdue will have home-and-away games with Illinois, Iowa, Michigan, Northwestern, Rutgers and Wisconsin. The Boilermakers' lone contests with Michigan State, Minnesota and Penn State will take place in Mackey Arena. Purdue drew Maryland, Nebraska and Ohio State for road-only games.
Indiana will have to travel to Illinois, Michigan and Rutgers for its single-play road games. The Hoosiers went 2-1 away from Assembly Hall against that trio in 2022-23, falling to the Scarlet Knights in one of their worst performances of the season.
Iowa, Michigan State and Northwestern come to Bloomington for IU's home single-play games.
A quick glance at schedules for possible contenders for the Big Ten title seems to favor Ohio State. In addition to Purdue, the Buckeyes get Illinois and Maryland as home single-plays. Iowa, Michigan State and Northwestern are their road single-plays.
Michigan State drew the double-whammy of only playing Indiana and Purdue on the road. At least the Big Ten threw the Spartans a bone by making the third road single-play a trip to Nebraska.
– Kenny Thompson is the former sports editor for the Lafayette Journal & Cou¬rier and an award-winning journalist. He has covered Purdue athletics for many years.