All-New Honda Accord & Subaru Crosstrek Immigrate To Indiana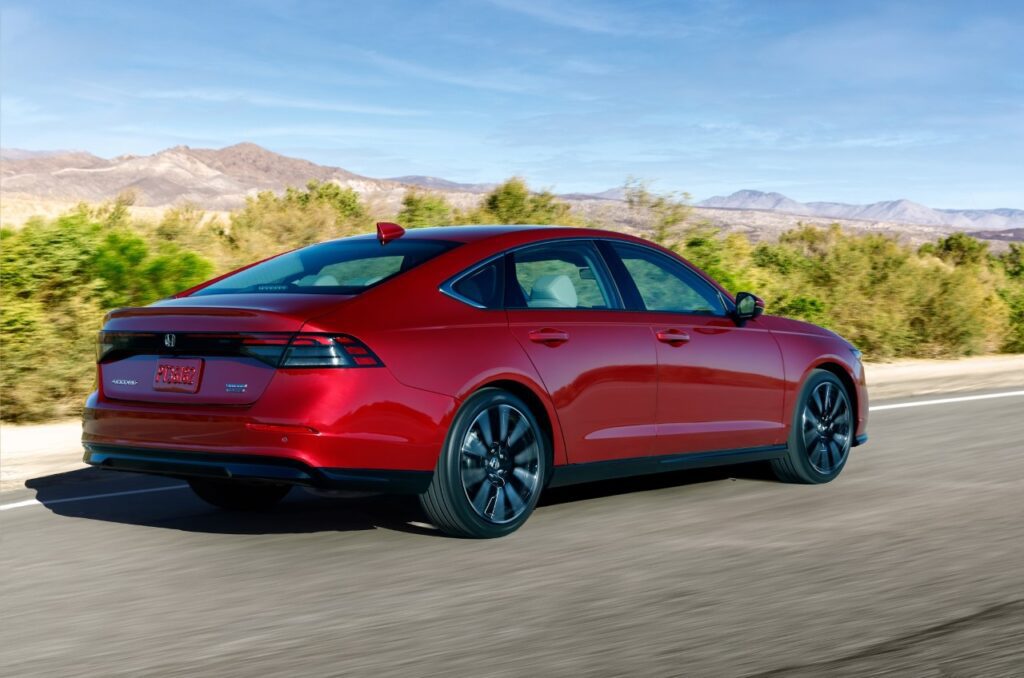 By Casey Williams
Honda recently celebrated forty years of building the Accord at its plant in Marysville, Ohio – the first domestic assembly plant for the automaker. By 2025, the just-redesigned Accord will transfer to Greensburg, Indiana as Honda refocuses Ohio operations on EVs. Similarly, Subaru has long built models like the Outback, Legacy, Impreza, and Ascent in Lafayette. For 2024, the Impreza migrates back to Japan while the all-new Crosstrek takes its place. It's all good news for Indiana.
2023 Honda Accord Sport Hybrid
"The all-new 11th-genration Accord is essential to our lineup as a critical driver of brand loyalty, and with hybrid models representing 50% of sales, a key part of Honda's electrification strategy," said Mamadou Diallo, vice president of Auto Sales, American Honda Motor Co., Inc. "This is our best Accord ever, a true benchmark in its class, offering an unbeatable combination of style, efficiency, performance and connectivity."
I recently had a chance to drive an Accord Hybrid Sport nearly 600 miles over Interstates and hilly two-lane backroads between Indianapolis and southern Kentucky. Like every Honda, the Accord feels like deep in its soul live a couple of racing engineers striving for excellence.
The latest hybrid provides a sportier driving experience whether taking the kids to class or carving up tight two-lane roads through bourbon country. Combined with a 2.0-liter Atkinson cycle four-cylinder engine, the system produces 204 horsepower and 247 lb.-ft. of torque. That's adequate if not stellar, but the continuously variable transmission was programmed to feel more like a traditional geared automatic. Fuel economy is rated a stellar 46/41-MPG city/highway.
I enjoyed driving it very much. Eco, Normal, and Sport modes adjusted throttle responsiveness to my mood, but the tight suspension, quick steering, and 19" alloy wheels gave confidence to have some fun. Adaptive cruise, automatic emergency braking, blind spot warning, lane keep assist, and rear cross traffic alert kept me safe.
You may never guess the advanced powertrain by looking at the Accord Sport. Its sleek understated shape is handsome, if not especially glitzy. Inside, the feel is more Civic Sport with a thick leather-wrapped steering wheel, firm supportive seats, and clear gauge cluster. A strip of mesh plastic hides the dash air vents. Tap into Apple CarPlay- and Android Auto-connected devices through a super simple touchscreen. Using navigation and streaming music was super easy. Soft-touch materials, aluminum pedals, and leather shift knob amp the premium feel.
The Honda Accord Sport Hybrid starts at just $31,895, making it very competitive with the Toyota Camry Hybrid, Hyundai Sonata Hybrid, and Ford Escape Hybrid.
Preview – 2024 Subaru Crosstrek Wilderness
The first two generations of the compact Subaru Crosstrek crossover were built in Japan while the compact Impreza on which it's based was built in Lafayette. As the U.S. market migrates from cars to crossovers, it makes sense to build the Crosstrek here and send the Impreza packing. Beginning with 2024 models, Crosstreks with the 2.5-liter engine will be built in Indiana. That includes the new Wilderness edition I recently previewed in California.
For those not in the know, Wilderness is Subaru's most adventurous trim. That means more exuberant style with aggressive black body cladding, black mesh grille, and 17" matte black wheels wearing Yokohama GEOLANDAR tires. An upgraded suspension allows 9.3" of ground clearance. Copper accents identify tow and mounting points.
Differentiating the Wilderness interior are vegan leather seats, copper trim, and LEDs under the tailgate for loading bikes and camping gear after sunset. Luxuries include dual-zone auto climate control, Harman Kardon audio, power moonroof, heated seats, wireless Apple/Android connectivity, and wireless phone charger.
Fortifying off-road capability is a 2.5-liter four-cylinder engine, delivering 182 horsepower and 178 lb.-ft. of torque, to tow up to 3,500 lbs. Standard X-Mode configures the standard all-wheel-drive system for conditions like snow and mud plus hill descent control for easing down steep inclines. Out on the road, a new three-camera EyeSight system enhances adaptive cruise, automatic emergency braking, and lane keep assist.
This car makes so much sense one has to wonder why it took so long for Subaru to offer a Crosstrek Wilderness because its short wheelbase and narrower track make it perfect for serious trails. It's also the kind of car, like the 1970s GL/DL, on which Subaru built its reputation in America. No matter, it's a pretty smart choice because this little crossover is sure to be in hot demand with a base price of $31,995.
Storm Forward!
Send comments to Casey at [email protected]; follow him on YouTube @AutoCasey.