Bill To Support Responsible Hoosier Loggers Ceremonially Signed Into Law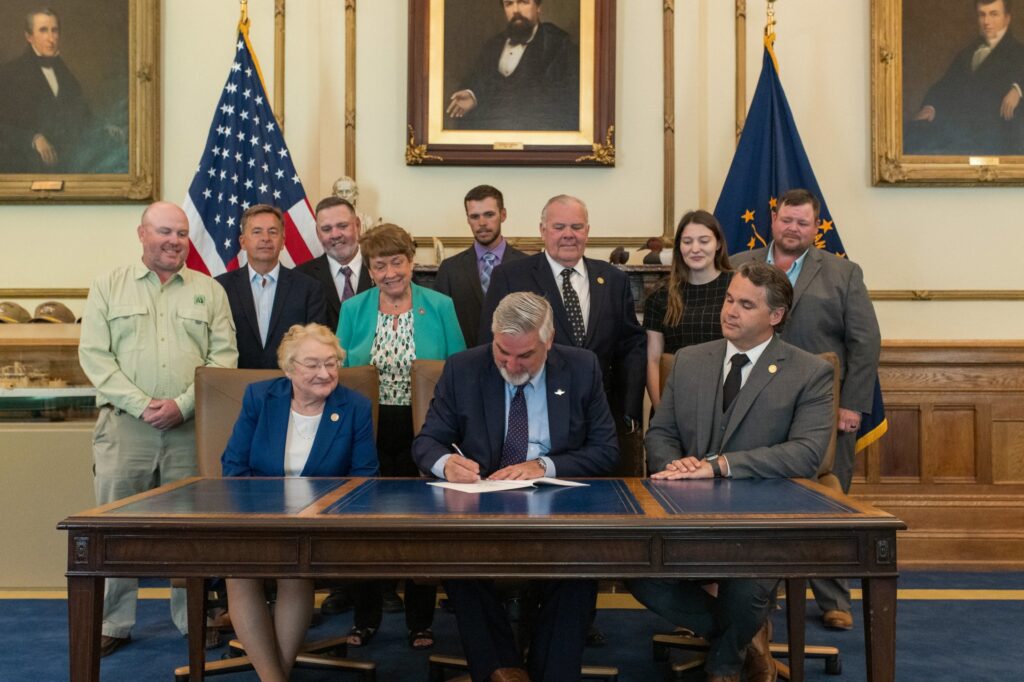 Gov. Eric Holcomb on Monday ceremonially signed into law legislation authored by State Rep. Beau Baird (R-Greencastle) to cut burdensome red tape for Hoosier loggers when it comes to certain forestry operations.
Baird authored House Enrolled Act 1601 after hearing from numerous companies and landowners that the forestry permitting process for even smaller operations was bogged down in bureaucratic red tape. Currently, forestry operations like logging require permits from both the Indiana Department of Natural Resources and the Indiana Department of Environmental Management, which Baird said can cause significant delays.
Under the new law, certified forestry operators won't have to obtain a permit from either agency provided that they adhere to the DNR's Indiana Logging and Forestry Best Management Practices Field Guide, and the area of the forestry operation is confined to a waterway with a watershed no larger than 10 square miles.
"Waiting months or up to a year in some cases to get a permit can severely hinder the forestry operations that contribute to one of our state's largest industries," Baird said. "This new law will cut red tape for Hoosier loggers who are acting in good faith to responsibly manage our forested areas."
The new law is applicable to forestry operators that are already certified by the state for following best practices. To ensure they remain in compliance, the DNR may still audit them when they're conducting operations on private classified state forests and state forests.
According to the DNR, just over 20% of Indiana is classified as forestland and the manufacturing of forest products is the state's sixth-largest industry, contributing $3 billion annually to the economy. Indiana ranks ninth in the nation for total lumber production.
HEA 1601, which received bipartisan support, will go into effect on July 1. For more information on this and other new laws, visit iga.in.gov.
-State Rep. Beau Baird (R-Greencastle) represents House District 44,
which includes all of Putnam County and a portion of Montgomery County.