"Charles M. Travis: Two Wars; Inventor; In Everything And Then Some!"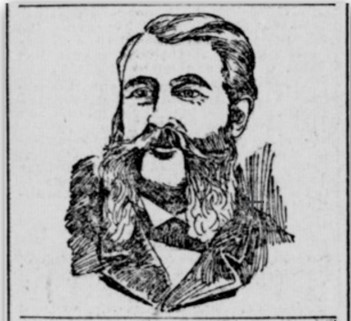 Many of us have gone to or at least around the Soldiers' and Sailors' Monument in Indianapolis. How many knew it has a great Montgomery County connection. On August 22, 1889, at sunrise there were 40,000 people on the streets to hear the 21-gun salute; however, President Harrison did sleep through it as he had a slight cold and was exhausted from the day before. By 10 o'clock he was with the other old soldiers on the street for the laying of the cornerstone of the new monument. A great parade featured GAR groups from many cities and the McPherson Post of C'ville boasted 140 veterans marching 12 abreast as they escorted the State Commander and our feature today, Charles M. Travis (photo from Indy Journal 24 June 1892). As Travis lay the cornerstone, he was assisted by other state officers, GAR presidents, presidents of the Sons of Veterans and the Women's Relief Corps. Governor Hovey gave an overview of the cornerstone and the monument in general, saying that the monument was "intended to confer a lasting honor on all who served our country from the first Indian war to those who had the great honor to participate in the suppression of the late grand and terrible rebellion…"
Charles M. Travis was born in Edgar County, Illinois Oct 20, 1845 and when 16 years old, joined Co E 12th Ill Volunteers serving with them throughout the war. Returning home, he went to Crawfordsville reading law with Lew Wallace and then becoming his partner for a few years and partnered with Honorable MD White as well. In August 1872 he was appointed the US Consul at Para, Brazil where he lived with his wife Mary (Salisbury) for four years. Their only child, son, C. Claud Travis who became a well-known minister was born while the family was there. Claud was raised in Crawfordsville, attended Wabash where he won four prizes in oratory (perfect for ministering) and did more work at Garrett Biblical school in Evanston, Illinois. He had churches in Waveland (for a short time), Chicago and Wayne Street Methodist Church in Ft. Wayne for many years. Claud died in Arizona (where he went to retire) a few days after his 72nd birthday. He was the father of two daughters, Mary Louise and Josephine who I'm sure of whom his parents were quite proud.
Mary Travis was deeply involved in church, the Nancy Hanks Lincoln Memorial Association, the Ladies' groups of many organizations (GAR; Sons of Veterans which by the way had a Charles M. Travis Camp No 211 because he was so good in getting the group started) and she was involved in the Eastern Star as he was the Masons.
Charles M. began a pension service back in Crawfordsville where he made a good living helping other soldiers receive pensions. His office was in the Manson building on Green Street. Deeply involved with so much, he helped begin courts of the Tribe of Ben Hur in various areas, too.
When the Spanish American War broke out, he volunteered and became the Major of one of the immune regiments (8th Indiana) – these were made up of men who would likely be immune to the diseases of the hot tropical climates. (National Museum United States Army). Not sure why but President McKinley and other government officials felt that African Americans would be particularly immune and eight states (including Indiana) sent those and others to fight in the Caribbean theater. Travis gave a scathing review of the "six-minute" speech given by William Jennings Bryan who had in the short speech boasted of his great patriotism. Travis said, "I will put my patriotism against that of Lew Wallace or any other man. You are aware that there is a war upon us and that a call for 125,000 volunteers has been authorized. Immediately after the destruction of the battleship, Maine and prior to the call for volunteers, Gen. Wallace telegraphed the President tendering his service as a soldier in case of war making only one condition that he be placed in active service in the field with no reference to rank." Travis then wanted proof of Bryan's patriotism asking him if he had volunteered? Volunteered in other capacities, that he was yet a young man, possessed of a splendid physique and could stand the service better than Gen Lew at his advanced age. And don't charge 25 cents for someone to hear you for six minutes brag about your patriotism. "Do something about it!" (Rensselaer Republican 29 April 1898).
In 1902, another interest came to Travis and he and Willis Wright of Terre Haute went to Georgia to check out the gold, asbestos and other mining concerns. While there he made sure to visit the site that was the biggest battle he had been involved in during two wars (the Battlefield of Atlanta) and during that battle received word from a messenger of the death of James B. McPherson for whom our local GAR chapter was named.
This man was super talented. Likely Claud received his speaking abilities from his father as CMT was in constant demand to speak to various organizations. Smart, too – his obituary said he was large in physique and brain. That showed as he was the first permanent secretary of the nation's Inventor's Association and was so for quite some time. The invention talked about the most of his was a fire escape patented in 1884.
Didn't tally up his wins, but he was often nominated for different positions (lt. governor; governor more than once; director of the national pension claims department) and with all that going on he was a commissioner for the World's Fair.
The last few years of his life were spent as an insurance agent in Chicago but age, stress and strain put him in the Soldiers' Home in Danville, Illinois. Mary had just hung-up the phone talking with Claud arranging to bring Charles home for Christmas and the phone rang telling her of her beloved husband's death. He was brought back to Crawfordsville and buried in Oak Hill (thanks to R&S Fine for photo) where many of his friends and comrades dwell yet today!
– Karen Zach is the editor of Montgomery Memories, our monthly magazine all about Montgomery County. Her column, Around the County, appears each Thursday in The Paper of Montgomery County. You can reach her at [email protected].