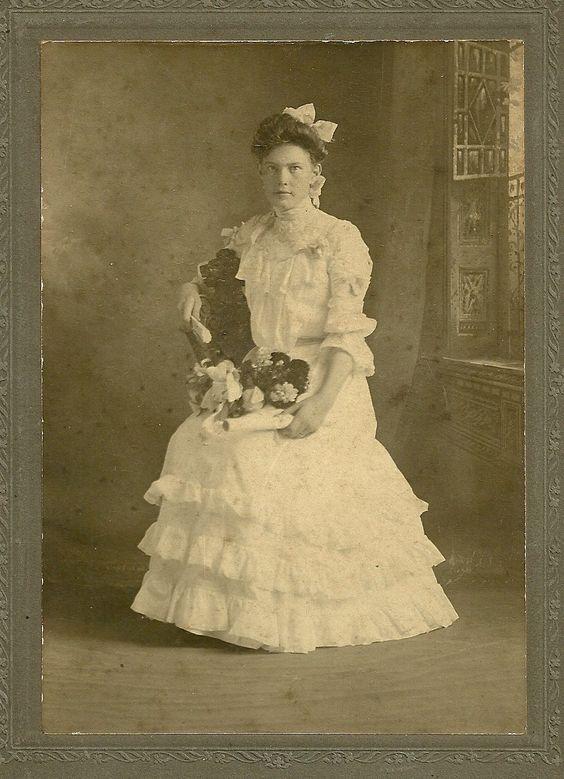 Gracie and Fay – we heard those names often from my Dad when he'd come back in from his mail route. He and Grace loved to talk baseball and as she got older, he'd often get groceries for her and deliver at the same time as her mail. Anyone who lived in our area (Waveland) and especially near Deer's Mill knew Gracie and Fay, such sweet sisters who lived next to each other across from the covered bridge (in the valley).
Grace was born 19 March 1888 in Rectorville, Kentucky; Fay, too, was born there on the second day of the year, 1890 to school teacher Thomas D. Glascock and his wife, Katie Hull! Katie passed when the girls were young, their father farming them out to relatives along with their other sister, Wildas at the time of his second marriage. Later, Wildas would also live at Deer's Mill, but this story is about Gracie and Fay, the ones our family knew.
Fay was raised by John Henry and Mary Elizabeth Clark Bowman, farmers in the Wallace area. No children were born to them. Guessing here having Fay with them must have been an omen as they had their one and only child, Lex Von Bowman in 1906. They counted Fay's children as their own and Lex married and had one son, but after the Bowman's passed. In 1909, Fay married James Welch and began their life at Deer's Mill in the home of his mother, Mary Keller Welch (photo is suspected to be Fay at her wedding – picture from her grandson, Tom Jones who so happily furnished much information and many remembrances for this article). Fay and Jim "welcomed their only child, Wildas (named for her aunt) Frances Welch, in mid-October of that year. Nicknamed Billie, she grew-up as quite the Daddy's girl combining the unlikely traits of both tom-boy and bookworm. She often told her family by the age of 14, she had read every book in the Waveland Library. A 1927 graduate of Alamo HS, she was working as a waitress in the Monon Hotel in Crawfordsville when and where she first met future husband, Robert Merle Jones, CHS class of '25. Together, they would suffer the death of their first child; daughter Mickey (lived about a week) but were able to raise a nice family of two sons Jim, the oldest, Tom, youngest and daughter Grace, the middle child" named of course for GiGi.
At one time, the Welch's owned about 80 acres of timber and Gpa' Jim loved being on his tractor. Sadly, Jim died of pneumonia with "spotted fever" as a contributor on 14 September 1937 just 49 years old. So, Fay needed to make a living. This is where her expertise came in – her cooking (it is said no one could beat hers except Gigi bested her with the ultimate Oatmeal-Raisin cookie) – working at the Shades State Park, Waveland HS cafeteria, Waveland restaurant and then Fay's Inn which was a must to check-out if you were at or going by Deer's Mill which was in her home (truly home-made everything). Fay had a gentle, kind soul and personality and was well loved by all. Not to say either of the gals were perfect or always got along perfectly but they were tried and true sisters!! Fay passed away just shy of her 83rd birthday at the end of 1973.
Grace was called GiGi by most who knew her and it is assumed this nickname derived from her initials, Grace Glascock. She lived with one of her father's sisters (Anna M. Glascock Lyons) at age 12 in 1900 and graduated (thanks Tom) in May of 1904 (Troy Twp Schools, Covington KY Republican of the 27th).
Gigi married (1911) a tall, thin, gray-eyed Raymond Thaddeus Olmsted. Quite versatile, he was found as a policeman in a factory, a News Station manager and even had a BBQ restaurant. No children, Gigi too
worked and was a housemother at the University of Cincinnati for dozens of years, thus she had many boys she called her own. They all adored her back! 1957 was the probable year for the retirement as Tom remembered he, his Dad and Aunt Gigi going to see Cincinnati (free tickets from one of her boys on the 50-yard line, too) – and – they beat IU! Ray didn't get to enjoy Deer's Mill long as he passed away a couple years after moving there.
One of Grace's true loves was genealogy! She'd get extremely excited telling about Thomas Glascock her direct ancestor who was a Lt. Colonel in the Virginia service and in 1779 went to the Continental Dragoons where he was also an officer. He died a few years after the war in Fauquier County, Virginia (1793). Now, the horse thief was a whole different story! Fay and Gracie were members of the Ft. Thomas, Kentucky DAR in Glascock's honor. They had a strong faith as well, Grace teaching Bible class at Alamo Church and Fay a member of Freedom Baptist.
One item of Gigi's unique personality was her esp. Once, she felt a connection to one of her U of C boys – feeling mutual – so they decided to try an experiment. He sent her a telepathic message concerning the time he'd returned from a weekend trip to Kentucky. As he reached the center of the bridge crossing the Ohio River, he wrote down that time. When he saw Gigi the next day, she offered 5:31. With a smile, he unfolded the paper and showed it to Gigi. It carried the exact same number. Tom's wife (of 50+ years now), Jane Gray and his Aunt Gigi were "two peas," as Tom described their close relationship. "Charming, vivacious and always tickled to enjoy each other's company." One January morning in 1978, Jane sat up about 4 crying out, "It's your family – something is really wrong!" Soon, a call came letting them know that Gracie, their beloved Aunt GiGi had passed away. Rest In Peace, sisters!
– Karen Zach is the editor of Montgomery Memories, our monthly magazine all about Montgomery County. Her column, Around the County, appears each Thursday in The Paper of Montgomery County. You can reach her at [email protected].