Will Walters Be The Next Great Hope For Purdue Football?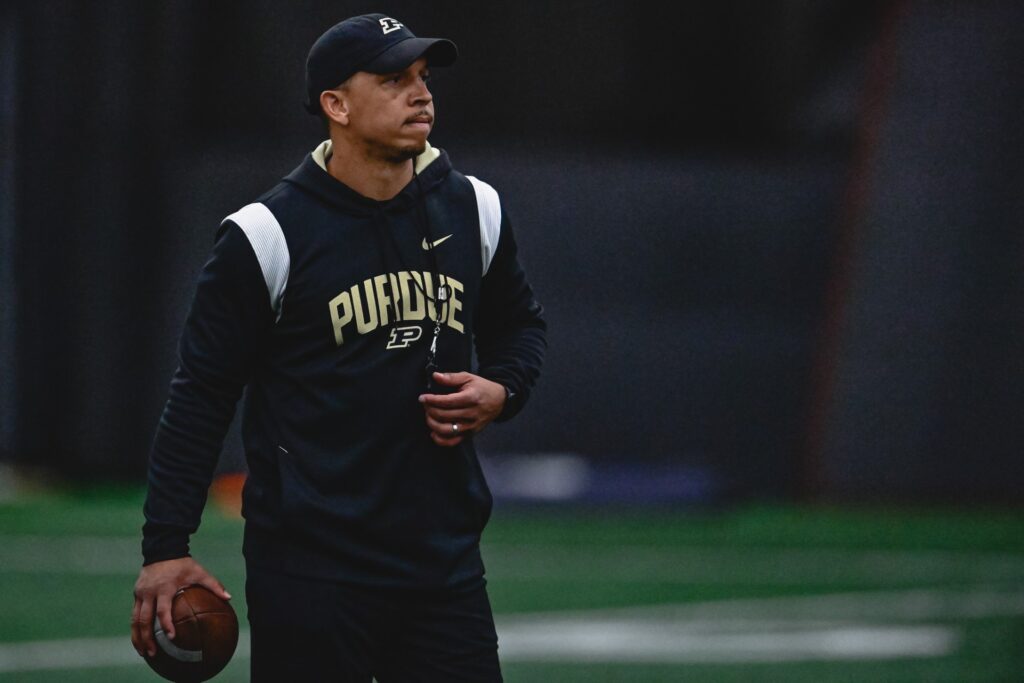 At least one high school head coach has major expectations for Ryan Walters and the new Purdue football coaching staff.
As part of The Athletic's "recruiting confidential" series, high school coaches have been asked about their impressions of staffs from each of the major football conferences. The Big Ten's number came up earlier this week. In exchange for candid comments, the high school coaches were granted anonymity.
Not surprisingly, the usual suspects – Michigan, Ohio State, Penn State – popped up most frequently on questions ranging from what schools work your area the hardest to Name Image Likeness (NIL) offers.
Under "Which coach do you hear from the most?" a head coach in Detroit whose school regularly sends players to Big Ten and other Power 5 schools provided this surprising assessment of Walters. "The one that jumps out at me was Purdue's new coach, Ryan Walters. I really think they're about to revolutionize the Big Ten in terms of their approach and what they're looking to do offensively and defensively. You saw a part of that the last couple years at Illinois, running that defense. Just the energy and the way they've started to recruit, I think Purdue is about to make some people turn their heads."
As for the players Walters inherited, a handful were mentioned by Athlon Sports. In comparison, Michigan and Ohio State combined for 37 selections on Athlon's four preseason All-Big Ten teams.
Running back Devin Mockobee and center Gus Hartwig are second-team selections. Offensive lineman Marcus Mbow and safety Cam Allen were placed on the third team. Sophomore outside linebacker Nic Caraway is on the fourth team.
Mockobee rushed for 968 yards and nine touchdowns as a redshirt freshman behind Hartwig and Mbow. Allen ranked third on the team with 49 tackles and shared the team lead with three interceptions. Caraway had two sacks among his 22 tackles in a reserve role.
Indiana had a first-team selection in kick returner Jaylin Lucas. Linebacker Aaron Casey earned a second-team nod, and wide receiver Cam Camper is on the third team along with defensive lineman Andre Carter and punter James Evans. Offensive lineman Matthew Bedford made the fourth team.
Lucas returned 21 kicks for an average of 28 yards and scored two touchdowns. Casey paced the Hoosiers with 86 tackles a year ago. Camper caught 46 passes for 569 yards and two touchdowns.
Carter is a transfer from Western Michigan, where he earned second-team All-Mid-American Conference honors with 13.5 tackles for loss and seven sacks. Evans averaged 44.3 yards per punt.
On the other hand
ESPN writer Tom Vanhaaren is not as optimistic about Walters' transition to a first-time head coach.
In a story examining first-year coaches recruiting, VanHaaren notes that Walters' late hire (Dec. 13) led to a 14-person high school class that ranked 63rd overall.
"That said, the coaches currently have eight commitments in the 202 class and have been able to start building with more time," VanHaaren writes.
I'm skeptical, though, about VanHaaren's claim that Walters has been unable to capitalize on the transfer portal to its fullest because of his late hire. Getting one of the top quarterbacks in the portal, Texas' Hudson Card, may end up being the difference between a rebuilding season and a winning one.
Card wasn't even mentioned by VanHaaren, who singled out former Penn State cornerback Marquis Wilson, Auburn defensive lineman Jeffrey M'ba, Florida Atlantic wide receiver Jahmal Edrine and Arkansas safety Anthony Brown.
"Given the timing of the hiring, Walters is going to have to be given some patience to try to build a foundation and mold the roster into what he wants," VanHaaren writes. "With more time, he'll be able to add to the 2024 class and potentially add some impact transfers in the winter window come December."
Long odds
Don't bet on a winning season for Purdue or Indiana. That's according to DraftKings Sportsbook and On3.com writer Jesse Simonton, who analyzed whether the win projections were too high, too low or just right.
At 5.5 (that half point has won Las Vegas oddsmakers a lot of money over the years), Purdue's projected win total was deemed too high.
"Hudson Card replaces Aidan O'Connell at quarterback, which was a good portal addition but is still a downgrade. Purdue also added a bunch of other pieces from the portal (lots of OL, DL and CBs), but lost its best receiver Charlie Jones and several notable defensive starters.
"The Boilermakers have a first-year coach who must navigate a schedule that includes non-conference games against Fresno State, Virginia Tech and Syracuse – all winnable but none that are gimmies – plus showdowns with Michigan and Ohio State."
It's no compliment to the Hoosiers that their 3.5 win total figures to be "just right."
"Tom Allen's team plays a Top 10 schedule, per ESPN, with road games at Michigan, Penn State and Maryland. Indiana opens with Ohio State and also plays a non-conference neutral site game against Louisville in Indianapolis.
"While Akron and Indiana State are auto-wins, outside of a home date with Rutgers, Indiana will be underdogs in every other game in 2023."
Purdue to honor Keady
A week before Gene Keady is inducted into the Naismith Memorial Basketball Hall of Fame, the former Purdue basketball coach will be saluted in Mackey Arena.
The ceremony will take place Aug. 5 when the Purdue men's basketball team will host an alumni game at 11 a.m., followed by an intrasquad scrimmage in Mackey Arena. Tickets go on sale June 20 and will range from $5 to $15.
The scrimmage will be a tuneup for a European trip that launches Aug. 7. Purdue will play four games over 11 days while visiting Germany, Italy, Austria and Slovakia.
Purdue trifecta
This news came as a surprise: For the first time in 40 years, the Purdue men's basketball program ranked in the top 10 for average attendance according to the NCAA.
Mackey Arena's listed capacity is 14,222 but the Boilermakers averaged 14,876 fans while selling out all 16 of their home games in 2022-23. The average is a school record and ranks 10th nationally.
During the 1982-83 season, Purdue was 10th in average attendance with 13,472 fans per game.
According to Purdue officials, the Boilermakers posted 100 percent capacities in men's basketball, football and volleyball this past school year. Purdue is the only school in the United States to accomplish that feat in 2022-23.
Purdue was the only Big Ten school to sell out every game, joining Gonzaga, Houston, Xavier, Kansas, Dayton, Duke and Auburn.
The Boilermakers will carry a 57-game sellout streak into the 2023-24 season, selling out every game since Jan. 15, 2019.
Adding to that streak will be a Gavitt Games contest against Xavier on Nov. 13 on FS1. The Musketeers break a streak of three consecutive Gavitt matchups with Marquette.
Purdue and Xavier meet for the first time since Dec. 1, 2012, a 63-57 victory by Xavier in Mackey Arena.
Indiana was not selected to participate in the annual series between the Big Ten and the Big East conferences. The other matchups are Michigan vs. St. John's at Madison Square Garden (Nov. 13), Wisconsin at Providence (Nov. 14), Marquette at Illinois (Nov. 14), Iowa at Creighton (Nov. 14), Georgetown at Rutgers (Nov. 15), Maryland at Villanova (Nov. 17) and Butler at Michigan State (Nov. 17).
– Kenny Thompson is the former sports editor for the Lafayette Journal & Courier and an award-winning journalist. He has covered Purdue athletics for many years.