2023 Mercedes-Benz Glc300 Crossover Finds Its Vibe On The Hoosier Bourbon Tour
By Casey Williams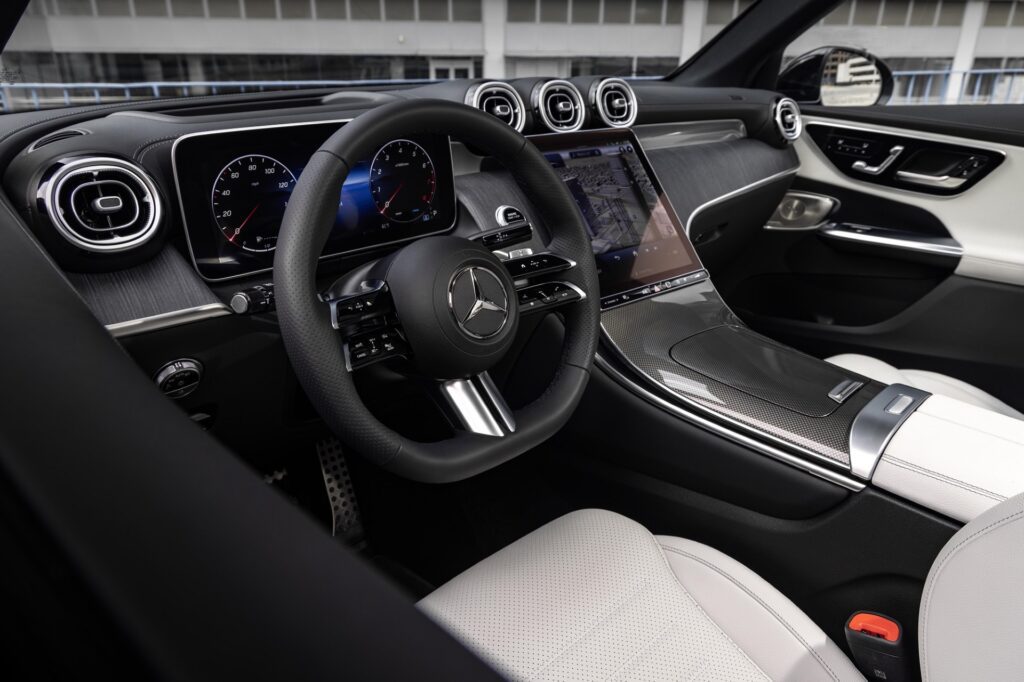 Among my passions are cars, surfing, and…bourbon. Fortunately, I have a fun group of friends who appreciate all of those except, well, surfing. I can surf on my own, but have truly enjoyed our multiple bourbon runs to Kentucky in cars equal the challenge. This time, though, we decided to narrow our imbibing closer to home – traveling to three Indiana distilleries. To and fro, we responsibly sample a 2023 Mercedes-Benz GLC300.
***
Indianapolis Motor Speedway to Starlight Distillery in Borden, Indiana: 114 Miles
After a quick breakfast at Charlie Brown's Steak and Pancake House, a Speedway institution, we set wheels towards Starlight Distillery in Borden, Indiana just north of Kentucky off I65. Navigation clocks a mite under two hours, just enough time to make our 10:30am tour.
We quickly settle into a downsized version of the S-Class sedan's interior, dominated by flat screen gauges, tablet-style touchscreen, and dash with textured black wood veneer. Metal weave console trim adds allure. Seats are made of MB-Tex, a hard-wearing vinyl that will likely out-live Earth, and the front ones are heated. So is the leather-wrapped steering wheel. Rear legroom is a little tight, but four and their luggage fit.
Some may disagree, but I find the infotainment screen easy to use. Just press windows on the screen for navigation, audio, climate, and phones to expand. Dual zone automatic climate control blows ice cold, the dual-pane sunroof brightens the cabin, and the Bermester audio system is crisp and full. Devices connect via wireless Apple CarPlay or Android Auto and have their own wireless console charging garage. I'd add a head-up display.
Marking miles on I65 South, the 2.0-liter turbocharged four-cylinder engine provides old-school V8 performance. By the numbers, it conjures 255 horsepower, 295 lb.-ft. of torque, and 23/31-MPG city/highway. Power routes to 4MATIC all-wheel-drive system through a nine-speed automatic transmission to keeps revs in their happy range. Whether cruising at spirited speeds or dispensing 0-60 mph in 6.2 seconds, there's adequate scoot. We make our tour time.
Starlight is produced by Huber's Orchard & Winery, a purveyor of delights including a fresh produce market, bakery, winery, and family-style restaurant. For much of its founding in 1843, Huber's was a family farm and orchard, which explains why many of its spirits are laced with fruit. It's too early to eat, but not to sip. Let the tour begin!
It's hands-down the most experiential bourbon tour we've enjoyed. We start by sampling wines and spirits, then proceed through the barrel room, production, bottling, and stillhouse. We taste "white dog" coming out of the copper still and wake double-oak bourbon still resting in its barrel. Huber began selling brandy in 2004, expanding into bourbon ten years ago. Bottles range $30-$80. The Farm to Glass Tour cost $24.99 and took about an hour – well worth it! Go to Starlightdistillery.com for more.
***
Starlight Distillery to Hard Truth Distillery in Nashville, Indiana: 81 Miles
Cargo hold filled with Starlight's finest, we target Hard Truth in Nashville, Indiana – about an hour away. I fully expect nav to send us back to I65 for another quiet cruise, but instead plots through wood, dale, and corn fields. It's raining hard, but that's no challenge for the GLC.
Unlike fancier Mercedes with air suspension that wallow like 1970s American luxury boats, the GLC's was a model of precision. We cross narrow backroads that require finesse from the helm as the chassis twists and pivots over hills and curves that are more Kentucky than Indiana. On straighter roads, the heavy feel and hushed ride are classic 'Benz. The Dynamic Select modes adjust steering weight and throttle response from Eco to Sport.
We arrive at the Big Woods Pizza Co. in downtown Nashville for lunch. Big Woods began distilling upstairs in 2015, but now has a 325-acre property nearby. Selling under the Hard Truth brand, it's famous for Maple Bourbon Cream and Toasted Coconut Rum, but also a full line of bourbons in the $30-75 range. The welcome center includes a restaurant, gift shop, and even a live performance stage. Go to hardtruth.com for info.
***
Hard Truth Distillery to Hotel Tango in Indianapolis, Indiana: 58 Miles
With stomachs full and more hooch under the hatch, we're rolling again. It's a quick drive back to I65 North for Indy. My friend's wife soon falls asleep in the back seat – and she sleeps peacefully protected by a safety suite including lane keep assist, active blind spot intervention, and automatic emergency braking. Drivers must keep hands on wheels, but the vehicle traces its path and changes lanes automatically with the click of a turn signal.
Miss Snoozy wakes as I sponge the brakes into downtown Indianapolis and the Hotel Tango carpark. I've been here before and always enjoy sitting in the relaxed lounge, by the fireplace in winter, ingesting a range of beverages and pretzel sticks with vodka cheese. Beyond HT's two bourbons, regular and Reserve, spirits include vodka, gin, lemoncello, and the toasted marshmallowy bourbon-based Shmallow. Prices range $30-75. Check hoteltangodistillery for details.
Admiring the GLC when I return to grab my phone, it's not flashy. Sure, there's a big Mercedes grille star up front, and cues like the arching roofline and thin wrap-around taillamps echo the brand's EVs, but it's an understated tailored design over 19" wheels. I like the vehicle, but would choose a more distinguished color than Polar White.
We chill for an hour before heading back to Speedway. During a long day of heavy driving and light tasting, the GLC300 found its vibe on our Hoosier bourbon tour. Like the quality of distillates, we found in unlikely places, the GLC was a pleasant surprise – a very competent and luxurious compact crossover that would be a delight to sip daily.
A $47,100 base price rose to $56,650 as-tested, making it tough competition for the BMW X3, Audi Q5, Lexus NX, Cadillac XT4, Lincoln Corsair, and Genesis GV70.
Storm Forward!
Send comments to Casey at [email protected]; follow him on YouTube @AutoCasey.
Likes
· Rich interior
· Refined performance
· Quiet cruising
Dislikes
· Blend-in styling
· No head-up display
· Tighter rear legroom
2023 Mercedes-Benz GLC300 4MATIC Five-passenger, AWD Crossover
Powertrain: 2.0-liter T4, 9-spd
Output: 255hp/295 lb.-ft. torque
Suspension f/r: Ind/Ind
Wheels f/r: 19"/19" alloy
Brakes f/r: disc/disc
0-60 mph: 6.2s
Fuel economy city/hwy: 23/31-MPG
Assembly: Bremen, Germany
Base/As-tested price: $47,100/$56,650