All-New 2024 Subaru Impreza Rs, Crosstrek Sport Make You Turn Around
By Casey Williams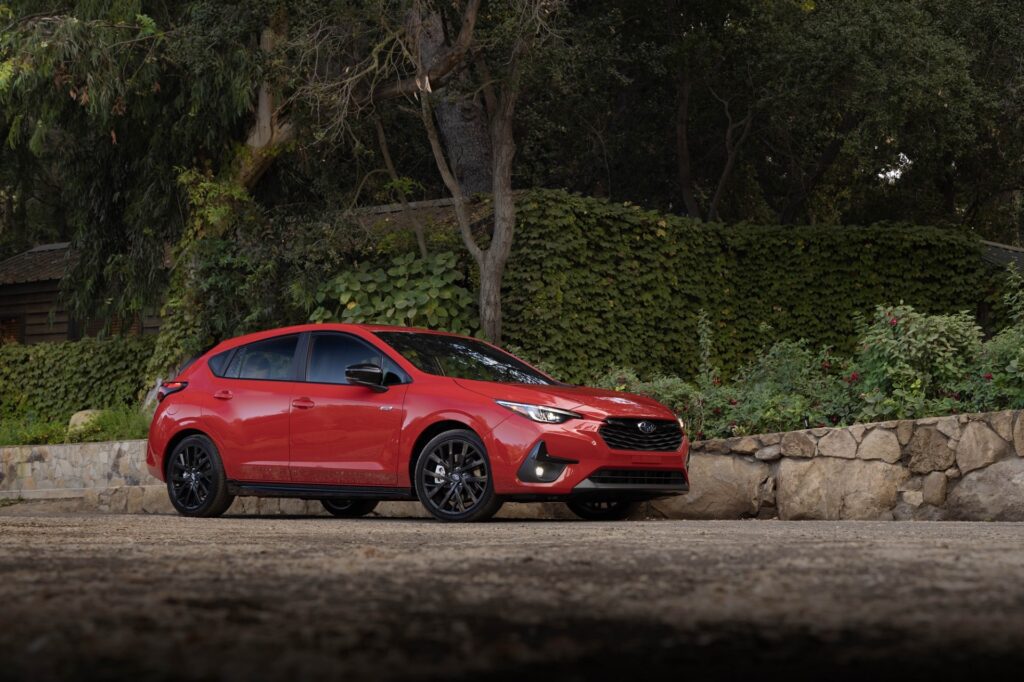 2024 Subaru Impreza RS
My daughter and I are finishing our avocado toast when she asks if we can go to the bookstore. When a nine-year-old wants to put down screens and read, parents dare not resist. But since we're in the 2024 Subaru Impreza RS, I suggest we take the long way. She can pick the music. Giggles and nods abound. While she's dialing in "The 10 Spot" I crank the RS onto the I465 on-ramp in north Indianapolis and watch her smile grow.
Back in the spring, I drove the RS, based on the redesigned Impreza hatchback, through California wine country near Paso Robles. Its solid structure, crisp responses, and practical cabin made great first impressions. Back home in Indiana, I wondered if it would be as enjoyable on roads I know well whether strafing cornfields or taking my daughter to piano lessons.
Back in the café, I'm reminded how this all-new model does not look dramatically different from the outgoing Impreza. Sure, the RS package drives between Sport and WRX, but all Imprezas are distinguished by wider grilles and more muscular fender forms. I especially like the 18" dark alloy wheels, black trim, and optional Oasis Blue paint exclusive to RS (though, ours is red). Notice RS logos that incorporate horizontally opposed piston heads in reference to Subaru's Boxer engines. It's all very cool.
While this car looks sporty, it is also very practical. The body shell is shared with the Crosstrek, making it adept at supporting active lifestyles with a wide hatch, fold-down rear seats, and crossbar mounting points on the roof for kayaks and bicycles. Heated cloth seats with red trim and alloy pedals add allure. Technology is enhanced by a new tablet-sized infotainment touchscreen plus wireless Apple CarPlay, Android Auto, and console charging. Crank up Harman Kardon audio. Safety is enhanced by a new three-camera EyeSight system to better employ automatic emergency braking, lane keep assist, and new crash-avoidance steering.
The RS employs Subaru's 2.5-liter "Boxer" four-cylinder engine developing 182 horsepower and 178 lb.-ft. of torque. It connects to standard all-wheel-drive through a continuously variable automatic transmission, which I don't love, but it can be paddle-shifted through eight pre-set ratios. There's no manual. Fuel economy is a frugal 26/33-MPG city highway.
As we trade the comfortable ride of I65 for undulating two-lanes connecting Lebanon with Westfield, plus a couple of detours to flex the chassis, I rediscover the joy I felt in California. This car's suspension is near magical in its ability to go from a compliant commuter to one that grabs curves by the scruff. Tip into a corner and you notice how the horizontally-opposed engine keeps weight balanced low in the chassis, torque-vectoring all-wheel-drive gently rotates the car to sharpen corners, and steering provides precise feedback. It does very sports car things without any penalty during daily use.
It's said that if you don't turn around and look at your car as you walk away, you're driving the wrong car. As we walk into the bookstore – over sixty miles later – I look back. The RS' crossover utility is matched with sassy style and competent performance – an uncompromising driver's car that enjoys a little backpacking. Imprezas start at a very affordable $22,795 and rising to just $28,975 for our RS.
***
2024 Subaru Crosstrek Sport
While in California for the Impreza RS debut, we also had a chance to preview the first-ever Crosstrek Wilderness all tarted up in a sportier suit and fortified for off-road duty. Since then, I reviewed the Crosstrek Premium with the 2.0-liter engine. By stepping up to the Crosstrek Sport with the larger 2.5-liter four-cylinder, we also source our fly ride from Lafayette, Indiana.
Jack up the Impreza for an impressive 8.7" of ground clearance, add gold trim, fortify bodysides with gray plastic, and you essentially have the Crosstrek Sport. Its 18" black wheels are shod in off-road tires, and it has a roof rack pre-installed, but off-road is where the two cars diverge.
Behind a more extreme black plastic grille is the same 2.5-liter four-cylinder generating 182 horsepower and 178 lb.-ft. of torque, but Dual-function X-Mode allows the Crosstrek to automatically creep down inclines and better handle mud and deep snow. Fuel economy is also the same frugal 26/33-MPG city/highway as the Impreza RS. Unfortunately, drivers are also stuck with the high-revving continuously-variable transmission with paddle shifters.
Moving inside, the Crosstrek Sport is dressed with cloth seats – heated in front – with gold instead of red accents. The large tablet-style touchscreen, dual-zone automatic climate control, power sunroof, and wireless phone charger are included. Listen to the six-speaker audio system, though, and you'll pray to Subaru Gods for the superior Harman Kardon audio system. Subaru's new three-camera EyeSight system keeps everybody safe.
So, should you buy an Impreza RS or a Crosstrek Sport? If you really want to swish through two-lane backroads for weekend joy, buy the RS. I like both cars, but for most of us, the added ground clearance and crossover utility will win the day. However, there's one more thing to consider. While the Crosstrek Sport hails from Lafayette, Indiana, the RS is built in Japan with the other Imprezas. Given a base price of $24,995, rising to $32,210 as-tested in Sport trim, Crosstrek offers strong value against the Chevy Trax, Jeep Renegade, Honda HR-V, and Buick Envista.
Storm Forward!
-Send comments to Casey at [email protected]; follow him on YouTube @AutoCasey.
Likes
· Multi-talented chassis
· Tech-laden interior
· Standard AWD
Dislikes
· Tame body design
· No manual transmission
· Marginal power
2024 Subaru Impreza RS Five-passenger, AWD Hatchback
Powertrain: 2.5-liter I4, CVT
Output: 182hp/178 lb.-ft. torque
Suspension f/r: Ind/Ind
Wheels f/r: 18"/18" alloy
Brakes f/r: disc/disc
Fuel economy: 26/33 mpg city/hwy
Assembly: Gunma, Japan
Base/As-tested price: $22,795/$28,975