Big Ten Predictions And Only Coach To Leave Bloomington With Winning Record
By: Kenny Thompson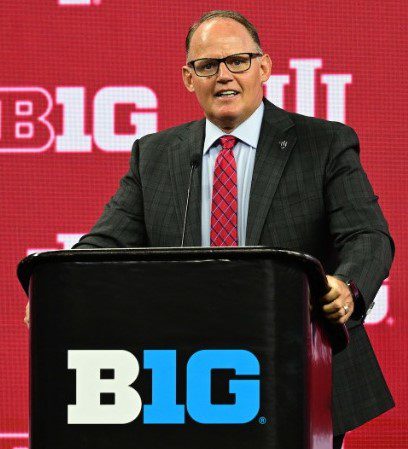 Over the past 100 years of Indiana University football, only one coach left Bloomington with a winning record.
Bo McMillin compiled a 63-48-11 mark from 1934 to 1947. McMillin is also the only IU football coach not to have a losing record in Big Ten Conference play, at 34-34-6.
So it was no surprise that a national sports media outlet predicted Tom Allen's seventh full season as the Hoosiers coach will be his last. That overlooks an Indianapolis Star report that Allen gets a $20 million buyout if fired before Dec. 1. Asking big money boosters like Mark Cuban and the Simon family for millions just three years after they helped pay off basketball coach Archie Miller may be a longshot.
That's assuming of course the worst case scenario The Athletic had for the Hoosiers, 0-9 in Big Ten Conference play and 2-10 overall.
A cursory look at the Indiana schedule and there's opportunity early to defy the gloomy forecast.
Opening against Ohio State in CBS' return to the Big Ten football, even in Bloomington, is too much to ask for a defense that gave up nearly 34 points a game in 2022 and lost its best player when linebacker Dasan McCullough transferred to Oklahoma.
Indiana State will be a feel good game in Week 2, as will Akron on Sept. 23.
The most intriguing game in the first month is a Lucas Oil Stadium matchup with Louisville and former Purdue coach Jeff Brohm. This is not a game on paper that favors Indiana as Brohm enjoyed great success against the Hoosiers while at Purdue. If Indiana can pull off a win here, it sets up the possibility of having a 5-3 record at the end of October. At Michigan and at Penn State is too much to ask for any team that doesn't have Buckeye stickers on its helmets.
On paper, 1-3 looks like the ceiling for the month of November with Wisconsin and Michigan State at home alternating with trips to Illinois and Purdue.
With a margin so slim between victory and defeat, Allen's theme for the season is "toughness."
"We define that as a mental and physical strength to persevere," Allen says. "We had eight games last season that were decided in the fourth quarter. So for the past seven months we've been building our toughness and developing this football team to be able to finish in those opportunities."
Just like 10 other Big Ten rivals, the Hoosiers are likely to start 2023 with a new quarterback. With Dexter Williams still recovering from a knee injury suffered against Purdue, the focus is on Tennessee transfer Tayven Jackson and redshirt freshman Brendan Sorsby.
Whichever quarterback wins the job, he will have to be as adept running with the ball as he is as a passer.
"I'm a defensive coach by trade, and I just know what gives us trouble: anytime a quarterback can extend plays," Allen says. "Moving forward that's what we want to have at that position to be able to extend those plays.
"But at the same time once you pick who that individual is, you've got to make sure you're building everything around them so they can be at their best and be able to be comfortable. Obviously (it's) going to be a younger guy that's going to have to grow up really fast."
Here's how I see the final season of the Big Ten's East Division shaking out:
1. Michigan (11-1, 8-1 Big Ten) – Three good reasons to pick the Wolverines: Running backs Blake Corum (1,494 yards, 18 TDs) and Donovan Edwards (1,018 yards, 7 TDs) and quarterback J.J. McCarthy (2,719 yards passing, 22 TDs, 5 INTs).
The Wolverines could have as many as 10 NFL draft picks on the roster. That much talent, plus a schedule that doesn't look challenging until Week 8 at Michigan State, gives Michigan a slim edge over …
2. Ohio State (10-2, 8-1 Big Ten) – Heaven help Ryan Day if he loses a third consecutive time to Michigan. It's not a good sign that disgruntled fans are comparing Day to former Buckeyes coach John Cooper, whose 2-10-1 mark against Michigan overshadowed three Big Ten titles.
Uncertainty at quarterback makes it too difficult to pick the Buckeyes. Former five-star prospect Kyle McCord, a junior, and redshirt freshman Devin Brown are
competing for the job. The winner will be helped by an elite wide receiving corps led by Marvin Harrison Jr.
3. Penn State (10-2, 7-2) – Drew Allar, the top-rated quarterback in the 2022 recruiting class, is now the man after sitting a year behind Sean Clifford.
He'll be surrounded by five returning starters on the offensive line, two talented sophomore running backs in Nick Singleton and Kaytron Allen, and a veteran defense that paved the way to an 11-2 record and a Rose Bowl victory against Utah. Another 10-win season seems likely but Ohio State and Michigan will have the Nittany Lions settling for third-best in East.
4. Maryland (9-3, 6-3) – A healthy Taulia Tagovailoa threw for more than 3,000 yards and 18 touchdowns a year ago. Add new offensive coordinator Kevin Sumlin, who coached Heisman Trophy winner Johnny Manziel at Texas A&M, and the Terrapins expect to improve on last season's 8-5 mark.
The schedule could be favorable with Michigan and Penn State coming to College Park. Maryland gets a decimated Northwestern squad and avoids Wisconsin, Iowa and Minnesota.
5. Michigan State (5-7, 3-6) – Whoever said you get what you pay for didn't account for the crashing thud Big Ten fans heard coming from East Lansing a year ago.
Taking advantage of an 11-2 season and rumors of interest in the LSU job, Mel Tucker parlayed his first season at Michigan State into a 10-year, $95 million contract extension.
As a down payment last season, the Spartans tumbled to a 5-7 record. Quarterback Payton Thorne bailed and is now the starter at Auburn. Highly regarded wide receiver Keon Coleman departed for Florida State.
Buyer's remorse will spread in Spartan country unless Tucker finds magic once again from the transfer portal.
6. Rutgers (5-7, 2-7) – A favorable front-end of the schedule will raise hopes for the Scarlet Knights. Northwestern, Temple, Virginia Tech and Wagner come to Piscataway, N.J. during the first five weeks. A trip to Michigan won't be much fun, but it's feasible Rutgers will be 4-1 heading into October and a trip to Wisconsin.
Any hopes for a bowl game begins with finding a reliable quarterback. Evan Simon and Gavin Wimsatt combined for just over 1,500 yards, 13 interceptions and nine touchdowns. Add an ineffective running game and the Scarlet Knights put too much pressure on their defense to foresee a winning record.
7. Indiana (3-9, 1-8) – Until the defense proves it's no longer the Big Ten's worst, picking more than one conference victory would be optimistic.
– Kenny Thompson is the former sports editor for the Lafayette Journal & Cou¬rier and an award-winning journalist. He has covered Purdue athletics for many years.