Gordon Graham, Greatest Of All Time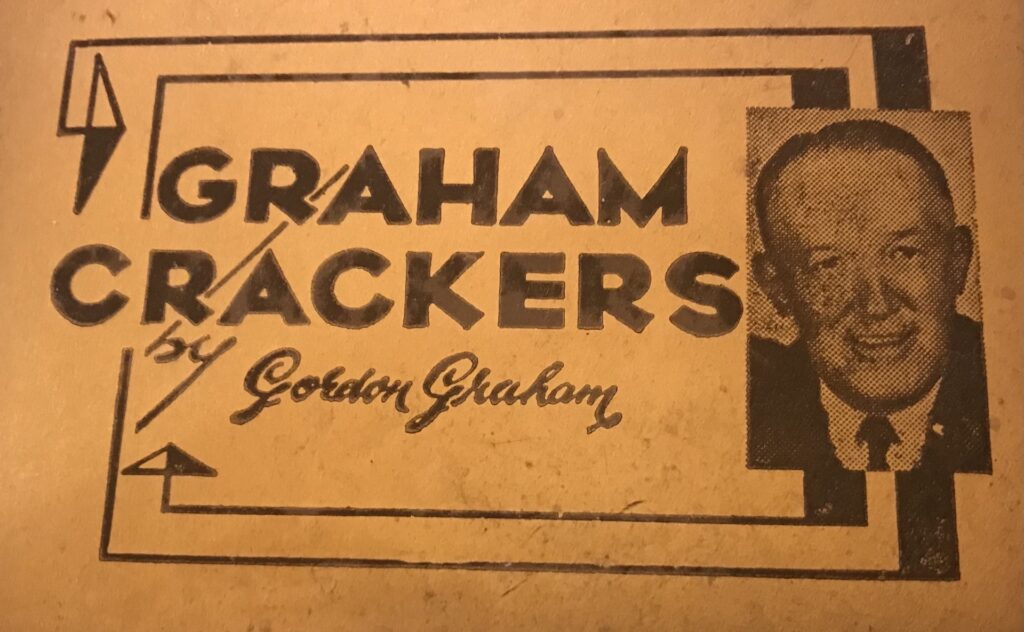 In the long history of Purdue University athletics, no one covered the Boilermakers like Gordon Graham.
Until failing health in 1965 forced him to miss Purdue's 38-0 season-opening victory over Miami (Ohio), Graham covered 329 consecutive home and away Boilermaker football games.
Graham rose to prominence at the Lafayette Journal and Courier in a different time. As sports editor from the age of 20 until his death on June 20, 1966 at the age of 57, Graham was the definitive word in Purdue sports.
J&C publisher Jack Scott learned that lesson in 1964 when he suggested that reporting in detail about Purdue's Saturday football game in Monday evening's paper (the Journal and Courier did not publish on Sundays back then) didn't make much sense since the game would have been covered in its entirety by then with radio, TV and the Indianapolis Star.
Scott wrote in his tribute to Graham that the response from readers fell just short of threatening physical violence.
"It's not official until Gordon writes it up."
"Why do you think Purdue alumni around the country subscribe to the Journal and Courier?"
Such was Graham's power in the community that when he called for Purdue basketball coach Mel Taube's resignation in January 1950, a column some believed was ordered by Journal and Courier owner Henry Marshall, the beleaguered coach had little choice. At the time, Taube called the column "a little bit lousier than Pearl Harbor."
After dropping out of Purdue, Graham's first byline story as sports editor came on Feb. 25, 1929, fittingly a preview of the Purdue-Wisconsin basketball game. His legendary column, "Graham Crackers" debuted June 6, 1933. For the next 33 years, everything that went on in Lafayette sports was detailed by Graham.
As the years passed, Graham had offers to join larger newspapers. He declined them because, as he put it, "I already have the best job in the country right now."
Graham was selected Indiana Sportswriter of the Year in 1960 and 1966, the latter honor coming just weeks before his death from kidney failure.
"He was a real confidant and advisor, and was vital to any success I may have had at Purdue," Purdue football coach Jack Mollenkopf said in his tribute.
Graham had always wished to cover Purdue in the Rose Bowl. As cruel fate would have it, the Boilermakers made it to Pasadena just months after Graham's death.
Graham was inducted into the Indiana Journalism Hall of Fame in 1988.
"Undoubtedly the most popular with the readers of any personality in the history of Lafayette journalism," Graham's Hall of Fame biography states.
Only one man since Graham has come close to covering Purdue football and basketball with the same depth and following.
Today, Tom Kubat is president of the Indiana Sportswriters and Sportscasters Association.
Before retiring in 2008 from the Journal and Courier, Kubat spend 40 years in Lafayette. Ironically, Kubat came to Purdue country after graduating from Indiana University.
Besides being a mentor to this columnist and other young sportswriters, Kubat covered Purdue men's basketball during Gene Keady's first five seasons with the Boilermakers. Shifting to Purdue football in 1986, Kubat covered the lean years under coaches Fred Akers and Jim Colletto before Joe Tiller brought winning, and lots of holidays away from home, for Kubat and Purdue fans.
At the peak of Tiller's reign, Kubat teamed up with the coach for a book titled, "Tiller: Not Your Average Joe."
Fittingly, Joe Tiller's final game in 2008, a 62-10 Boilermaker victory against Indiana, was also Kubat's farewell to the Purdue football beat. Kubat was inducted into the Indiana Sportswriters and Sportscasters Hall of Fame in 2007. He joined fellow Journal and Courier sports alumni Graham (the inaugural class of 1996), George Bolinger (2002) and Dick Ham (2002).
Other honors include the Ron Lemasters Lifetime Achievement Award and his induction less than a month ago into the Indiana Football Hall of Fame.
Kubat's successor on the Purdue football beat, Mike Carmin, was named the Corky Lamm Sportswriter of the Year in 2019.
Carmin rose from freelance reporter covering high school sports and Purdue women's basketball to a full-time position. He covered the 1999 women's basketball national championship team and closed his Journal and Courier career by covering Boilermaker football from 2009 to 2022.
Jeff Washburn, or "Wash" as just about everyone in the community called him, was also honored as Indiana Sportswriter of the Year in 1991.
While he was mostly known for his coverage of high school sports, which earned him the Indiana Basketball Hall of Fame's Silver Medal in 2011, Washburn also was the Journal and Courier's main Purdue football beat writer for a couple of seasons during the Leon Burtnett era. "Wash" and Burtnett had a love of football and a good time in common so it was no surprise they had an immediate rapport.
Washburn took over the Purdue men's basketball beat in 1994, an assignment he held for nearly 20 years until changing times in the newspaper industry led to his departure from the only place he ever wanted to work.
He became close with another Hall of Famer, Purdue coach Gene Keady, and co-authored his autobiography "Gene Keady: The Truth and Nothing But The Truth." He was so respected by Keady's successor, Matt Painter, that every postgame press conference in Mackey Arena began with a question from "Wash."
After leaving the Journal and Courier, Washburn managed to continue covering Purdue basketball and other sports through various media outlets over the next three years. Not even a fatal cancer diagnosis could keep "Wash" away from Ross-Ade Stadium or Mackey Arena. Washburn died on Sept. 29, 2017, just hours after covering Purdue basketball's 66-57 victory over Louisville in the Big Ten/ACC Challenge.
Indiana state senator Ron Alting (R-Lafayette) said it best while reading a special resolution to Washburn's widow, Cheryl, in the Senate Chamber.
"I have never met a person more passionate about his career than Jeff Washburn," Alting said. "It is a blessing to go to a job every single day and love it, and to be extremely good at that job. That was Jeff.
"He had three offices – the baseball diamond, the basketball court and the football field. … He will forever be a legend in the sports reporting world and our community."
– Kenny Thompson is the former sports editor for the Lafayette Journal & Cou¬rier and an award-winning journalist. He has covered Purdue athletics for many years.