Let's Go Cruising In Barbie's Movie Dream Cars
By Casey Williams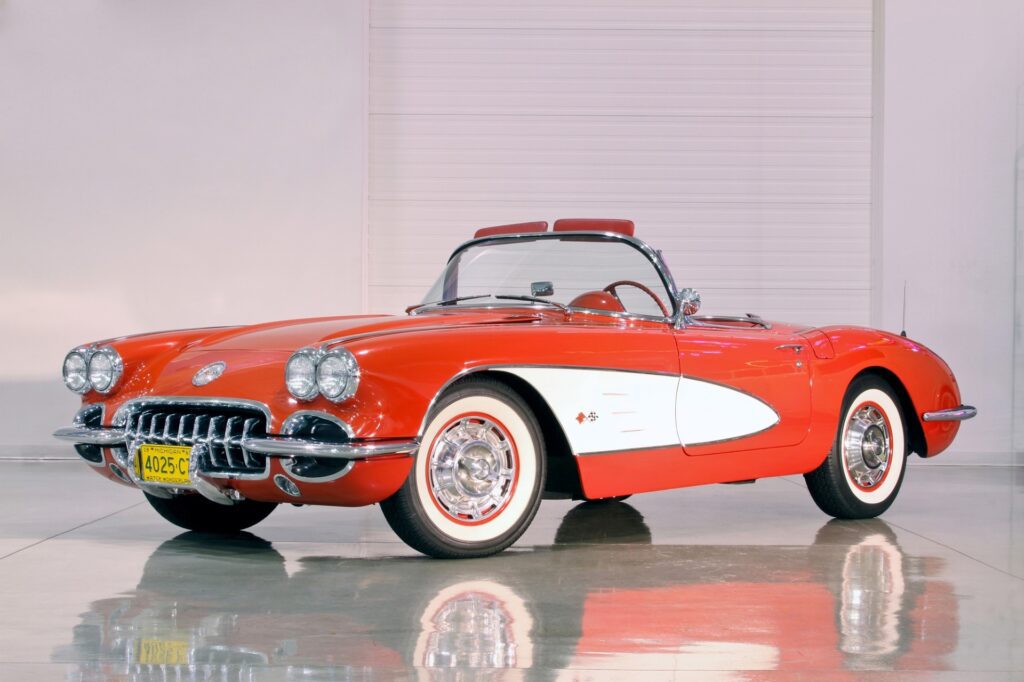 My daughter spent last week at her grandparents', but when she came home, there was only one thing on her mind: Seeing the Barbie movie with her dads. I'd heard set designers basically ran the world out of pink paint and had to see it for myself. Beyond that, Ryan Gosling is a talented guy no matter the movie, and I'm a fan of Margot Robbie and Will Ferrell too. No arguments here – slipped on my pink polo and stomped to it. I enjoyed the movie, but it was also stocked full of General Motors dream cars that will soon be reality (mostly).
***
Barbie's 1957ish Corvette
Nowhere but in Barbieland does a first-generation 1950s Corvette have a back seat nor run without an engine, but there's no more classic car than a pink Barbie Corvette. Or, a blue one. My sister had both. I was jealous – would take either and forgive the second seat in pursuit of a plot. Heck, I'll take any 1950s Corvette and love it like Ken. Back in the real world, the first-generation's side coves, toothy grille, wrap-around windshield, and fuel-injected V8 engine made it an icon. Look close at the "ChEVrolet" logo on the rump and you'll realize this one is electric.
1957 Corvette Value: $100,000
***
2024 Chevy Blazer EV
When America Ferrara rolls up to collect her daughter and Barbie, she's driving the upcoming Chevy Blazer EV SS. It's blazing hot whether driven by Ugly Betty, Barbie, or your Uncle Bernie. Debuting later this year, the Blazer SS EV lays down 557 horsepower and 648 lb.-ft. of torque. In WOW (Wide Open Watts) mode, and all-wheel-drive gripping, it runs 0-60 mph in under 4 seconds. Suck it, Barbie! Enjoy up to 290 miles range, 22" wheels, camera mirror, and sport tuned chassis too. Future tech includes a head-up display and hands-off Super Cruise.
Base price: $61,790
***
2024 Hummer EV Pickup
When Ken discovers patriarchy, he goes all-in with a Hummer EV Pickup. It does look pretty buff parked in front of his little cowboy casa. Beyond a dream, the big truck boasts 381 miles range, 0-60 mph in 3 seconds, and 22" wheels. Fortifying capability, it flaunts four-wheel steering with CrabWalk diagonal drive capability, Air Ride Adaptive Suspension, and skid plates. Remove roof panels over all seats to let in the sky and go hands-off with Super Cruise. Production recently began at GM's Factory ZERO in Detroit.
Base price: $106,945
***
2023 Chevrolet Suburban
When Barbie goes AWOL, Will Farrell and the Mattel clan load up and chase after her in a pair of black Chevrolet Suburbans. Let's be clear: In no real world would those Texas Cadillacs, especially when loaded with a boardroom, catch the new Chevy Blazer EV. Barbie would have left them at the beach! We'll assume the movie trucks ran with a 6.2-liter V8 producing 420 horsepower and 460 lb.-ft. of torque, but Subuarban is also available with a 3.0-liter turbo-diesel. Adaptive air suspension provides a smooth ride while a full suite of crash avoidance systems and hands-off Super Cruise keep it safe. It's the perfect limo for Barbie's movie premiere.
Base price: $57,200
Storm Forward!
-Send comments to Casey at [email protected].