2024 Dodge Hornet Slaps An Historic Name On Its Stingin' Little Crossover Self
By Casey Williams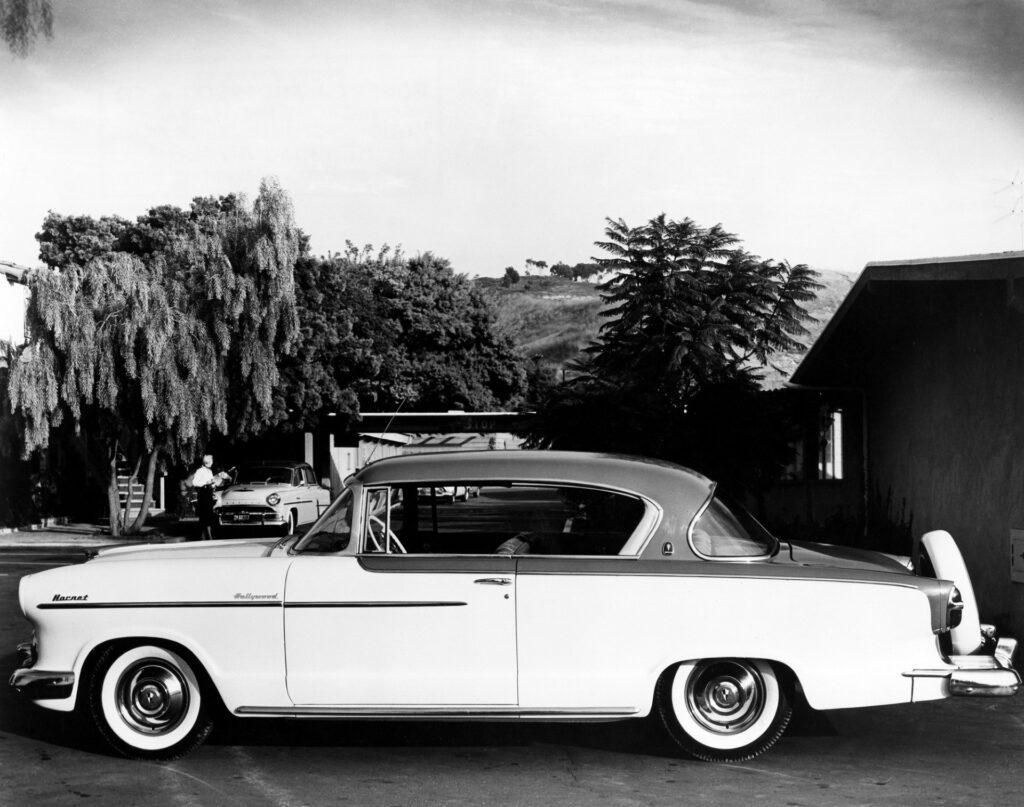 It dominated NASCAR, boogied through the '70s, starred in countless movies, and is now enjoying a trip from Italy dressed as a boisterous American tourist. No, this isn't an A-list actor from classic Hollywood, though "Doc Hudson" Hornet in Pixar's "Cars" was voiced by Paul Newman. Hornet reappeared on fenders in the '70s after Hudson merged with Nash to form AMC and on a 2006 concept car. Now, it's on the tailgate of the stingin' little 2023 Dodge Hornet crossover.
***
Champion Hornet Heritage
Hornet comes from solid breeding stock. The original 1951 Hudson Hornet was known for its streamlined styling and "step down chassis" in which the floorpan and passengers were set between the frame rails for a lower profile and improved center of gravity for safety and handling. In Cars, Doc Hudson was a "3-Time Winner of the Piston Cup", but in reality, the Hornet dominated NASCAR, winning 27 of 34 Grand National races in 1952, 22 of 37 in 1953, and 17 of 37 in 1954. Not bad for a car with renowned luxury credentials.
But, the Dodge Hornet is an entirely different insect – essentially a domesticated version of the Alfa Romeo Tonale, though not entirely Americanized because it's assembled in Naples, Italy. Sure, it has snarling air extractors on its hood, angry hornets on its flanks, and looks menacing with 18" black wheels and black trim included in the Blacktop package, but the curvy muscular sheetmetal would look as sexy in Tuscany as Tucson. In GT trim, it's also a convincing Dodge. I'd say it's even a might sportier than the 1976 AMC Hornet Sportabout wagon.
Forget cheap plastic and cloth seats from The Malaise Era because the Dodge's interior cribs Alfa with deeply bolstered black leather sport seats, flat bottom steering wheel with bulging handgrips, and red stitching throughout. The steering wheel is canted forward in the Italian tradition.
Beyond that, it's pretty comfortable. Flatscreen gauges are clear and concise, and the slick center screen looks artful attached to the dash, but putting volume control in the console is a little too Audi. I'd prefer Chrysler Group's super intuitive infotainment with easy icons plus proper volume and tuning knobs. I have no complaints about wireless Apple/Android connectivity, sumptuous Harman Kardon audio, or dual-zone automatic climate control.
***
Twin H-Power to Hurricanes
The Hudson came with a standard electric clock, but twitched its sting from "Twin H-Power" powertrains that applied twin one-barrel Carter carburetors ($85 dealer-installed option) to the company's 5.0-liter inline-six engine for a then-potent 145 horsepower and 275 lb.-ft. of torque.
Today's Hornet is available as a plug-in hybrid with 30 miles EV range and putting out 288 horsepower and 383 lb.-ft. of torque, but our super fly buzzes about with Dodge's "Hurricane" 2.0-liter turbocharged four-cylinder engine, connected to a 9-speed automatic transmission, delivering 268 horsepower and 295 lb.-ft. of torque. The old Hudsons would have no hope of matching the latest Hornet's 0-60 mph time of 6.5 seconds.
It's safe to say the Dodge Hornet GT would own 1950s NASCAR, but a proper performance crossover is not born of speed alone. Hailing from Italy suggests the Hornet performs as if old Enzo Ferrari was fettling the chassis. He's not, but the quite firm four-wheel independent suspension and sharp steering are more adept than the average crossover. Add to that torque-vectoring all-wheel-drives to sharpen corners and a Sport mode that makes the throttle more responsive, tightens steering, and employs a limited slip differential to lay power evenly. The Hornet is comfortable on the highway and over most city pavement, but is most fun over smooth twisty pavement.
And while we may dream of attacking two-lanes through Italy, it's more likely time spent in Dodge Hornets will be interrupted by belching kids and slobbering dogs en route to baseball practice. Keeping everybody safe are adaptive cruise, lane-centering steering with haptic counter steer (gently nudges back into lane), and automatic emergency braking. Blind spot warning, rear cross path detection, and surround-view camera protect fenders and pedestrians too.
With an Italian accent and NASCAR heritage, Dodge has a stinging little Hornet crossover that's unique among rivals. It's a fun commute to work, easy in daily errands, and occasionally enjoys a good romp through the country. A base price of $30,735 or $40,710 as-tested elicits competitors like the Subaru Crosstrek Sport, Chevy Equinox RS, Mazda CX-50, Acura RDX, and Buick Envision ST.
Storm Forward!
-Send comments to Casey at [email protected]; follow him on YouTube @AutoCasey.
Likes
· Buff styling
· Agile handling
· Turbo-four engine
Dislikes
· Fuel economy
· Harsher ride
· Volume/tuning controls
2023 Dodge Hornet GT Plus Five-passenger, AWD Crossover
Powertrain: 2.0-liter T4, 9-spd
Output: 268hp/295 lb.-ft. torque
Suspension f/r: Ind/Ind
Wheels f/r: 18"/18" alloy
Brakes f/r: disc/disc
0-60 mph: 6.5s
Fuel economy: 21/29 mpg city/hwy
Assembly: Naples, Italy
Base/As-tested price: $30,735/$40,710