Clara: Local Long-Time 5th Grade Teacher
By: Karen Zach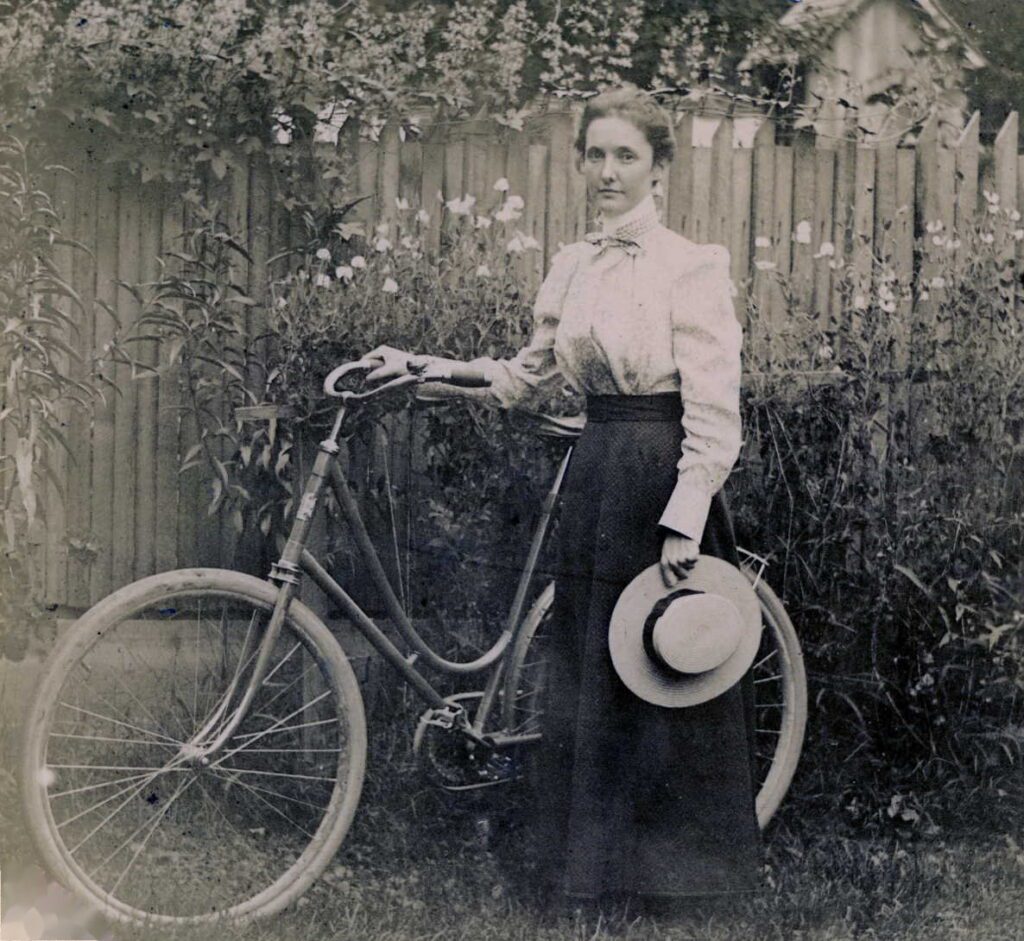 This week, I found a wow photo of an outstanding-looking young Montgomery County woman named Clara Florence Brockman, so decided I'd research her to discover her happenings. No problem? Wouldn't think so, only I lost the picture – usually save them in the ATC folder I'm working on at the time but not there or sometimes it goes to my thumb drive – wasn't there. It was nowhere. Thank goodness, I found this one in the Mary Beeson-Don Harwood Family Tree on Ancestry but she's older here, though. Still cute and I love the bicycle!
So, let me tell you about Clara! She was born just across the line in Boone County on her parents' farm on 18 December 1868 but sadly, she didn't know her father, Robert Andrew Brockman as he passed away four months before her birth, his death being in August 1868. She had a very handsome older brother, Robert Morton Brockman born 19 April 1865 in Montgomery County (and a half-sister, Eva whom their mother, Susan Amanda Thomson raised). Susan was the daughter of James and Martha (Blair) and she was from a large family, some spelling their name Thomson while in the same census, cemetery, etc., it would be spelled with a p in the middle = Thompson. Eva married Newton Meek and mothered several children to whom Clara was close.
Three generations of the Brockman family (Robert above, his father, John and his father, Andrew) are all buried in the Shiloh Cemetery along with several others of the family all spelled the same way – lol! Both Andrew and son received Original Land Grants in Union Township (back to back property) on the same day, 20 April 1826. The above mentioned Ancestry tree takes the Brockman family back to Henry born in England 8 Nov 1623 who came to St. Mary's County, Maryland, possibly also in Albermale, Colonial Virginia. Also according to the family tree, it noted that the family called Clara, "Aunt Polly!"
Clara was extremely close to her brother (he marrying Mary Ann McCalip, parenting Katherine, Mildred, Martha, Betty and Helen, the first and last both doctors), he a well-respected educator. Clara and Robert were together a great deal, even travelling to New York one summer for a sight-seeing excursion. In June 1893, Robert's wedding was a large and luxurious one at their family church, the First Presbyterian. Beautiful roses, wreaths, smilax, and potted plants decorated the church. Bruce Luckett was best man and Clara was maid of honor, donning a gown of white silk mull, trimmed with lace and carrying Marechal Niel roses (they're gorgeous) – no doubt she was as beautiful as the bride (wearing an empire with silk trimmed in pearl) – Robert and Mary Ann made a trip to the World's Fair after which they returned to his home in Kearney, Nebraska where he was principal in their high school. They later moved to St. Paul, Minnesota where they lived the rest of their lives.
When I think of CHS, I ponder large classes but when Clara graduated in 1887 there were 14, eleven girls, three boys, one a young colored man (unusual for the times) – Charles Williams who gave one of the several speeches – The Greed of Office, Clara entertaining the audience in regards to Charlemagne. This is compared to 80 years later at Waveland when I graduated with 19, nine girls, 10 boys! Top two gave speeches.
Clara went right to teaching, first in the Bowers' area, then Linden and in 1891 she began teaching 5th grade in the Crawfordsville schools for about 40 years until her retirement. I thought it a bit funny that Clara came to Crawfordsville to fill a vacancy and Lizzie Morrison from Crawfordsville went to Linden to take over Clara's position and this was also the year Crawfordsville added a drawing and writing teacher for enhancement classes.
This gal was involved in church, community and school affairs. Early on, she was active in the teachers' group giving various interesting presentations such as an overview of the 1900 census in relation to schools and students. Often found in articles featuring the First Presbyterian Church she was involved in missionary work with the Young People's Group and served as corresponding secretary for quite a while. Many years later, her funeral took place there as she had been an active life-member!
Evidently, she loved flowers and enjoyed decorating Floral Hall for the fair each year. One club she was very involved in (I had never read about it before) was the Gar-so-nel Club and no clue what it was but she was in charge of a masked ball in 1926 and they had several skating parties, bridge games and dinners. Think it may have been fairly short-lived but sounded like fun!
After her mother's death in March 1919, Clara (think renting a room) lived in several places (408 John; 302 and 311 E. Main; Water St; 208 W. Jefferson to name some) and after a busy life with a nice retirement our 'lil 5th grade teacher passed away in Culver Hospital Aug 15, 1943 and is buried beside her mother in Oak Hill.
Oh! The Rest of the Story – wanted to double check the dates on her mom's death and hers and went to FindAGrave. Guess what – found that photo and evidently I didn't save it – hilarious! Well, if you want to see how beautiful she was younger in life, check that out!
–Karen Zach is the editor of Montgomery Memories, our monthly magazine all about Montgomery County. Her column, Around the County, appears each Thursday in The Paper of Montgomery County. You can reach her at [email protected].