Examining The Mercedes W123, "The Finest Saloon Car Of The 20th Century"
By Casey Williams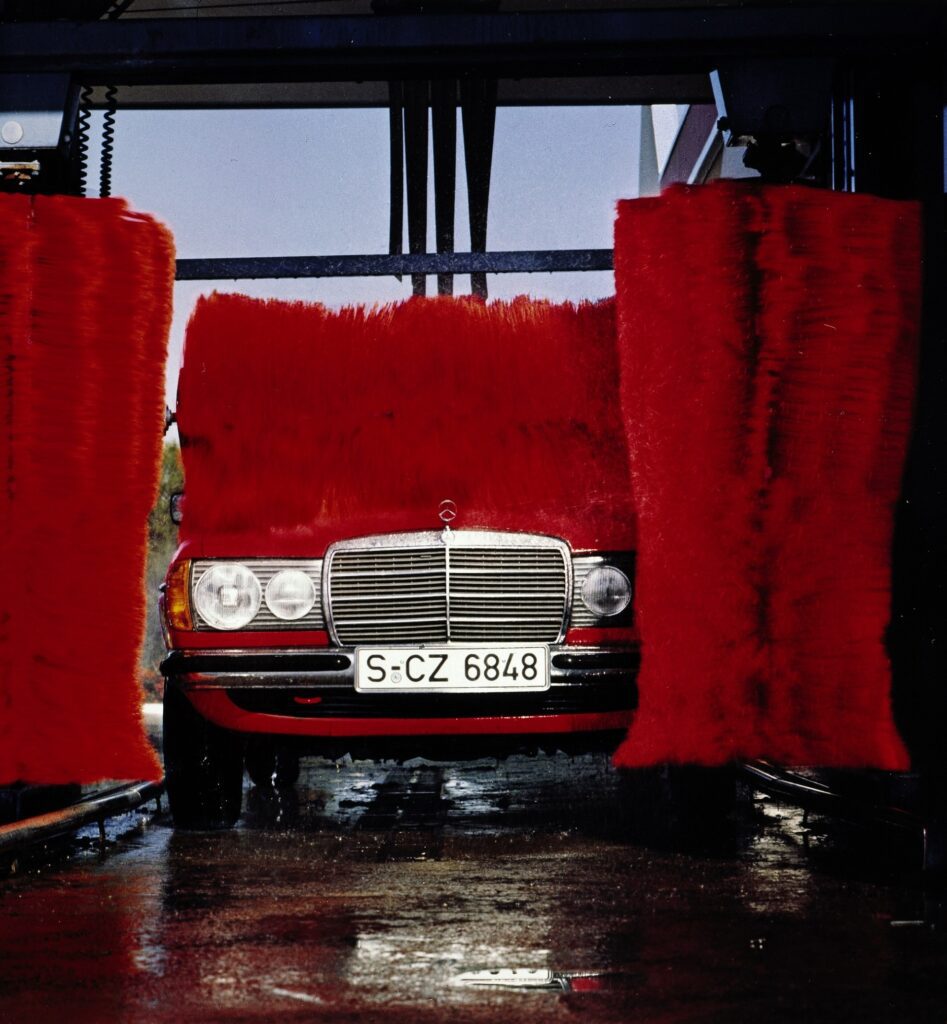 On November 6, 1979, my grandmother bought a new Mercedes-Benz 280E and paid $22,943 for the privilege. I know because I have the invoice. That's over $80,000 in today's money for a car with AM/FM radio, vinyl seats, and hubcaps. But, Grandma owned the best car in the world – a car named 1977 Import Car of the Year by Motor Trend magazine and featured in a book titled, "Mercedes-Benz W123: The finest saloon car of the 20th Century?"
***
A Legend Born
"W123" is Mercedes' internal designation for its "E-Class" from 1976-1985. My grandmother had many choices in 1979. She could have purchased the basic 240D diesel, 300D diesel, 280E sedan, 280CE coupe, or 300CD diesel. The wagon had not yet arrived, nor had the later and very popular 300D Turbodiesel. My grandma was not into diesels nor the flamboyance of a coupe, so a Pastel Blue 280E it was.
Created under designer Friedrich Geiger and Chief Engineer Hans Scherenberg, the W123 seems more engineered than styled, and while Mercedes threw the engineering book at its new model, styling was nonetheless carefully considered.
"We have attempted to create a balanced, dynamic, non-aggressive form – one that lends these vehicles a special character – by emphasizing horizontal lines both at the front and rear, suggesting a slight wedge shape from the side aspect, reducing the use of chrome trim and, in the truest sense of the term, introducing rounded lines," Scherenberg said. "We are as unimpressed by revolutionary leaps of style as by fashionable gimmicks."
The wide chrome grille, quad round lamps, and ribbed taillights that are still echoed in the light patterns of modern Mercedes are memorable, but style was an evolution of the Mercedes 600 flagship sedan that debuted in 1963. As with the 600, vacuum-operated central locking allowed owners to unlock or lock all portals from either front door or the trunk. Doors thunked close as if stamped from military-grade steel. Later models pioneered airbags and anti-lock brakes.
***
From The Inside
I loved riding in that car before child seat laws. I'd sit on the flip-down armrests where I could see the wide hood with star at the end. My grandma would turn the key in the dash, click the gear selector through its notches, grab the large rubberized steering wheel, and off we'd go. Springy seats and a wafting suspension seemingly erased any unpleasantries beneath. Whether driving to the Ft. Wayne Zoo, Holiday Inn at Beef & Boards, or Daytona Beach with my parents, that car felt as safe as my grandma's arms.
My neighbor in Indianapolis, Jon Dawes, owns a very different W123 – a 1983 240D with right-hand drive and a manual transmission. A fair portion of W123s sold in the U.S. were 300D Turbodiesels. They had a larger five-cylinder engine and the turbo gave them almost livable performance. Jon's car with the smaller non-turbo engine has about 70 horsepower, but fuel economy is quite good. With just 215,000 miles on the odometer, it's still a young car. Diesel-powered W123s routinely travel over 500,000 miles with 1,000,000 miles not strange at all. They go slowly into forever, which is why so many found favor as taxis around the globe.
Even with the top 2.8-liter inline-six, my grandmother's car was not fast. It produced just 142 horsepower, routed to the rear wheels through a four-speed automatic transmission. During a test with Motor Trend, one ran 0-60 mph in 11.9 seconds. Fuel economy rates 14/19-MPG city/highway, or about the same as today's V8-powered Chevy Suburban. Compared to American luxury boats, though, those numbers were frugal. And, unflappable handling from the four-wheel independent suspension was decades ahead of American luxury sedans. This was a '90s car built in the '70s.
***
A Legend Still
My grandma was in good company as the W123 was popular among celebrities as varied as Bonnie Tyler, Barry Gibb (Bee Gees), Rue McClanahan (Golden Girls), and Lady Gaga. Like Rue, my grandmother eventually traded in her W123 for a newer Mercedes – a 1987 190E and later the 1995 C220 I inherited. The W123's gauges, gear selector, controls, seats, and handling are virtually identical in the C220 from twenty years later. There was simply no need to change them.
The W123 was the kind of car that owners, like Lady Gaga, who could afford new cars, saw no reason to get rid of the one they already had. It was epically durable and rewarding to drive. It exudes class in any era. Gaga looks just as chic stepping out of hers in Versace as my grandmother did in dress slacks and sandals the day she drove away.
Storm Forward!
Send questions and comments to Casey at [email protected]; follow him on YouTube @AutoCasey.