Lots Of Kids In Some Darlington Families!!!
By: John "Butch" Dale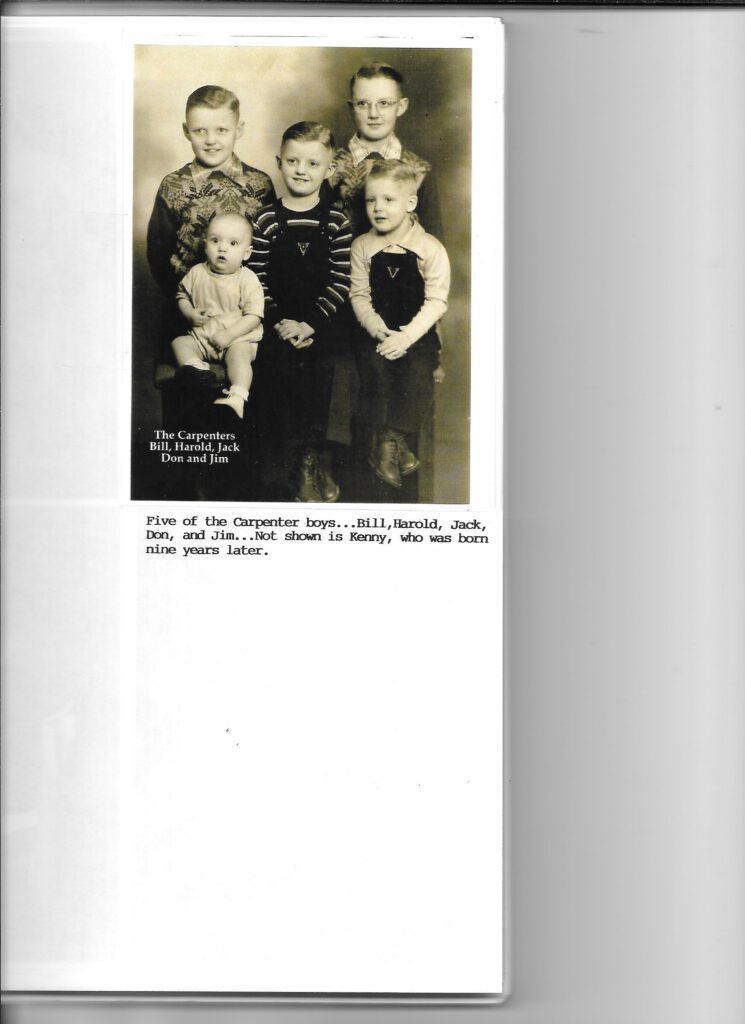 It seems like in the good ol' days the number of children in each family was much larger than today. With the cost of food, clothing, shelter, and other basic necessities, it's not surprising that couples decide to have fewer children today. In addition to that, physician and hospital expenses are much higher. The cost of our firstborn, back in 1971, was $365 for the doctor, a specialist, and a 3-day stay in the hospital. Our fourth child, born in 1988, cost $4400. It is not uncommon today for childbirth expenses to exceed $20,000.
When I was growing up, there were several large families in the Darlington/Bowers area. Dick and Mildred Weliever, who lived just down the road from me, had seven children…Charlie, Bob, Betty, Mary Lou, Donna, Nancy, and Susie. If memory serves me correctly, Dick and Mildred were 47 years old when Susie was born in 1963. Mildred told me one time that a few strangers she met in stores thought Susie was her grandchild!
Another family with seven children were the Wilsons. Elbert and Elsie Wilson lived south of town and were the parents of Elizabeth, Joe, Winston, Gloria, Beverly, Debbie, and Phyllis. Not to be outdone was the Gable family, who lived north of Bowers. Dick and Helen Gable were parents to eight kids…Marilyn, Richard, Sarah, Ed, Cathy, Jim, Mark, and Miriam. After Miriam was born, Helen must have been watching the TV show "Eight is Enough!" Ed, Miriam, and Richard, along with Richard's son, John and his family, still live in the same area, known as "Gableville."
Just a few miles away was the Ralph and Nevah Carpenter family. Now what is unusual about their children is that all six were boys…Bill, Jack, Harold, Jim, Don, and Kenny. The odds of having all boys in a family of six kids is only 1 in 64…or 1.56%.
When asked to name the largest family in this area, most people will assume it was the Cain family. Paul and Velera Cain were the proud parents of twelve children…Pat, Tom, Larry, Judy, Jerry, Dan, Kenny, Candy, Mary, Terry, Debbie, and Jack. The Cains grew up in a large two-story house east of Darlington on
State Road 47. The house is gone, but their farm headquarters, Homelike Farms, is still located there.
But if you guessed that the Cain family had the most kids, you were wrong. Henry and Elizabeth Clouser, who lived just northeast of Bowers, had a total of fourteen children…Martha, Phyllis, Suzanne, Marjorie, Virginia, Karen, Ruth, Kevin, Mary, Gerry, Timothy, Phil, Bill, and Tom. When I was a teenager, my Dad took my brother and me to Bowers to pick up ear corn from a field that had caught fire. The Clouser house was next to the field, and I was shocked to see their small home. I could not imagine how Henry and Elizabeth managed to raise fourteen kids in that tiny house, but the children's ages varied quite a bit.
We have to go to a slightly earlier time to find the largest Darlington area family. Ales and Susie Maxwell had a total of seventeen children…Mary, James, Marion, Richard, Doris, Lois, Catherine, Harry Mac, Alvin, Norma, Frank, Robert, Don, Carolyn, Darrell, Sue Anne, and Beverly. Their firstborn, Mary Louise, was born in 1915. The last child, Beverly, was born in 1938. Therefore, all seventeen kids were born in a 23-year span…a newborn on average every sixteen months. Think of all the meals, the washing, and daily chores that Susie had to do…Whew! She must have been worn out, as she passed away in 1955 at the age of 56, while Ales lived another 22 years.
All of the above families were well liked. The kids and their parents were active in school affairs and in the community. All of the kids pitched in to help out at home, at work, and on the farm. Sadly, some of the children listed above are now deceased. However, many still live right here in Montgomery county or nearby. I have no idea how many grandchildren and great grandchildren these families have, but I would guess it to be in the hundreds. There were many more large-families…especially ones with four and five children. My folks, Bill and Millie Dale, ended up with the five of us…Butch, Gary, Julie, Sarah, and Mike, the youngest, who was born in 1963 when Mom and Dad were 39 years old. But my wife and I beat them…we had the last of our four kids when we were 40 years old…in 1988. That was the summer when it was extremely hot…in the 100's for many days. We lived in a tiny house with no air conditioning. My wife was very pregnant…and not in a really good mood. But when the baby was born in October, she said it was worth it…and she didn't shoot me!
– John "Butch" Dale is a retired teacher and County Sheriff. He has also been the librarian at Darlington the past 32 years, and is a well-known artist and author of local history.