Purdue Football And Big Ten Predictions
By: Kenny Thompson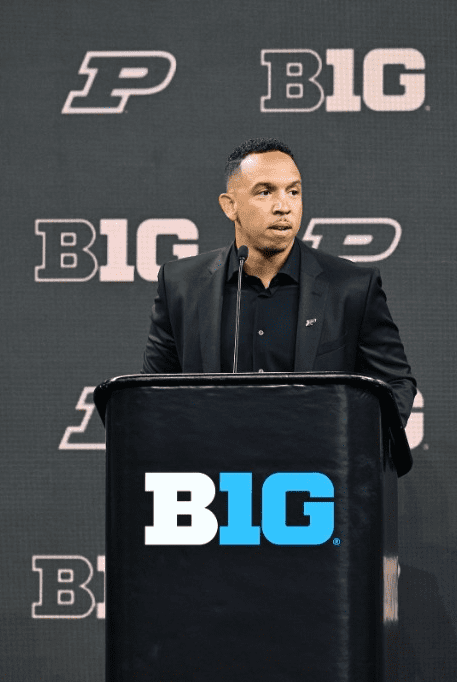 What does the Purdue football team have in common with the rest of its Big Ten Conference West Division rivals in 2023?
Texas transfer quarterback Hudson Card is one of seven new starting quarterbacks in the division. Six, like Card, are transfers and the seventh is Minnesota's Athan Kaliakmanis.
Card is one of eight new starters, if this week's two-deep roster is to be believed, for the reigning West Division champions. Look back at any successful Purdue season and an outstanding quarterback is at the helm. Dale Samuels. Len Dawson. Bob Griese. Mike Phipps. Mark Herrmann. Jim Everett. Drew Brees. Kyle Orton. Aidan O'Connell.
Therefore, it's reasonable to conclude that as Card goes, so goes Purdue in 2023. Card made a good first impression with his teammates, who gave the redshirt junior the most votes for team captains.
"He could have easily come in with an ego, having come from Texas and the success he had there," first-year coach Ryan Walters told BTN. "He immediately garnered the respect of his teammates. He's got an uber-talented arm.
"I think what is underrated about his skill set is his ability to extend plays and move the chains with his feet. He's very athletic. He's a very poised individual and an even better person."
Card will be protected by an offensive line that will have two transfers at left and right guard, Preston Nichols (UNLV) and Jalen Grant (Bowling Green). Senior center Gus Hartwig is still recovering from a knee injury late in the 2022 season and is not expected to play in Saturday's opener against Fresno State. Replacing Hartwig will be either Josh Kaltenberger, who took over for Hartwig last season or Colorado transfer Austin Johnson.Tackles Marcus Mbow and Mahamane Moussa are returning starters.
Hopes are high that sophomore Devin Mockobee will be Purdue's first 1,000-yard rusher since Kory Sheets in 2008. Mockobee almost reached that milestone last season (968 yards, 9 TDs) and would have if former coach Jeff Brohm hadn't waited until almost midseason to give the former walkon extended action.
There's experienced depth behind Mockobee with senior Tyrone Tracy and former Carmel standout Dylan Downing.
With Purdue running a variation of the late Mike Leach's Air Raid offense, coached by Leach's former Texas Tech prodigy Graham Harrell, it will be curious to see who – if anybody – claims the No. 1 receiver role that has been filled in recent years by All-Americans Rondale Moore, David Bell and Charlie Jones.
Tight end Garrett Miller could be that man coming off a torn ACL that cost him the 2022 season. But Miller wasn't listed in the two-deeps released Monday.
If not Miller, then maybe veteran T.J. Sheffield, speedster Deion Burks or former four-star recruits Abdur-Rahman Yaseen and Mershawn Rice.
The defense will have a new look as well, taking the principles from Walters' Big Ten-leading unit at Illinois. Three large interior linemen to hopefully slow opposing running games. Two outside linebackers to pressure the quarterback. Either one or two inside linebackers against the run and four/five defensive backs for pass coverage.
Four transfers and freshman safety Dillon Thieneman (Westfield) are listed as starters by Walters. Joining former Carmel star Cole Brevard up front are Malik Langham (Vanderbilt) and Isaiah Nichols (Arkansas).
The secondary will have a blend of veterans (safeties Cam Allen, Sanoussi Kane) and transfer cornerbacks Markevious Brown (Mississippi) and Marquis Wilson (Penn State).
Budding star Nic Scourton (formerly Nic Caraway) and Kydran Jenkins (four sacks in 2022) head a potentially deep outside linebacker group. Returning starter O.C. Brothers and Yanni Karlaftis, the younger brother of Kansas City Chiefs defensive end George Karlaftis, are slated to start at inside linebacker.
Such was the need for depth after losing five NFL players and a handful of transfers that departed with Brohm, Purdue raided the NCAA transfer portal for a total of 19 additions. Seven are listed as No. 2 on the depth chart (QB Bennett Meredith, WR Jayden Dixon-Veal, C Austin Johnson, RG Luke Griffin, RT Ben Farrell, DL Jeffrey M'Ba and CB Botros Alisandro) along with freshman outside linebacker Will Heldt of Carmel and cornerback Derrick Rogers Jr.
"We've got a lot of veteran guys but they haven't had a lot of experience playing with each other," Walters told BTN. "We attacked the transfer portal after spring ball to fill some roster spots to field a championship-level roster. I feel we've done that."
Former Oklahoma State transfer Ben Freehill takes over for the most accurate kicker in Purdue history, Mitchell Fineran. Australian punter Jack Ansell is back for his junior season.
The schedule, which on paper looks intimidating with Michigan and Ohio State joining Indiana as the East Division crossover opponents, also could allow Walters to get off to a good start. Four of the first five games are at Ross-Ade Stadium surrounding a Week 2 trip to Virginia Tech.
"We've got to come out of the gate ready to roll," Walters told BTN. "We can't be figuring things on the fly. I think we are fortunate that four of our first five opponents are at home. We can try to build some confidence and some momentum in front of your home crowd. It's the Big Ten. As a competitor you want to play against the best and see where you stack up."
Where does Purdue stack up in a Big Ten West that doesn't have an obvious favorite? Your guess is as good as mine but here goes:
1. Wisconsin (9-3, 6-3 Big Ten) – It's a big risk to vary from a system that has worked since the 1990s but the Badgers decided to see if Luke Fickell can take them where he led Cincinnati two years ago – into the College Football Playoffs.
Even though it too will be running an Air Raid offense with new coordinator Phil Longo, Wisconsin still has an outstanding running back in Braelon Allen (1,242 yards, 11 TDs). New quarterback Tanner Mordecai threw for 3,524 yards and 33 TDs last season at SMU.
The Badgers get a slight edge from a schedule that could easily see a 6-0 start and two favorable East Division matchups with Rutgers and Indiana. Ohio State also has to come to Madison.
2. Iowa (8-4, 6-3) – "The drive to 325" will be hanging over the Hawkeyes all season. Will Kirk Ferentz, who uses the punt as an offensive weapon, loosen up the offense enough to give his offensive coordinator son Brian a realistic chance of keeping his job by averaging a contract-mandated 25 points a game along with a minimum of seven victories?
It will help to have Michigan transfer Cade McNamara at quarterback. If McNamara comes close to his 2021 numbers (2,576 yards, 15 TDs), both Ferentzes will have job security for another year.
3. Illinois (8-4, 5-4) – Like Hudson Card, Mississippi transfer Luke Altmyer is hoping to get the opportunity to prove why he was one of the most highly recruited quarterbacks in the 2021 high school class.
Unfortunately, Altmyer won't have All-Big Ten running back Chase Brown to take the pressure off the offense. Isaiah Williams could be one of the top Big Ten wide receivers who don't reside in Columbus, Ohio.
Illinois has a talented front seven defensively but the secondary took a big hit with three defensive backs going in the first three rounds of the 2023 NFL Draft.
Getting Penn State, Wisconsin and Nebraska in Champaign is an opportunity for the Fighting Illini to contend once again. The Big Ten opener against the Nittany Lions and a trip to Purdue on Sept. 30 likely will make or break Illinois' title hopes.
4. Purdue (6-6, 4-5) – A 3-2 start, at least, will be a must with a difficult October (at Iowa, vs. Ohio State, at Nebraska, at Michigan) to follow. Home games with Minnesota and Indiana, with a trip to decimated Northwestern in between, could be the difference between spending the holidays in Detroit or going home.
5. Minnesota (6-6, 4-5) – The offense will be a near total rebuild but Athan Kaliakmanis (946 yards, 3 TDs as a freshman) doesn't take over at quarterback without some experience behind the departed Tanner Morgan.
Developing a pass rush, a weakness for the Gophers a year ago, will be a must if they expect to approach nine wins for the third consecutive season. The Aug. 31 opener against Nebraska could set the tone for the season.
6. Nebraska (5-7, 2-7) – First-year coach Matt Rhule turned Temple and Baylor into winners but his first season at each school ended with 2-10 and 1-11 records.
It won't be that bad with the Cornhuskers, but it may be asking a lot from Georgia Tech transfer Jeff Sims to bring back memories of 1990s Nebraska offenses. Sims does have the pedigree as a running threat, rushing for over 1,100 yards in three seasons with the Yellow Jackets. Running back Anthony Grant could reach 1,000 yards after falling just short (915) a year ago.
The defense has its top three tacklers back: linebacker Luke Riemer and defensive backs Myles Farmer and Isaac Gifford.
7. Northwestern (2-10, 0-9) – The outlook wasn't promising for the Wildcats before the hazing scandal cost Pat Fitzgerald his job.
Northwestern hasn't been the same since defensive coordinator Mike Hankwitz's retirement following the 2020 season. The Wildcats have gone from allowing 16 points and 341 yards a game in 2020 to 29 points and 429 yards in 2021 to 28 points and 374 yards a game last season.
Quarterback Ben Bryant comes in from Cincinnati, having passed for 2,732 yards and 21 touchdowns. Bryant led the Bearcats to a 9-2 record before suffering a season-ending injury. Unfortunately, he won't be surrounded by the same weapons he had in Cincinnati.
– Kenny Thompson is the former sports editor for the Lafayette Journal & Cou¬rier and an award-winning journalist. He has covered Purdue athletics for many years.