Celebrating 100 Seasons Of Purdue Football At Ross-Ade Stadium Part 3
By: Kenny Thompson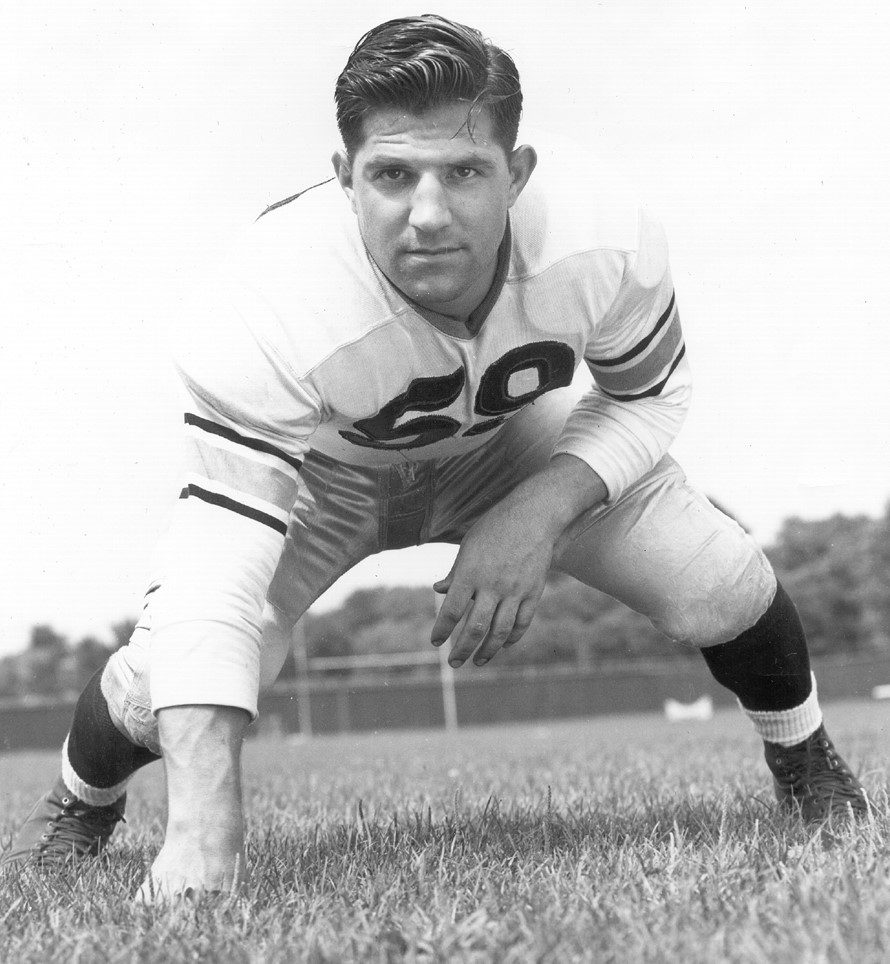 The 1940s for Purdue football was a roller-coaster ride that saw the Boilermakers field one of their poorest teams, then 12 months later one of their greatest.
Coming off a 1-8 record in 1942, Purdue's fortunes changed dramatically when the Marine Corps and U.S. Navy sent some very talented football players to campus for training before going off to fight in World War II. Combined with a handful of civilians, the Boilermakers went 9-0 and earned a share of the Big Ten championship with Michigan.
The decade also birthed Purdue's Cradle of Quarterbacks tradition with a teen-ager who shocked the nation in 1945.
Bob DeMoss led the Boilermakers to a 4-0 start and a No. 9 national ranking entering a trip to No. 4 Ohio State. Purdue races to a 28-0 lead and goes on to a 35-13 victory.
***
Best Ross-Ade games of the 1940s
Oct. 2, 1943: Purdue 40, Illinois 21 – Tony Butkovich scores four touchdowns and rushes for 207 yards on just 12 carries against his former teammates.
Lafayette Journal and Courier sports editor Gordon Graham wrote that two of the former Fighting Illini, All-American guard Alex Agase and fellow co-captain John Genis were spotted on the Illinois bench visiting their friends when the score had grown to 34-7. When Illinois scored two quick touchdowns, Purdue coach Elmer Burnham had to summon Agase and Genis back into the game.
Oddly, each team fumbled 10 times. The Fighting Illini and Boilermakers combined to lose 15 fumbles.
Purdue would go on to outscore its nine opponents 214-55 that season. To read more about the 1943 Boilermakers, pick up a copy of Cory Palm's "Perfect Warriors."
Oct. 25, 1947: Purdue 14, Illinois 7 – DeMoss' 6-yard touchdown pass to Bob Heck in the third quarter stunned the reigning Big Ten and Rose Bowl champions, who had come in with a 10-game winning streak.
Graham compared this victory to three of the biggest in school history: the 30-16 win over Michigan in 1929, the 7-0 triumph over Northwestern at Soldier Field in 1931 and the 35-13 victory at No. 4 Ohio State in 1945.
Nov. 20, 1948: Purdue 39, Indiana 0 – Here's a lead paragraph from Graham that readers would never see today:
"The cattle were lowing contentedly in the barns of 'Cow College' today, but students were still emitting piercing shrieks of elation of Purdue's 39-0 rout of a futile Indiana eleven in a game which threatened records at Ross-Ade Stadium Saturday afternoon."
It not only was the most lopsided defeat in the Purdue-Indiana series since 1902, the victory also ended Indiana's four-year possession of the Old Oaken Bucket. Harry Szulborski rushed for 197 yards on 34 carries, while Norb Adams picked up 148 on 24 rushes.
As for Graham's reference to "Cow College?" Here's this from the Nov. 18 front page of the Journal and Courier:
"An airplane was flown over the campus several times Thursday noon, and thousands of handbills were dropped. The bills, about 5×8 inches and in varied colors, and with 'Courtesy Bloomington Herald' printed at the bottom, had the following to offer:
"What the hell can you expect with a kid prexy from deah old Oxford with a bunch of hick students with no spirit with an inexperienced high school coaching staff with eleven old men? IU 40, Cow College 0."
***
Top players of 1940s Ross-Ade
Alex Agase – An All-American both at Purdue and Illinois sandwiched between a two-year stint in the Marine Corps during World War II.
Agase won three league titles with the Cleveland Browns during a six-season pro career. He would return to Purdue as head coach in 1973. His biggest wins were 31-20 at defending national champion and No. 2 Notre Dame in 1974 and a 16-14 triumph over No. 1 Michigan in 1976.
He was inducted into the College Football Hall of Fame as a player in 1963 and is a member of Purdue's all-time football team.
Tony Butkovich – Came to Purdue with Agase in 1943 and broke a 21-year-old Big Ten scoring record with 78 points (13 touchdowns) in nine games before heading off to the Marine Corps.
Butkovich rushed for 833 yards on 142 carries for amazing averages of 119 yards per game and 5.9 yards per carry. He earned first-team All-America and first-team All-Big Ten honors.
He was killed in action at Okinawa in 1945.
Dick Barwegen – The guard was voted MVP of the 1943 team and a two-time first-team All-Big Ten selection in 1943 and 1946.
In six of his eight NFL seasons, Barwegen was named first-team All-Pro or chosen to play in the Pro Bowl. The Chicago Tribune ranked Barwegen 51st in its Top 100 Chicago Bears of all-time.
Bob DeMoss – The father of Purdue's Cradle of Quarterbacks was a four-year starter who threw for 2,759 yards and 23 touchdowns during an era when the passing game took a back seat to running the football.
With the exception of spending 1949 with the New York Bulldogs, DeMoss was at Purdue from 1945 to his retirement as an assistant athletic director in 1992. As an assistant and head football coaches, he tutored Dale Samuels, Len Dawson, Bob Griese, Mike Phipps and Gary Danielson.
Harry Szulborski – A four-year starter at halfback from 1949 to 1949, Szulborski set the career rushing record of 2,478 yards. Only Mike Alstott (16) and Otis Armstrong (13) had more 100-yard rushing games than Szulborski's 11.
He led the Big Ten in rushing as a sophomore (851 yards) and a junior (989).
***
Welcome to the NFL
In between getting sacked seven times (six by Khalil Mack), former Purdue quarterback Aidan O'Connell had modest success in his first start with the Las Vegas Raiders.
As the 12th Boilermaker to start an NFL game at quarterback, O'Connell was 24 of 39 passing for 238 yards with an interception. He also rushed for a touchdown in the Raiders' 24-17 road loss against the Los Angeles Chargers this past Sunday. The Raiders announced it was the second-most passing yards in his NFL debut with the team but did not state who holds the record.
"I think the magnitude of each play is what I'm learning, and what I learned today is how important each play is, how important each drive is," O'Connell told raiders.com. "Just have to do my job on each play, even if it's a little bit harder one play versus another. Just got to focus, can't look ahead or can't look behind. Each play, one play at a time."
Here's how the other Purdue quarterbacks fared in their first NFL starts:
Len Dawson: 2 of 4 for 25 yards and 3 rushes for 31 yards in Pittsburgh's 7-6 loss at Philadelphia on Dec. 1, 1957.
Bob Griese: 11 of 22 for 101 yards, 2 INT in Miami's 24-0 loss to Kansas City and Dawson on Sept. 24, 1967.
Mike Phipps: 11 of 25 for 170 yards, 1 INT and 4 rushes for 57 yards in Cleveland's 14-10 loss at Cincinnati on Nov. 15, 1970.
Gary Danielson: 17 of 32 for 129 yards, 1 INT in Detroit's 13-10 win at Baltimore on Dec. 11, 1977.
Mark Herrmann: 18 of 32 for 188 yards, 1 INT in Denver's 13-11 loss at Seattle on Jan. 2, 1983.
Scott Campbell: 18 of 38 for 275 yards, 1 TD and 2 INT in Pittsburgh's 30-24 win over Buffalo on Dec. 15, 1985.
Jim Everett: 7 of 20 for 56 yards, 2 INT and four rushes for 13 yards and a TD in the Los Angeles Rams' 26-13 victory against New Orleans on Nov. 23, 1986.
Drew Brees: 15 of 19 for 160 yards, 2 TDs in San Diego's 34-6 victory at Cincinnati on Sept. 8, 2002.
Kyle Orton: 15 of 28 for 141 yards, 1 INT in Chicago's 9-7 loss at Washington on Sept. 11, 2005.
Curtis Painter: 13 of 30 for 281 yards, 2 TDs in Colts' 24-17 loss at Tampa Bay on Oct. 3, 2011.
David Blough: 22 of 38 for 280 yards, 2 TDs, 1 INT in Detroit's 24-20 loss to Chicago on Nov. 28, 2019.
– Kenny Thompson is the former sports editor for the Lafayette Journal & Cou¬rier and an award-winning journalist. He has covered Purdue athletics for many years.