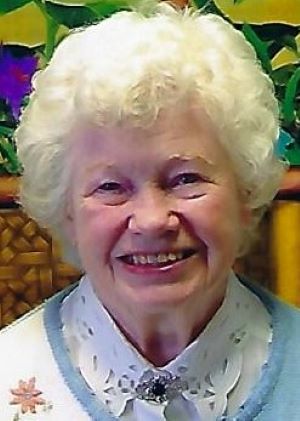 Dec. 28, 1921 – Jan. 17, 2022
Avanell Peterman was a beloved wife, mother, grandmother, great-grandmother, great-great grandmother, and friend whose life hasn't ended with her death here on earth. Avanell went to her eternal home in Heaven on Jan. 17th, 2022, age 100, surrounded by her loving children.
Avanell L. Jackson was born on Dec. 28, 1921, to Straudia and Ruby Jackson. After graduating from high school, she married Robert E. Peterman on June 9, 1940, and together they had three children. They were married 74 years before Robert's passing in 2014.
Mrs. Peterman spent her entire life serving others in many ways, both personally and professionally. She worked as a cook for many different institutions. She later worked for R.R. Donnelley's book return facility. She then worked for the City of Crawfordsville where she retired after 10 years. She continued working until the age of 80 at Crawford's Food Store until it closed. She served as a Sunday School teacher for many years at Mt. Zion United Methodist Church, then at Sonlight Wesleyan Church. She also served as the bookkeeper for the latter.
Mrs. Peterman loved spending time with her family, especially her grandchildren. She was very proud that she had lived long enough to have 5 great-great grandchildren. She also had a lifelong best friend in Evelyn Baker, whom she met at church at the age of 10. Avanell was the last surviving member of the Crawfordsville High School Class of 1939.
Survivors include her children: Rose Anna (Donald) Kincaid, Robert (Ginny) Peterman and David Peterman; her grandchildren: Connie (Mark) Maxwell, Jim (Shirley) Todd, Mary Ann (Tony) Ferguson, Donald Kincaid, Jr, Denise Beanblossom, Robert J. (Tracy) Peterman, Annie Risner, Jennifer Jackson, Douglas Peterman, Julie Snyder, Darren Coffenberry and Blake Peterman; 15 great-grandchildren and 5 great-great grandchildren; her sister-in-law Marilyn Peterman; her brother-in-law Richard Peterman; and many nieces, nephews, and friends.
She was preceded in death by her parents; her husband, Robert; her two brothers, Gene and Etherton Jackson; a sister, Gwendolyn Garrigus; a grandson, Matthew Peterman; and her best friend Evelyn Baker.
Visitation is scheduled at Sanders Priebe Funeral Care, 315 S Washington St, in Crawfordsville on Tues., Jan. 25th, 2022 from 12 p.m. to 2 p.m. The service will start at 2 p.m. and will be live-streamed and recorded which can be viewed on her obituary page at www.sandersfuneralcare.com. The burial will follow at Mace Cemetery. Memories and condolences can be shared online at www.sandersfuneralcare.com