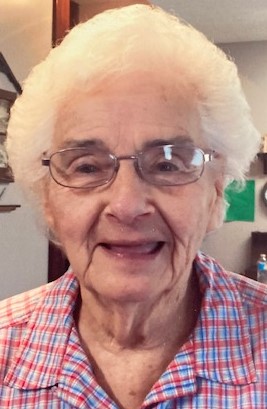 Feb. 25, 1931 – Jan. 1, 2022
Helen D. "Granny" Rahn, 90, Kingman, Ind., passed away at her daughter's home on Saturday, Jan. 1, 2022.
Mrs. Rahn was born on Feb. 25, 1931, the middle child of Hershel and Fern Drollinger, born in Lafayette, Ind.
She moved to Fountain County when she was 4 years old and never left. She graduated from Kingman High School in 1949. She was a member of the Freedom Christian Church near Wallace.
She married the love of her life, Paul J. Rahn, on July 1, 1950. He preceded her in death on August 31, 1996. They spent 46 hardworking years farming side by side near Wallace. She loved cooking, gardening, canning, raising flowers, sewing and crocheting, while raising five children. She was a ten-year Fountain County 4-H member. She was selected and attended Girls State School. She taught Sunday school, Bible school, and prepared an abundance of food for the church social dinners. She was well known for her homemade pies, angel food cakes, and cinnamon rolls. No one ever left the table hungry and all were invited.
She enjoyed traveling the United States with her husband and was sure to pick up a rock at every stop to add to her collection. Later she enjoyed vacations with her children and grandchildren at theme parks and rode her first roller coaster at age 70. At age 86, she was jumping on the trampoline with Bristol. In 2006, a new family tradition began. Her children and grandchildren caravanned with her to Panama City or Myrtle Beach for a week vacation. She loved capturing the moments or flowers with her camera.
She will be fondly remembered by her family as a devoted and loving mother, grandmother and great-grandmother, as she opened her home and helped care for each of them. They will never forget Sunday dinners at her house, sleepover parties or Cookie Day. "Cookie Day" was pressing, decorating, and baking over 400 cookies!
Survivors include her children, Dennis Rahn, Jane Swank, Nancy Rahn, Sharry Fears and Dale (Jolie) Rahn; nine grandchildren, Ross (Hana), Nick, Shelbie (Drew), Alora (Mike), Luke (Megan), Megan (Travis), Elyssa, Teagan and Murphy; and nine great-grandchildren. At her death, her family had grown to 30 members.
In addition to her husband, she was preceded in death by her parents; sister, Esther Downing; and brother, Norman Drollinger. Ollie and Laura Broom preceded her, they loved her like a daughter.
A Celebration of Life is scheduled on Saturday, Jan. 8, 2022 from 11:30 a.m. till the time of the service at 1:30 p.m. at Sanders Funeral Care, 203 S 1st Street, in Kingman. Burial will follow at Wolf Creek Church Cemetery near Wallace. Memorial donations may be given to the Jackson Township Volunteer Fire Department, 3898 S State Road 341, Hillsboro, Ind. Share memories and condolences online at www.sandersfuneralcare.com