Local Students Celebrated at Montgomery County Workforce Signing Event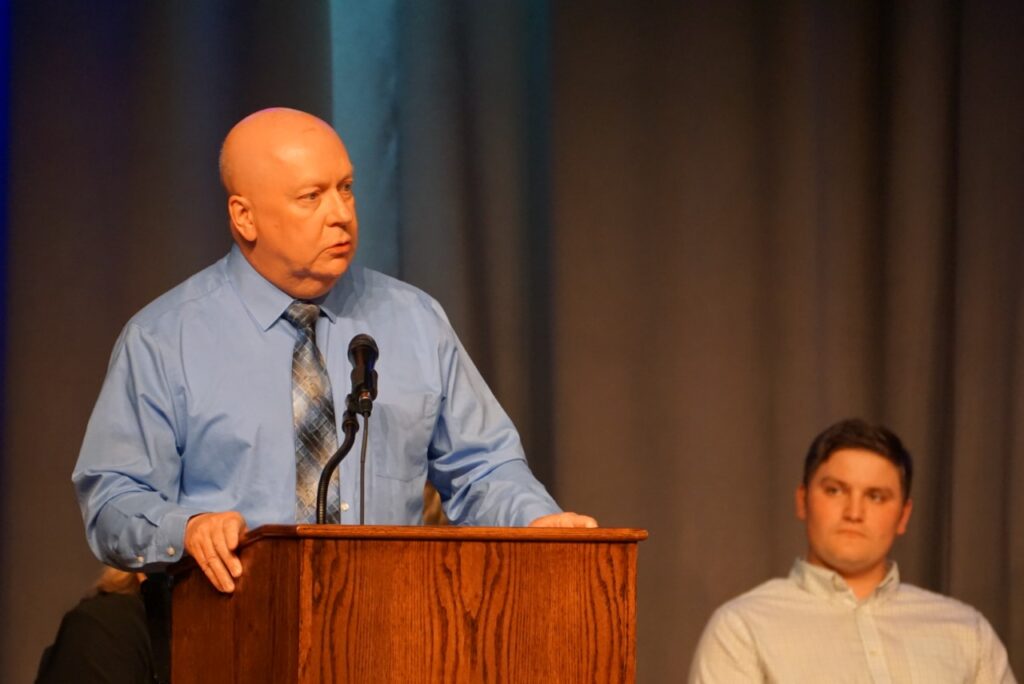 Students from Crawfordsville High School, North Montgomery High School, and Southmont High School were recognized on Tuesday evening at the 3rd Annual Montgomery County Workforce Signing. The event celebrates graduating seniors' future commitment to the workforce, technical school, and branches of the military.
In conjunction with the City of Crawfordsville and West Central Indiana Career and Technical Education, the three Montgomery school corporations came together to honor students as they signed certificates of intent with their local industry partners. Students also received a "Workforce Ready" lapel pin to wear on their graduation regalia later this month.
Dr. Colleen Moran, Superintendent of North Montgomery Community School Corporation, welcomed the audience of students, families, and industry partners while additionally recognizing the Crawfordsville | Montgomery County Chamber of Commerce, and Blue Marketing as sponsors.
"We are honoring these students from the three Montgomery County school corporations. We are also recognizing their families, and the employers, technical programs, and military partners who are committed to ensuring the success of these students." Dr. Moran said. "Each of these students have chosen career paths that will better equip them for the skills needed to be successful as they navigate post-secondary life."
Crawfordsville Mayor Todd Barton opened the event by encouraging the students to recognize the value of joining the workforce locally in Montgomery County. He himself joined the workforce after high school and commended the students on their first steps in building their future.
Attendees heard from Keynote Speaker Tracy Mobley, a Dairy Sourcing Leader at Kroger and current Board President of the Crawfordsville | Montgomery County Chamber of Commerce. Ms. Mobley spoke to the current need for workforce, and the benefits of entering a career directly out of high school.
"When I graduated high school, I wish this would have been there for me," Mobley said. "I went to college, but why? I didn't realize that I could start a path in manufacturing directly out of high school and be in the same place I am today in my career."
Newly-signed Crawfordsville Fire Department firefighter Colton Meadows, a 2021 North Montgomery High School graduate, served as this year's Alumni Speaker. Mr. Meadows emphasized to this year's Workforce Signing class that "the only source of knowledge is experience," and that taking opportunities to learn a variety of trades or skills can help to find a career that students can be passionate about.
A wide variety of organizations were recognized Tuesday evening in the North Montgomery High School auditorium. Those students recognized were:
Trinity Darby, Crawfordsville High School – Erskine Greene Training Institute
Kyle Fruits, Crawfordsville High School – United States Navy
Thatcher Gambrel, Crawfordsville High School – Nucor Technical Academy
Peyton Groumoutis, Crawfordsville High School – Prime Body & Paint
Jacob Halupka, Crawfordsville High School – United States Marine Corps
Emma Lyons, Crawfordsville High School – Lincoln Technical Institute
Liddy McCarty, Crawfordsville High School – Ben Hur Health & Rehabilitation
Owen Rush, Crawfordsville High School – United States Army National Guard
Kyle Schick, Crawfordsville High School – United States Marine Corps
Lauren Carr, North Montgomery High School – United States Army National Guard
Nolan Graham, North Montgomery High School – United States Marine Corps
Brock Hagan, North Montgomery High School – Lincoln Technical Institute
Donavan Haworth, North Montgomery High School – Secure Fence & Deck
Lindsey Jaimez-Gonzalez, North Montgomery High School – United States Army National Guard
Sean Kilgour, North Montgomery High School – Newton Welding Fabrication
Noah Leonhardt, North Montgomery High School – Vincennes Aviation Technology
Carter Livingston, North Montgomery High School – Cook Home Services
Blaine Pate, North Montgomery High School – Secure Fence & Deck
Donnie Reyes, North Montgomery High School – Perry Equipment
Mackenzie Shepherd, North Montgomery High School – Franciscan Health Crawfordsville
Sydnee Turner, North Montgomery High School – United States Army National Guard
Noah Benge, Southmont High School – International Paper
Gavin Haltom, Southmont High School – Maxwell Drainage Innovations
Dayton Hastings, Southmont High School – Maxwell Drainage Innovations
Jarrett McKinney, Southmont High School – Hendrickson International
Carson McKinney, Southmont High School – Vincennes Aviation Technology
Nash Young, Southmont High School – United States Army
"This type of event is a great way to showcase the strength of our local industries and to recognize a variety of students," said Sara Nicodemus, West Central Indiana Career & Technical Education Director. "These students are about to close a chapter of high school as graduating seniors, but begin a new journey with new opportunities to develop and grow their careers."