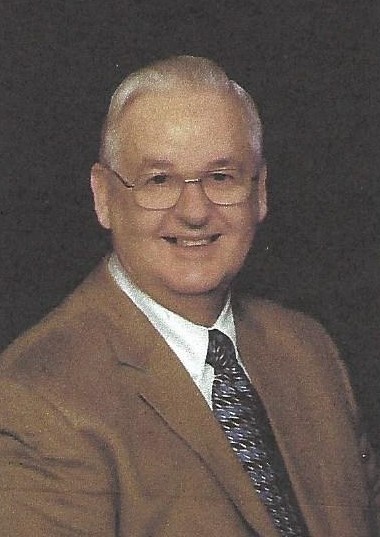 April 15, 1936 – Aug. 2, 2022
We remember the Father, the man, and the educator as we mourn his passing on Aug. 2, 2022. He was in his home and was surrounded by his family when God called him.
We celebrate the life of Russell Howard Ruby, Jr., Son of Russell Sr., and Ethel (Smyers) Ruby, born in Hamlet, Ind. on April 15, 1936.
His early life had his family moving to Walkerton, Ind. in 1942 where he would enter Walkerton Public Schools and devote his life to music. He began his musical career in the 5th grade with the Clarinet. When he entered the 8th grade, the band director asked if he would learn to play the Oboe, a question that launched his 40+ year career. Studying music at Indiana State University in Oboe, English Horn and Saxophone he received a Bachelors and Masters Degrees in music education.
During his tenure at ISU, he earned the distinction of outstanding freshman music student, principal Oboist/English Horn with the Terre Haute Symphony, elected Phi Mu Alpha Sinfonia music fraternity and culminated his four years at ISU being awarded the Harold Bright Senior Band Key as well as being selected by the faculty as outstanding senior music student.
In his music teaching career, he taught with an emphasis on Bands in public schools starting in LaPaz, Ind., moving to Penn High School and their elementary band feeder programs, then to Bremen Public Schools, and finally spending the last 17 teaching years in Crawfordsville Community Schools as Director of Bands and its feeder program. He led the Crawfordsville High School Band to multiple awards in concert performance and marching band competitions. He taught community responsibility through music by having his band students participate in every community function requested by the City of Crawfordsville or Montgomery County.
After retiring from education, he stayed active in music and education by serving as an adjudicator for the Indiana State Music Association, keeping in contact with the local students, attending school events, and regularly corresponding with State Legislators concerning the educational legislation of Indiana.
He was a member of Trinity United Methodist Church in Crawfordsville where he found time to be a volunteer choral director, member of the adult choir and member of the music committee. He served as Lay Member to the Annual Conference for several years, chaired the local church Administrative Board and volunteered as requested for any committee.
His new church The First Christian Church in Crawfordsville found him active in the choir and having the teacher become the student, as he learned how music can be performed virtually! He found a home amongst the people of First Christian Church as they represent the community, he had been serving for over 40 years.
Service to the community is a hallmark of Mr. Ruby. Executing the duties as the President of the New Jail Bonding Committee for Montgomery County for 18 years, while concurrently participating in the Montgomery County Civic Band, Community Chorus, singing with Crescendo Group, and serving as an Observer for the League of Women's Voters of Montgomery County was just a few examples of his community service.
In retirement, he owned and operated Blue Ribbon Enterprises, making satin award ribbons for athletics, groups, churches, international organizations, art, for local and national organizations. Blue Ribbon Enterprises manufactured over 150,000 ribbons per year, each by his hand (no automation), for distribution across the State of Indiana, United States, and every so often internationally. He often reminded people that during life they do not retire, they just "recycle".
He is survived by Sandra Kay (Kelch), of whom he married 60 years ago in 1962 at Gessie, Ind.; as well as their two sons, Mark Allen (Deanna) and Brian Lee (Swarin "Nina"); four grandchildren Krista (Coleman), Heather (Alsman), Chanya, and Pitchaya; and one great grandchild, Vincent (Coleman).
The family will receive guests at First Christian Church, 211 S. Walnut Street, on Saturday, Aug. 6 from 10 a.m. – Noon. A service to celebrate his life will be held immediately after the visitation.
Memorial donations may be made to the Montgomery County Civic Band, P.O. Box 719, Crawfordsville, IN 47933 or the Association for Frontotemporal Degeneration, 2700 Horizon Drive, Suite 120, King of Prussia, PA 19406 or at www.theaftd.org/