Second Annual Early Learning Expo Held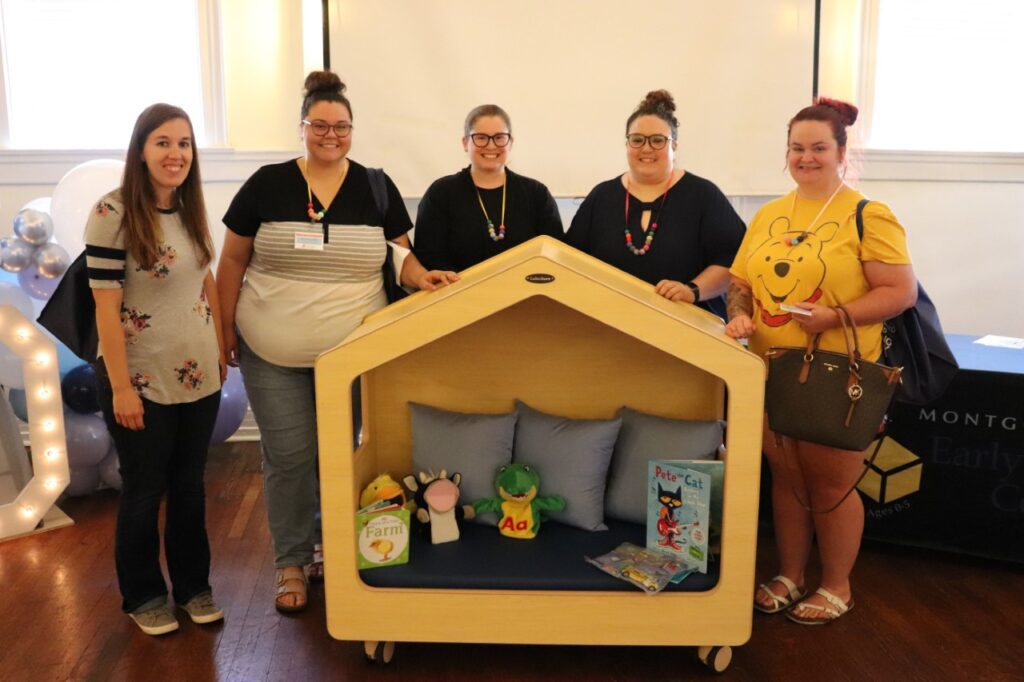 The second annual Early Learning Expo took place Aug. 27 at The Masonic Cornerstone Grant Hall & Event Center. Hosted by the Montgomery County Community Foundation and the Montgomery County Early Childhood Coalition, this free event provided education and support to over 50 teachers and directors of local early learning and childcare providers.
Keynote speaker for the event was Maureen Weber, the President and CEO of Early Learning Indiana in Indianapolis. Weber reminded everyone of the "why" behind the work; "approximately 85% of a child's capacity to learn is developed by the age of five." High-quality care and education during this time can have a meaningful and lasting impact on the child's success in school and beyond. However, across the state, access to high-quality care is moderate at best and less than moderate here in Montgomery County. However, there is cause for optimism. Weber reported that since the start of the pandemic, licensed capacity has increased by about 12K seats (statewide), and that the number of providers participating in Paths to QUALITY has increased. Hoosier providers were awarded $540 million in Stabilization Grants (Montgomery County providers received $2.35 million), nearly 16K children were supported with scholarships, and the first set of Kindergarten Readiness data was published. Weber reminded the educators gathered that "It's not the pan, it's the chef that makes things happen," and thanked them for their dedication to the profession.
Mayor Barton welcomed the attendees. He first became aware of the challenges facing child care a few years ago through his Workforce Taskforce. The lack of quality, dependable care causes great disruption for businesses and industries, resulting in significant production losses. Providing quality care not only helps parents work now, but also helps tomorrow's workforce get off to a great start. He and the City have been great advocates and supporters of the Early Childhood Coalition and its work.
Six attendees were recognized for completing their Child Development Associate (CDA) credentials. They included Deb Northcutt and Jessica Pursell, both employed by Hand in Hand Creative Learning, Shari Shaw and Jessica Dowell, Little Mounties Preschool, and Kelsey Wood and Brianna Powers from New Beginnings Child Care. To learn more about the CDA, visit https://www.ivytech.edu/early-childhood/index.html.
Tracy Johns from SPARK Learning Lab addressed the group. The SPARK Learning Lab is an online portal that provides Indiana educators the ability to complete the Indiana Self-Assessment Tool (I-SAT) and access SPARK's Knowledge Center.
Several vendors were on site to share their products and supports with attendees along with some great swag. They included Lakeshore Learning Store, Chances and Services for Youth, Crawfordsville District Public Library, Early Learning Indiana, IN Association for the Education of Young Children (IN AEYCE), Ivy
Tech Community College, Kids Count Therapy, Youth Service Bureau, On My Way Pre-K, T.E.A.C.H. Scholarship Program, and SPARK Learning Lab.
The Montgomery County Early Childhood Coalition through the generous support of their donors provided three great door prizes. New Beginnings won a Book Nook, Hand in Hand won a magnetic easel and New Hope Christian Preschool won a Light Table Sensory Bundle. Ivy Tech Community College gave away a scholarship for a free class, won by Jessica Bonebrake, New Beginnings Child Care, and IN AEYC gave away a one-year membership, won by Connie Casselman from HappyTown Day Care.
To learn more about the Montgomery County Early Childhood Coalition's work, go to https://www.mccf-in.org/early-childhood-coalition or contact Lisa Walter, MCCF Early Learning Director at [email protected] or by calling 362-1267. Additional event photos are posted on MCCF's Facebook and Instagram accounts.
Captions for photos to follow:
#1 Book Nook
New Beginnings Child Care staff won the Book Nook. The Montgomery County Early Childhood Coalition through the generous support of their donors provided this and other prizes. Early Learning Expo attendees gathered to hear from experts about trends in their field. They were applauded for the great work they do and reminded of its importance to our families and to our community.
#2 Presenters
Guest speakers, left to right: Tracy Johns, SPARK Learning Lab, Maureen Weber, Early Learning Indiana, and Kristen Lopshire, Lakeshore Learning.
#3 CDA graduates
These individuals recently completed their Child Development Associate's credentials and were recognized at the Expo. They are, left to right: Brianna Powers, Jessica Dowell, Shari Shaw, Jessica Pursell, and Deb Northcutt. Not pictured- Kelsey Wood.